Presented by Up
Night Trade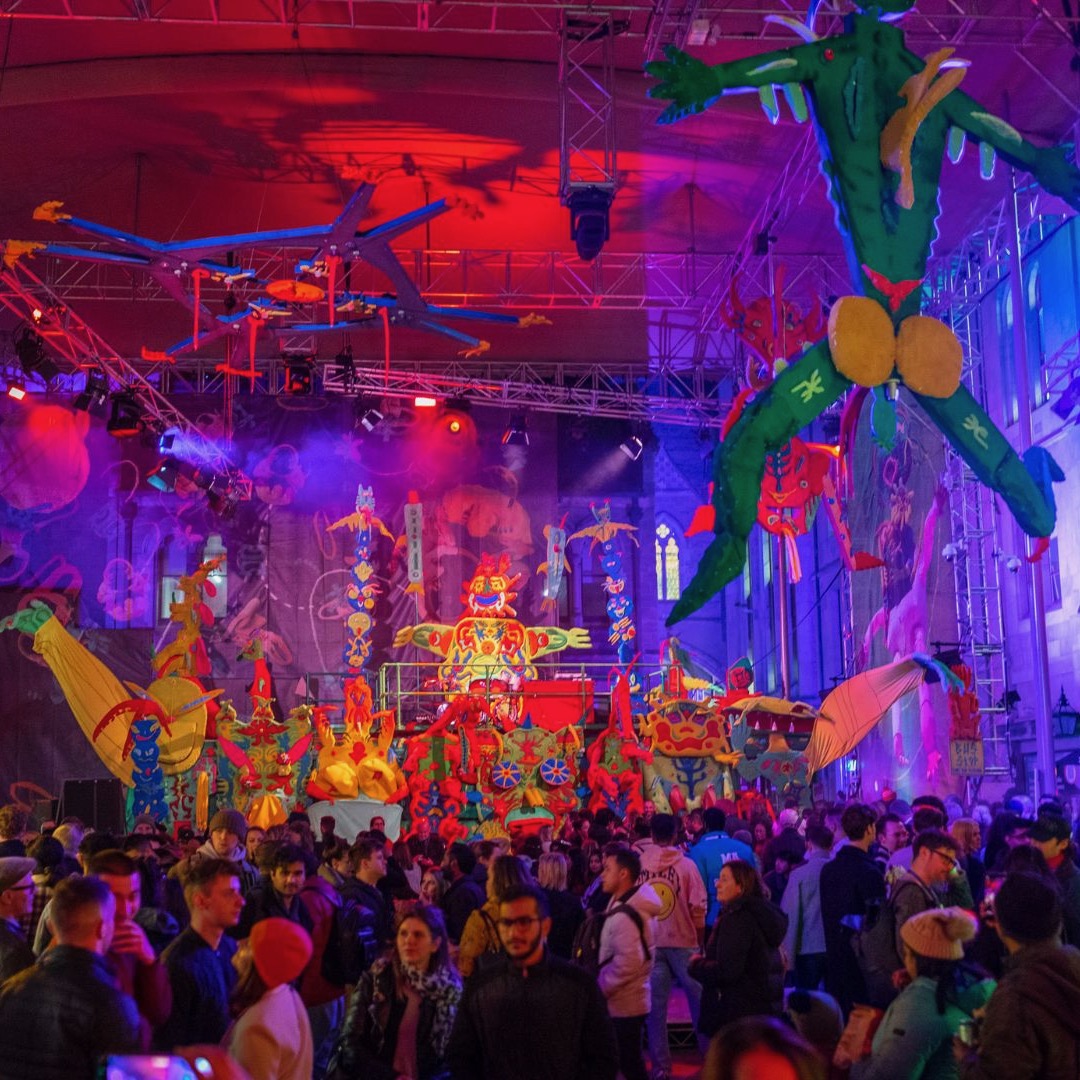 Free entry
Closed Mondays and Tuesdays
All Ages Licensed. Under 18s must be escorted by a guardian. Note this is a busy bar area.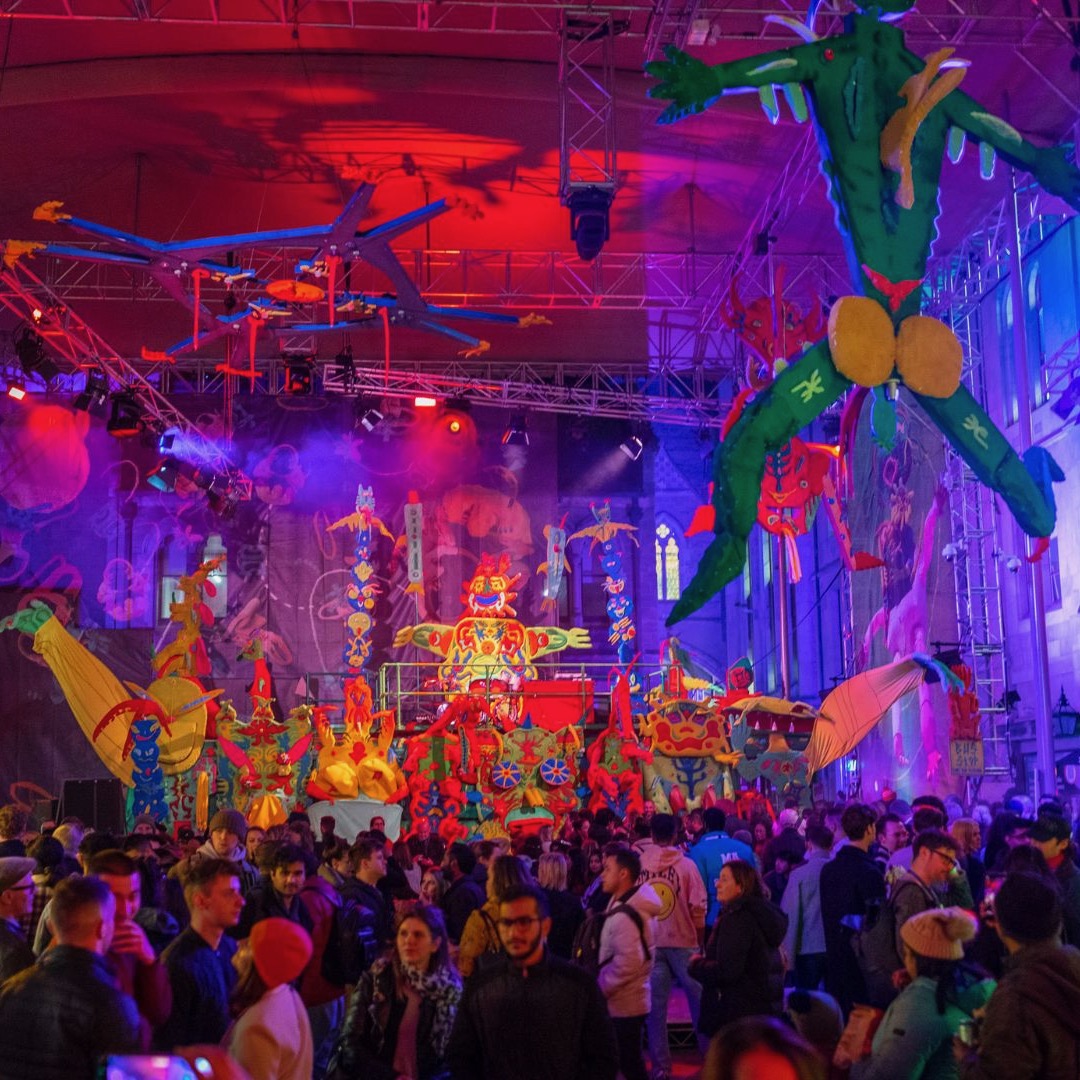 ---
The St Paul's Cathedral grounds become a fluid space of curated chaos. A free meeting place for song, dance, deliciousness and the uncanny.
Located in the centre of RISING, Night Trade is where you can gather, get fed, plan your next move, or board a bus that's been cooked in a reality-breaking marinade.
Situated in the historic rag-trade centre of Melbourne, the space has been bent to the will of the Puerto Rican purveyors of "beautiful nothingness" Poncili Creación. So, it'll be stitched to the hilt with tactile surrealism, featuring performances from a rotating roster of special guests and more. There'll be DJs, performances, drinks, BBQ cooking, a giant negroni tank, warm boozy beverages, shelter for rest, and a few things best left unsaid, for now.
Give in to its gravitational pull for the night, or recharge for a spell among the analogue oddities, uncanny installations and live entertainment, presented by Up. Then it's a short stroll to RISING's gigs at The Forum and Max Watt's, the art happenings at Shadow Spirit, Ghetto Biennale, and Queer PowerPoint or an elm-lit river walk to The Rink at RISING.
Enter Poncili Creación's realm
Poncili isn't a real word. But it is a real creation. Led by identical twin brothers Pablo and Efrain Del Hierro from Santurce, Puerto Rico, Poncili Creación are a self-proclaimed "formless entity"—a big bright salute to the resilience of creativity. They build new worlds from old couch cushions, papier mâché and other discarded would-be treasures. Then, once their puppets are constructed, they suit up and feed off the defiant, jubilant energy in their path. They're known to prance like mind-melting apparitions, control crane-sized marionettes, and drive entire minivans through the subliminal goo.
Off the back of a large-scale performance and installation at MOMA PS1 in New York, the brothers will park their new reality-breaking bus at Night Trade and sow a sesnse of strangeness and delight into the festival fulcrum. Think of their presence a PSA that we can pull the strings of a collective dream.
MUSIC AND PERFORMANCE ART
Night Trade is about embracing the unexpected. So, the puppeteers of the space won't be revealing any detailed set lists. They can however reveal that Melbourne's consummate party starters Wax'o Paradiso will be helming and curating the decks for those ready to dance. Look out for more performances of the kinetic and unwieldly variety.
Who else is on the bill? Who isn't?
Ben Chiu, Blu Jay, Cerulean, Daniel Pisano, Dutty Worldwide IchikawaEdward, Izzi Selfe, Jenn Ma & P.J., Jazz, Jnett, Kalyani, Katie Pearson, Mike Who, Misty Nights, Munir, Nat Salih, Nicholas Currie, Noise In My Head, Rona, Sophie Mcalister, Te Cheska, Taelyn, Yawung…
And more surprises on the way. Keep an eye on RISING's daily diaries on our socials during the festival.
EAT AND DRINK AT NIGHT TRADE
Don't succumb to curated chaos on an empty stomach. Enjoy shelter and food with your unhinged frivolity. Hoy Pinoy's Filipino BBQ skewers are cooked over coals, and there's an "All-night hot box" serving custom cuisine pies made by Free to Feed's East African, Sri Lankan, Somali and Colombian participants. Snack on chips and dips by Chappy's and Free to Feed. There's also bougie bar snacks by caviar by Yarra Valley Caviar and Pearl Diver have oyster shuckers on site. Gluten free, vegan and vegetarian options available.
Up Bar is housing a fully stocked hand-picked selection of pre-mixes from the Sydney-based distillers at Archie Rose, as well as Victorian wines, local beers from Bodriggy Brewing Company, spicy ginger beer brewed just for RISING, and mulled wine by Glou sustainable wine bar. Up customers can flash their card and get $5 off their first purchase too (T&Cs apply). Drink from a Sci Fi wine wall pouring locally made tap wines curated by Glou. And crack icy tinnies from an unanchored tinnie.
Also, sometimes the time comes when we must collectively suckle from a very big negroni tank. With this in mind, there'll be a giant tank with fresh-tapped Archie Rose Negroni, ready to flow.
Artistic Team
RISING Curator | Grace Herbert
Similar or Nearby
Supporters
Presented with Up, a banking app that makes money easy. Supported by the Andrew and Geraldine Buxton Foundation. Supported by Torrens University Australia. Supported by St Paul's Cathedral.
Image Credits
Night Trade Presented by Up. Photos: Shannyn Higgens
Performers featured: Poncili Creacion