Presented with ACMI
Shadow Spirit Talk Series
Shadow Spirit Artists in Conversation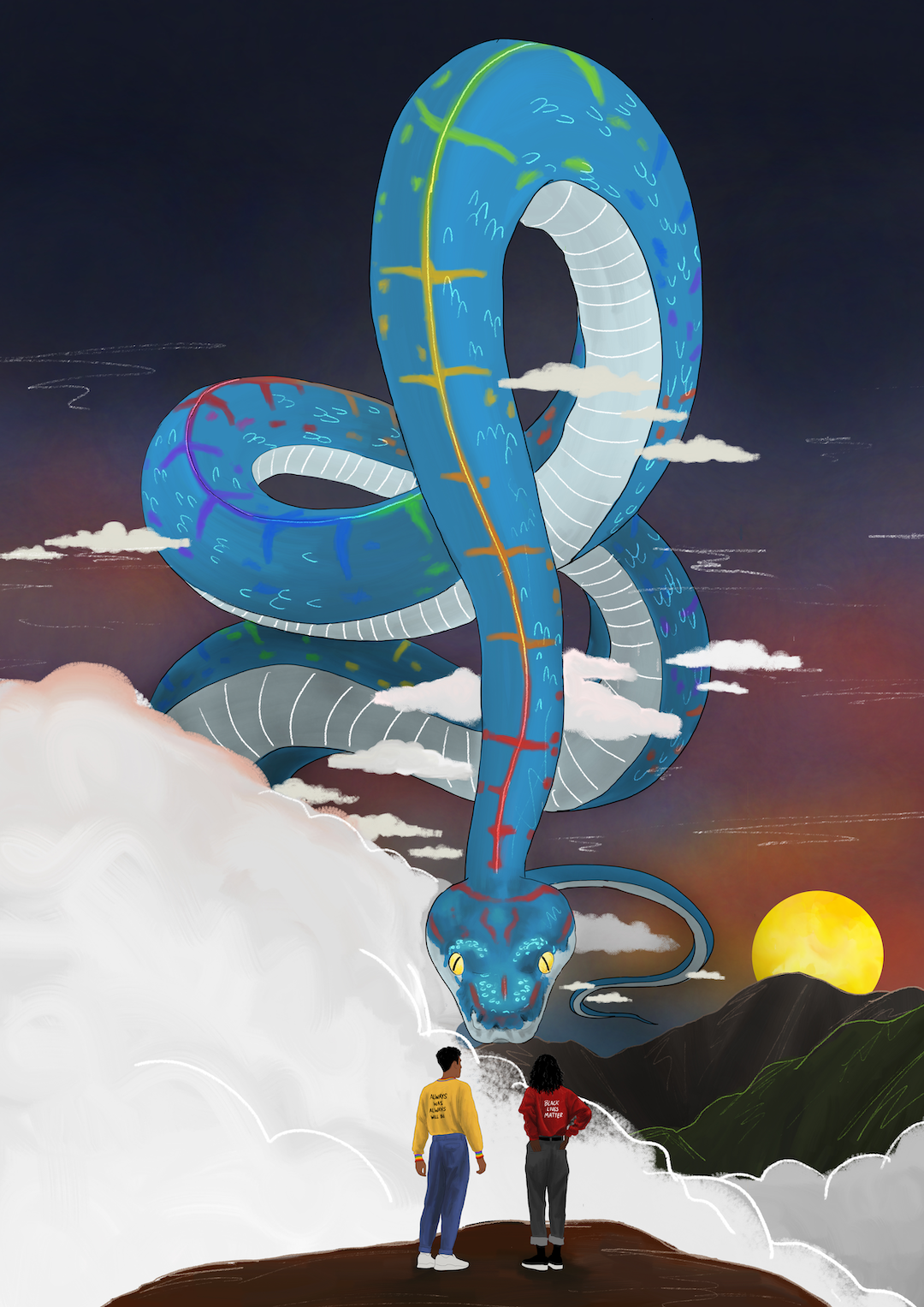 45 minutes allowing 1 hour overall
Free ticketed event
Featuring artists from Shadow Spirit exhibition in conversation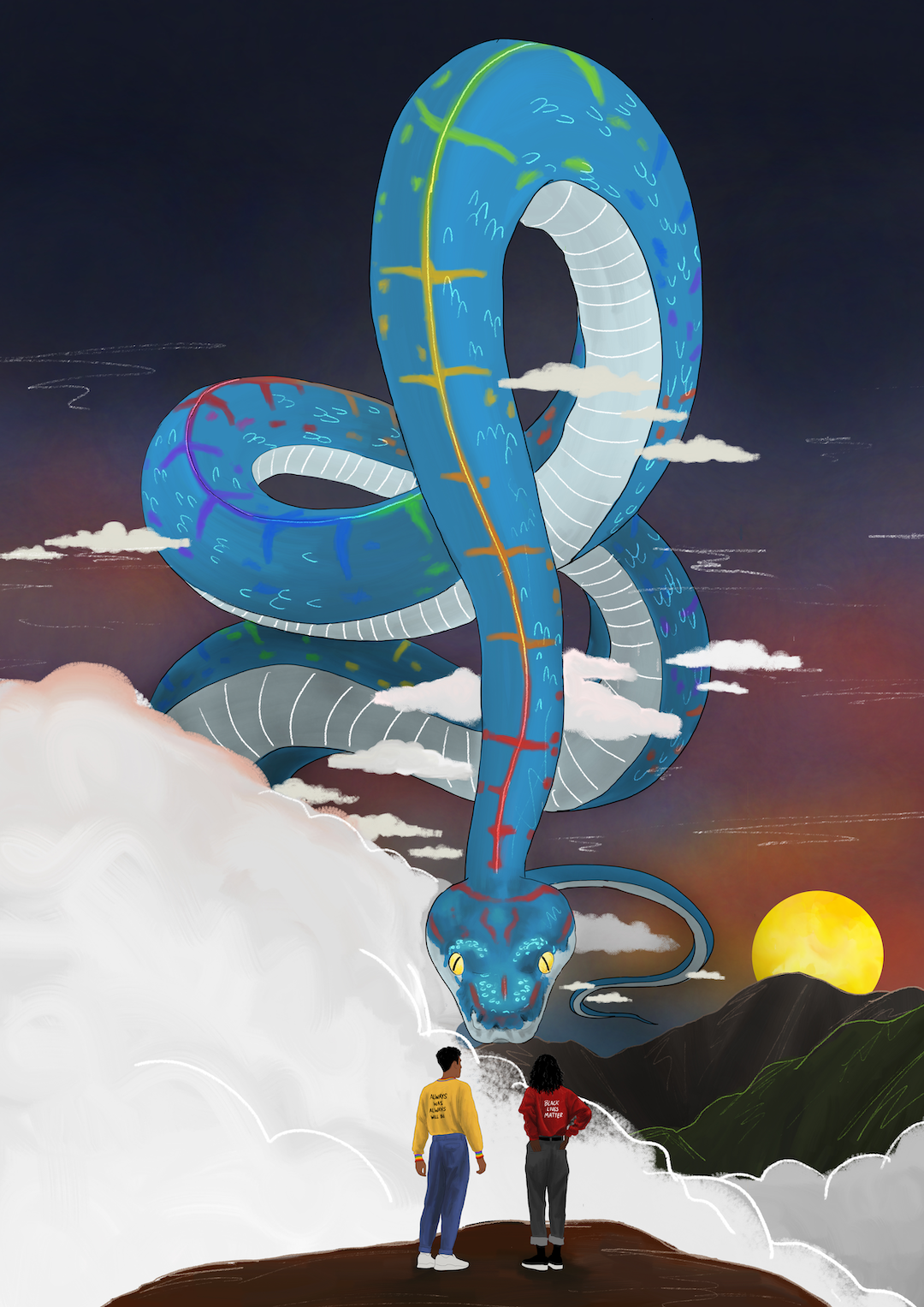 ---
Latest Updates
AUNTY ZETA IN CONVERSATION CANCELLED: Unfortunately, Aunty Zeta is no longer able to take part in her talk. Ticketholders will be notified.
Join Shadow Spirit artists as they discuss the development of their new works and the unique cultural, creative and imaginative stories and knowledge shared. From themes of ecofeminism from a Sovereign woman perspective, to a special In Conversation with Aunty Zeta Thomson.
Shadow Spirit : Sky Country, Dreamscapes and Uncovering Histories
Thu 8 June, 6—7PM
This session will focus on the influence of dreams, sky country and the histories hidden that have been illuminated in the exhibition.
ARTISTS
Brian Robinson (TSI/QLD)
Maluyligal/ Wuthathi
With his ability to meld contemporary influences and cultural knowledge he has developed a dynamic aesthetic. His graphic prints and sculptures are known to draw you into with a constellation of details.
Dylan Mooney (TSI/QLD)
Yuwi / Meriam/ South Sea Islander
Mooney is influenced by history, culture and family and responds to community stories, current affairs and social media.
Judy Watson (QLD)
Waanyi
Watson's process evolves by working from site and memory, revealing Indigenous histories, and following lines of emotional and physical topography that centre on particular places and moments in time.
Hayley Millar Baker (VIC)
Gunditjmara, Djabwurrung
Through examining the role our identities play in translating and conveying our experiences, Hayley works across photography, collage, and film to interrogate and abstract autobiographical narratives and themes relating to her own identity. Her oblique storytelling methods encourage us to embrace that the passage of identity, culture, and memory are not linear nor fixed.
Shadow Spirit : Protecting Country and Blak Ecofeminism
Fri 9 June, 6—7PM
In this conversation, hear from the artists of Shadow Spirit and the way in which they responded to the themes, developed their work and expanded ambitious ideas. This session will focus on the underlying themes of ecofeminism from a Sovereign woman perspective and the systems of knowledge explored through the works.
ARTISTS
Karla Dickens (NSW)
Wiradjuri
A careful collector of racially and sexually charged memorabilia, and other found objects, Dickens is a caretaker over material cultures that haunt. Primarily her works investigate her own intersected identities of being Aboriginal, gay and a single mother.
Dr Paola Balla (VIC)
Wemba Wemba / Gunditjmara
Dr Paola Balla is a Wemba Wemba and Gunditjmara woman and acclaimed artist, writer curator and educator. She focuses on Aboriginal women's stories and resistance with a visual practice, encapsulating research, art, memory and narrative realms. Her work centres Aboriginal women's voices, activism, Sovereignty, and matriarchy and First Nations ways of being, knowing and doing.
Dr Vicki Couzens (VIC)
Keerray Wooroong / Gunditjmara
Couzens is a distinguished Victorian Aboriginal artist with an interdisciplinary practice, or as she prefers to call it, 'creative cultural expression' that includes—painting, installation, visual arts, printmaking, mixed media, performing arts, language, ceremony and teaching—but is best known for her central role in the revival of the possum skin cloak making tradition which began in Victoria and is now established across south-eastern Australia. Vicki has worked in the Aboriginal community for more than 40 years and has played a significant role in not only cultural revival but also in language research and revival and has collaboration and cultural knowledge at the core of her practice.
Shadow Spirit : Kimberley Moulton In Conversation with Julie Gough
Fri 7 July, 4—5PM
Archivist-detective artist Julie Gough in conversation with Shadow Spirit curator Kimberley Moulton to discuss the themes, knowledge and subsumed histories behind Gough's work.
Gough is a curator of First People's Art and Culture at the Tasmanian Museum and Art Gallery in Hobart. And she's a Trawlwoolway woman whose Briggs-Johnson-Gower family have lived in the Latrobe region of Northwest Tasmania since the 1840s, with Tebrikunna being their Traditional Country in far Northeastern Lutruwita (Tasmania).  Her research and art involves uncovering and re-presenting subsumed and often conflicting histories, and she frequently draws on her own and her family's experiences as Tasmanian Aboriginal people.
Similar or Nearby
Supporters
*Shadow Spirit* is presented by Metro Trains Melbourne and supported by The Besen Family Foundation, The Robert Salzer Foundation, Canny Quine Foundation, Dashiell Gantner and Anna Foley, The Dara Foundation and Gordon Darling Foundation. *Shadow Spirit* is commissioned and produced by RISING. Co-commissioned by Illuminate Adelaide.
Image Credits
WEAVING TIME BY DYLAN MOONEY. COURTESY OF THE ARTIST