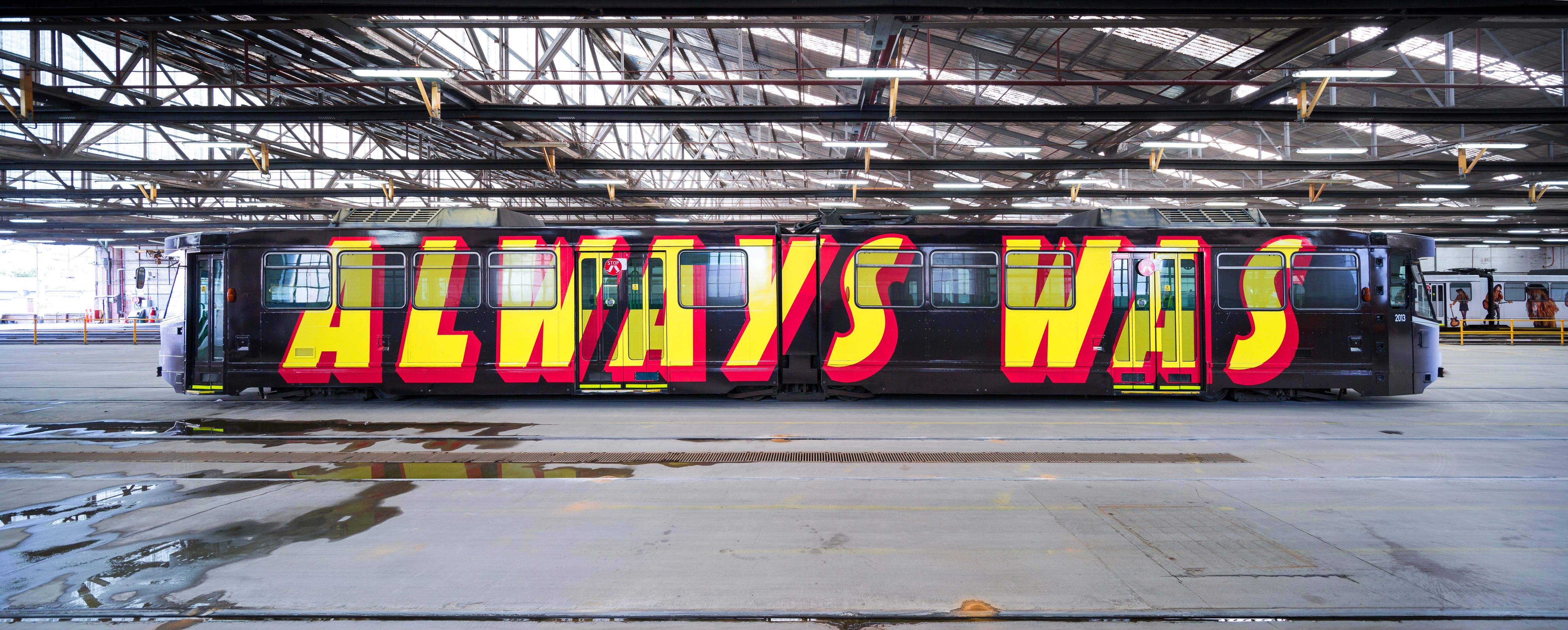 2021 Melbourne Art Trams : First Peoples Call Out
Mon 11 January
RISING, Public Transport Victoria and Creative Victoria invite First Peoples artists to submit artwork ideas for the 2021 Melbourne Art Trams.
Melbourne is a city built on the lands of the Kulin Nation peoples; Traditional Owners who continue to maintain deep connections to their country, kin and waterways that have existed for tens of thousands of years.
Along with Victorian Traditional Owners, the place now known as Melbourne is home to many First Peoples from across the country.
The city transforms every day, but beneath the concrete foundations ancient waterways continue to flow. The old gums, scarred with the lines of canoes, stand tall alongside towering skyscrapers, and fresh and salt water continue to meet in estuaries with the moon's tidal pull.
While the city is changing, country and First Peoples culture is all around us. From the earth to the sky and the stories in the stars, to the built environment, tramways and laneways.
NITTY GRITTY
We are inviting Victorian Traditional Owners and First Peoples artists to respond to Melbourne and the multiple layers of history, country, diverse community and connections across Victoria.
There will be six trams for the 2021 First Peoples Art Trams Project. The project aims that four trams will be allocated to artists who identify as Traditional Owners of Victoria and two trams to First Peoples who live in Victoria. We encourage artists from both the city and regional Victoria to apply.
Submissions should add positively to the public experience of commuting in Melbourne. Please note that the trams are not a flat canvas, so the initial creative concept should consider that trams are different shapes and sizes. It's important you consider you design to all the types of tram classes—this will facilitate the tram allocation process.
Please read the Tram Design Considerations and FAQs below for more detailed information on this.
WHO CAN APPLY?
To be selected as a 2021 Melbourne Art Trams artist:
You must be a Victorian Traditional Owner OR
First Peoples artist where Victoria is the primary location in which you live and work OR
First Peoples artist whose practice or body of work over the last five years has primarily taken place in Victoria
Artists who submitted an Expression of Interest in previous years but were unsuccessful are encouraged to submit a new idea for 2021.
Artists must have the capacity in the first three weeks of February 2021 to provide final artwork for the project.
HOW TO APPLY
There are two ways you can submit your artwork of the five (5) tram designs:
Fill in the form below and upload your artwork and supporting material OR
Email arttrams@rising.melbourne with your artwork as an attachment (please be mindful of file sizes and consider using a file-sharing link ensuring you include any passwords so we can access them).
You'll also need to include the following information about yourself:
Full name
Phone number
Language group
Your artwork file + file-sharing password
An outline of your artwork idea (300 words)
Supporting material to illustrate your idea
Artist bio (300 words)
Website link
Submissions close 6PM, Monday 1 February 2021.
If you have access requirements that will cause difficulty submitting online, and you need assistance submitting your idea, please call 03 9662 4242, Monday to Friday, between 9AM—5PM. We are only able to respond to accessibility enquiries at this number, for all other queries please askus@rising.melbourne.
TRAM DESIGN CONSIDERATIONS
Imagery should not be offensive to the general public

Be aware that the artwork needs to be appropriate for display on a moving vehicle, most impressions of trams are 3—5 seconds

Note that there are reflective yellow strips at the base of each door for accessibility

Artwork graphics are not to be applied on shaded areas on the tram wrap grid, these areas are kept clear for safety. Sections of windows that are covered by the artwork will be printed on a semi-transparent material

Perforated vinyl is used on windows, at night this becomes more transparent with the interior lights on

During warm weather the windows will be open, shifting the wrapped element with it

Artworks which are reflective, predominantly black or which resemble streetscapes would be a road hazard when applied to a tram and will not be able to be selected for safety reasons

Tram ends should remain visible for safety reasons (avoiding black)

Designs that include black and dark colours are possible, particularly when featuring high contrast

Artwork can be different on each side of the tram

No artwork will be placed on the front/back of the tram
DESIGN SPECIFICATIONS
Download and apply your designs to the tram templates. Please provide your artwork and supporting material as either .JPG, .PNG, .TIFF, .GIF, or .PDF files and include your name in the file name. Eg. SURNAME_FIRSTNAME_1.jpeg
No Class
Tram 1 A Tram 2 B Tram 3 B Tram 4 C1 Tram 5 D1 Tram 6 D2
Download these tram templates and place your artwork onto the line drawings of each tram type presented on page two. These Illustrator templates are for the purpose of the EOI application only. A graphic designer will work with you to translate your design into final artwork for the trams.
If you're not familiar with using Adobe Illustrator, please provide detailed artwork imagery with indicative examples of what your work would look like on the tram – think colour palette, design and layout. You definitely don't need to be a graphic design whiz to apply.
WHO DECIDES?
Submissions will be assessed by curator and RISING Artistic Associate Kimberley Moulton (Yorta Yorta) and the Melbourne Art Tram Partnership Group comprising representatives of Creative Victoria, Department of Transport, Yarra Trams and RISING. This group will be made up of a majority of First Peoples with additional members to support technical and marketing requirements.
The following criteria applies:
Strength of the creative vision
Originality of response to the creative brief
Technical feasibility
How the artwork responds to its context (ie. riding the tramlines each day)
WHAT YOU WILL GET
Six (6) successful artists will each receive a commission of $10,000AUD for their artwork.
WHAT HAPPENS
Successful artists will be notified in early February 2021 and publicly announced soon after.
Selected artists will be allocated a tram type in order to finalise their artwork before it is transferred to the vinyl wrap. The curator and graphic designer will be available to assist artists with this and in digitising work where needed. Artists must be available during this period—first two weeks of February—to complete the project.
Selected artists will then review the digital proofs to ensure that the final product is an accurate and an acceptable rendering of their artwork with the physical vinyl samples reviewed by Yarra Trams and the Melbourne Art Trams curator.
Yarra Trams and the Melbourne Art Trams curator have final decision on tram selection for the selected artists for health and safety and design purposes.
Artwork will then be printed and applied to the trams, culminating in the launch of one of the Melbourne Art Trams to mark the opening of RISING 2021, which artists will be required to attend. Other Art Trams will be released over the following weeks. Trams will be run on the network for 12 months (unless impacted operationally).