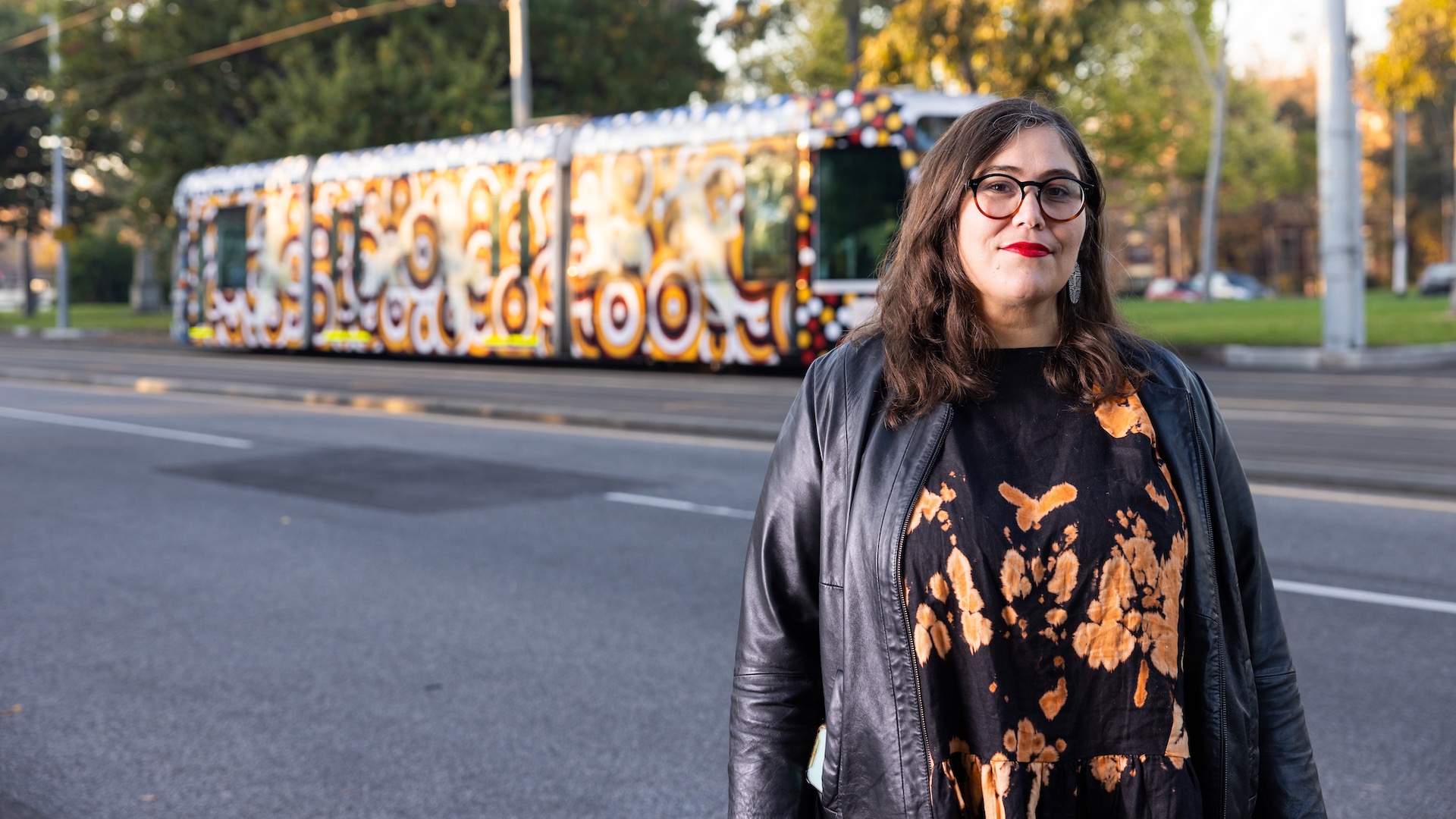 2023 Melbourne Art Trams : FAQs with Curator Jarra Karalinar Steel
Tue 20 December
To help with your Melbourne Arts Trams submission, our 2023 curator Jarra Karalinar Steel is here to answer your burning questions.
Melbourne's Art Trams are back in 2023, with another line-up of First Peoples artists responding to this year's theme, "Blak Futurism". With submissions open until Sunday 15 January, the 2023 Melbourne Art Trams curator Jarra Karalinar Steel has answered some of your frequently asked questions.
---
YOUR FREQUENTLY ASKED QUESTIONS
Jarra Karalinar Steel: Hi all, my name is Jarra Karalinar Steel. I am the Melbourne Art Tram curator for RISING festival 2023.
This year's theme is "Blak Futurism", and I'm really excited to see what artists come up with for this theme.
Question: "Can I collaborate with elders, my aunts, my uncles, my nephews and nieces, cousins?"
JKS: If all artists involved also meet the criteria, absolutely. We've had some amazing collaborations in previous years and I would love to see some new ones, especially with elders collaborating with young ones and passing on stories and sharing art. I think that's really special.
Q: "Which format should I be using to create my designs if I am a digital artist?"
JKS: Vector files are necessary for your design as it means that you can scale the work to any size without losing the detail or distorting the image. Adobe Illustrator or Fresco are both applications that are highly recommended. You also want to make sure that your DPI is at least a minimum of 400 and a maximum of 600. An example of what the final art resolution would be for a D2 tram: It would be 20,000 to 35,000 pixels wide with a resolution of 400.
Q: "What if I don't have Photoshop?"
JKS: Artists are not required to have digital skills, and you do not need to be a digital artist to apply for the Melbourne Art Trams. We welcome and encourage all kinds of artists, as long as we can take your work and put it on a tram. We will provide a photographer who will be able to take high-resolution photos of your tram art, in addition, we have an in-house graphic designer will work with you t put together the work on a tram format.
Q: "So what will the graphic designer be able to provide?"
JKS: If your work has been selected, we will work directly with a graphic designer to finalise into the highest resolution in preparation for it to be printed. They are also able to offer advice on technical issues with Adobe software, or a colour book to ensure the colours we see on the screen, will be accurately depicted. For example, a Pantone colour book, which has been useful in previous years.
Q: "What sort of colours can I use?"
JKS: If it is a digital design, it's important that you are working CMYK. CMYK is what the final piece will be printed in, and you want to ensure that the colours you have chosen, are the ones that are printed. It is important that the colours are not too dark, and there are colour requirements/limitations that are outlined in the EOI.
Q: "Can I use my photography?"
JKS: Yes, you can. Just, as long as you take those images at the highest resolution. Please remember that the images will be enlarged significantly for an Art Tram. So, an example of a D2 Art Tram's resolution will be around 20,000 pixels high and 35,000 pixels wide with a DPI of 400. So as long as your photography meets that, then it should be okay. And we can always do number of prints pieced together, as long as it meets the theme.
Q: "Can I choose the tram that my artwork's going to be on?"
JKS: Unfortunately not. The tram is determined by the suitability of the artwork, as each tram has a different route and tram design. All of the trams do go through the city, so you will always have a chance to see it easily, and we also will have exact tram numbers so you can track it on the Tram Tracker.
Q: "Can I use an older artwork?"
JKS: I do encourage you to create new works for this, however, we will accept existing works if they fit the theme.
Q: "Does my idea have to be completed to submit an application?"
JKS: As there is a tight turnaround from receiving applications, the selection process, to printing, having your design as completed as possible is really important. However, if you do have an idea that is strong and you are able to present select works that can be developed into a finished piece within the timeline, we are willing to accept this.
Q: "Can I continue to work and finalise my design after I get selected?"
JKS: Yes, you can work with the graphic designer and myself to make sure that your work is finalised for production. There will be a two week period during February that has been allocated for this, and artists must be available during this development period.
Q: "Can my organisation submit artwork for the Art Tram?"
JKS: I think that that would be okay as long as your organisation is a creative arts organisation, or if you have a brand that is a creative arts. I also think that it is important that it is 100% owned and run by First Nations People, because I think that this is set up for artists to make sure that they get money back into themselves and the community.
Q: "Do you see this opening to all First Nations creatives at any point?"
JKS: Unfortunately No. This project is unique, in that for the first time on our own land we get to solely celebrate the voices of Australia's First Peoples, by us for us. We're telling important stories of culture, community and connection to country that often go untold or unheard.
Creating a space dedicated to uplifting Australian Aboriginal and Torres Strait Islander artists is important to me and RISING. This is what this project does. I believe in celebrating all Indigenous peoples as we share the same struggles but this project is a space for Aboriginal and Torres Strait Islander peoples to shine in a world we are told we cannot.
Q: "If my work has been selected in a previous year, can I apply again?"
JKS: No, although it is amazing that you wish to have another Art Tram. It's important to allow others in our community the opportunity to experience what we experienced having our Art Tram.
Q: "Can I submit more than one work?"
JKS: I think that that is okay. You might want to submit if the works are different. Well, as long as everything meets the theme, that's fine. But if it is each work has a different story, I think, try to make it a new application. So you can apply more than one time. If it is multiple files, please keep it to a minimum, and yeah, it should be okay.
JKS on accessibility: So some questions came up about accessibility. And I think that is a really important question to ask within the arts.
RISING is working very hard to make sure that this is an accessible event and the Art Tram application process is as accessible as possible. We were on holidays over the Christmas break. So you might've not been able to give us a call, but our emails are open. We're back at it now. And there will be an email and a phone number. I'm sure we'll paste it here, it will be somewhere on these videos. Also, I am more than happy for community to reach out to me through the DMs on Instagram as well. A few people, a few artists have reached out and they found it very helpful, the advice that I gave them.
So if you have any accessibility issues around submitting your work, maybe you want to record a video of you talking about your idea rather than writing it. I think that that is a valid way of submitting an application and we can help you through that. So please reach out if you have accessibility issues. We want to make sure that you are able to submit an artwork and be a part of this project, because it's very important to myself and to RISING festival.
JKS closing thoughts: I hope this answers a lot of the questions that you might be having around submitting your Art Tram idea. I am so excited to see all your ideas. Please do not feel ashamed to submit anything. You never know where it will lead to and it is really important that you just submit.
So some key things that I'm looking for when I'm assessing people's applications. One thing, does this artwork meet the theme? Is the idea taking in consideration the theme that I set out in the EOI, which is "Blak Futurism"? If you wanna know more about the theme, you can check it out on the RISING EOIs for the Art Tram 2023.
Although the art is the number one important thing, if that artwork doesn't meet with the theme and that I will be creating for my vision for the six trams, then I might not consider it as a valid tram for this year. That doesn't mean that artwork is not beautiful, it just means that it doesn't work within the theme.
Next key thing is, is this work original? Is this a work something that I haven't seen before? Is it your voice? Is it who you are as an artist? Next key thing is meaningfulness. What is the impact of this tram going to be in the long run of the Art Tram program? What will it be? And lastly, what is the impact that this tram will have on the general public when they see the tram moving past? Some people will only get a glimpse of this tram out of the corner of their eye for five seconds. We want people to be like, "What is that? What is that interesting thing? What is that tram? What does it mean?" We want to engage people. Obviously, we don't want to distract people in traffic, but we want to make sure that that tram has an impact, that it says something. And that's what I'm looking for.
I hope that helps you better understand what I'm looking for as a curator for the Art Trams. I hope it doesn't also put you off submitting something, please submit something. I really believe that this project can transform people's lives and not only the artists, but community as well.
Biography
Jarra Karalinar Steel is a multi-disciplinary artist known for her powerful emu engravings, poster art, large scale public installations, Digital/Augmented Reality Art, RAP artwork and commemorative signage. Karalinar Steel is of Boonwurrung, Wemba Wemba, English and Scottish descent. Karalinar Steel completed her Master of Arts (Art in Public Space) from RMIT in 2020. Karalinar Steel is a passionate advocate/consultant for Self-Representation of Kulin and Victorian First Peoples Art and culture and making sure it is kept alive and thriving.
IMAGES: JARRA KARALINAR STEEL, 2022 MELBOURNE ART TRAM CURATOR WITH REPRODUCTION OF TRAM NO. 829 (1991) LIN ONUS. PHOTO: JAMES MORGAN
REPRODUCTION OF TRAM NO. 829 (1991) LIN ONUS. PHOTO: JAMES MORGAN
NOT SORRY FOR, WHO WE ARE BY PATRICIA MCKEAN, 2022. MELBOURNE ART TRAMS—RISING. PHOTO: JAMES MORGAN
MY AUNTY ONCE TOLD ME BY DARCY MCCONNELL / ENOKI, 2022. MELBOURNE ART TRAMS—RISING. PHOTO: JAMES MORGAN
WEAVING CULTURE THROUGH COMMUNITY BY TEGAN MURDOCK, 2022. MELBOURNE ART TRAMS—RISING. PHOTO: JAMES MORGAN
BLAK LOVE BY PAOLA BALLA, 2022. MELBOURNE ART TRAMS—RISING. PHOTO: JAMES MORGAN
LIVING WITH THE RIVER BY AUNTY LOUISE, 2022. MELBOURNE ART TRAMS—RISING. PHOTO: JAMES MORGAN