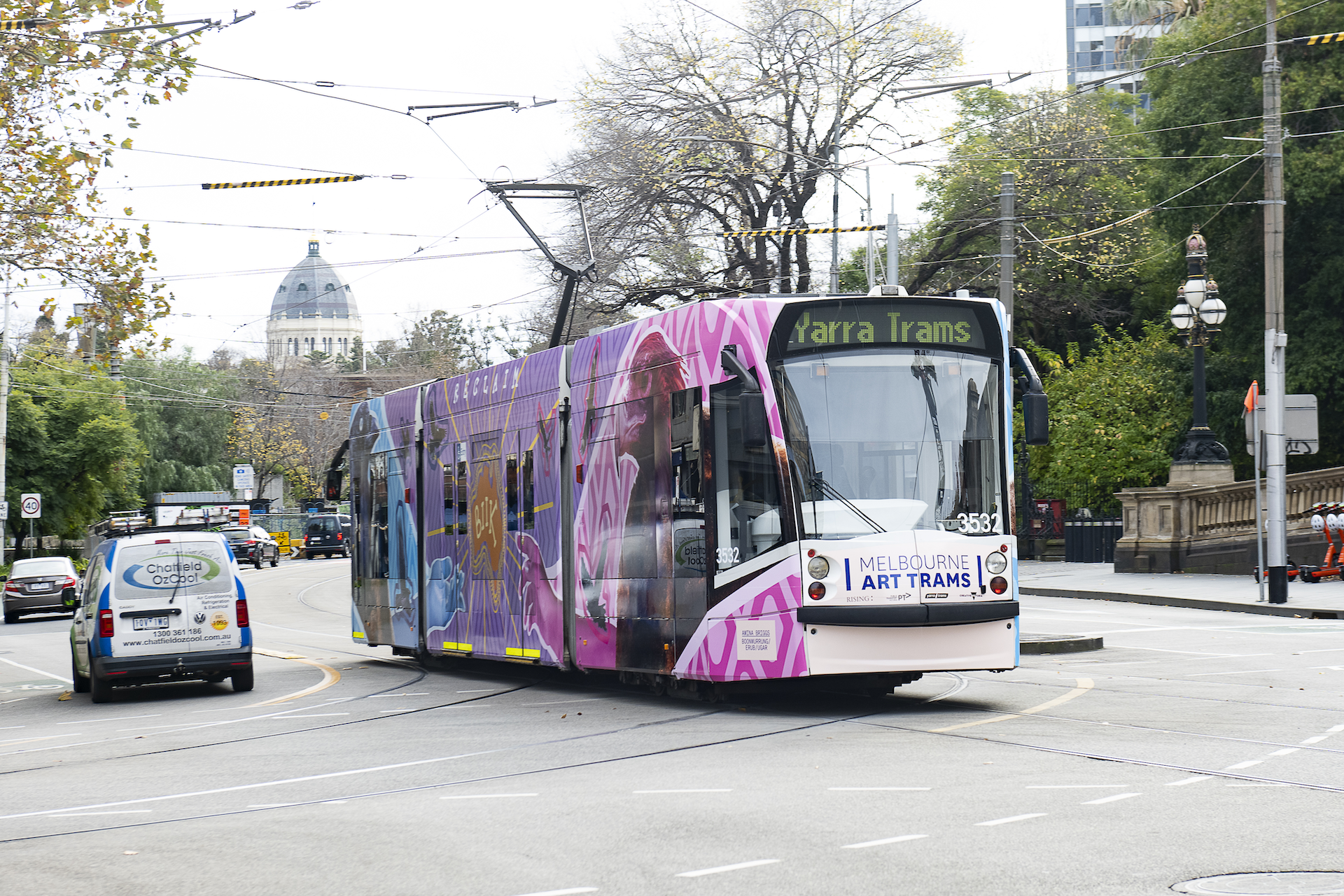 Your guide to 2023 First Peoples Melbourne Art Trams
Tue 13 June
Meet the artists behind the 2023 Melbourne Art Trams and how their artworks respond to theme of 'Blak futurism'.
Curator Statement
'Blak Futurism' is the theme for the 2023 Melbourne Art Trams, curated by Boon Wurrung/Wemba Wemba artist and curator, Jarra Karalinar Steel.
The future holds a world of possibilities. But our capacity to imagine and create these realities has been impacted by colonisation.
The theme Blak Futurism asks artist to envision better futures for Australian First Peoples.
How do we reclaim space? How can we own our future? How do you envision a Blak tomorrow?
To build a Blak future we need to look our past and present in the eye; listen to our leaders, heroes, Elders; explore our culture, arts, knowledge, identity; and connect with place and the care for country.
A Blak future requires breaking free of the status quo and disconnecting from expectations. Can you imagine a future you have only dared to dream?
Artists were invited to interpret the theme in any way they wished.
---
Jarra would like to acknowledge the term 'Blak' was coined by Destiny Deacon for the 1994 collaborative First Nations group exhibition, Blakness: Blak City Culture! featuring the work of Destiny Deacon. Curators of the exhibition Clare Williamson and Hetti Perkins described Destiny Deacon's development of the term 'Blak' as "part of a symbolic, but potent strategy of reclaiming colonialist language to create means of self-definition and expression".
---
Use the TramTracker app to catch an Art Tram
MOBILE | free applications for iPhone and Android
ONLINE | tramtracker.com.au
CALL | 1300 MYTRAM
---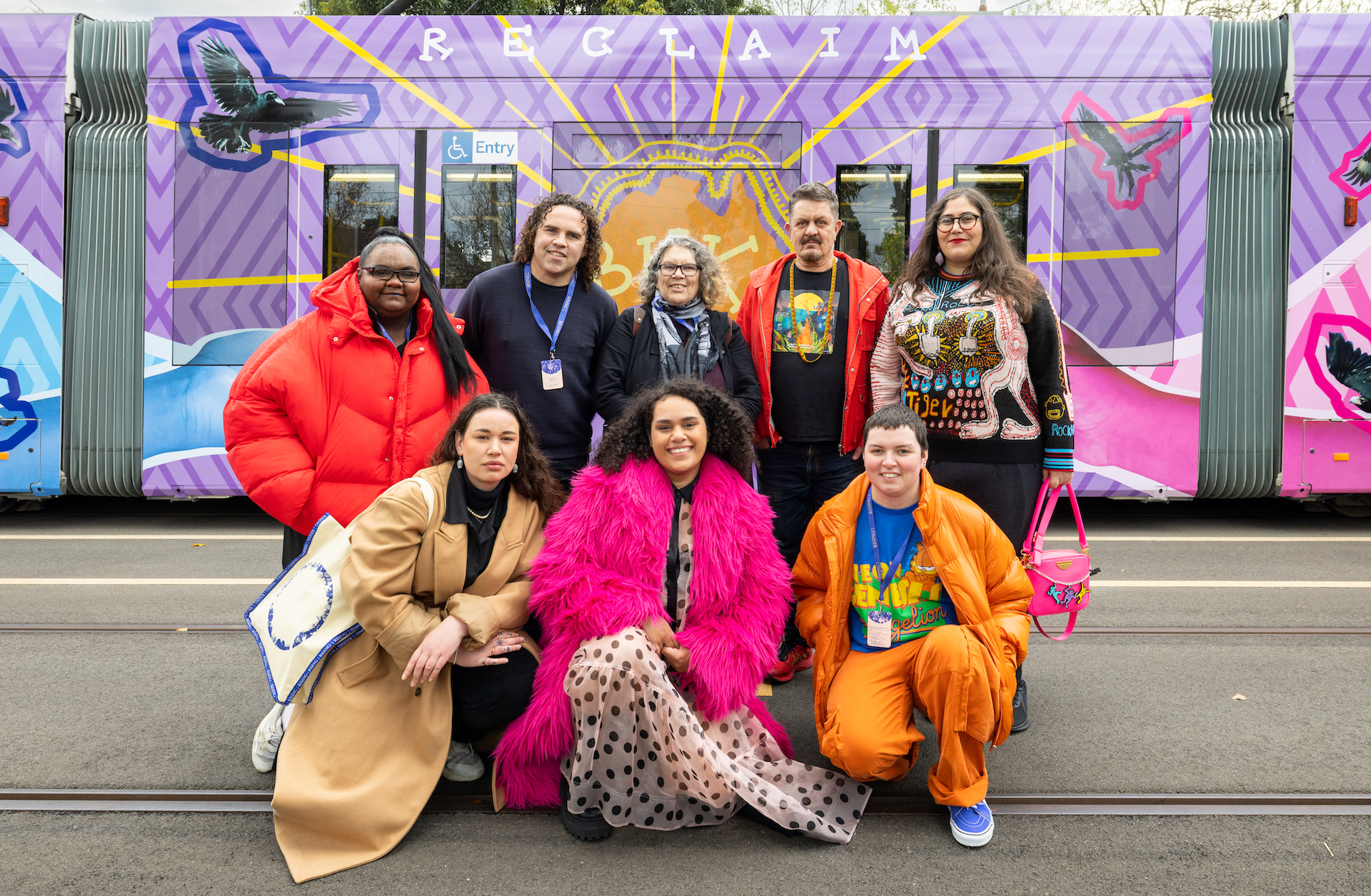 ---
Meet the 2023 Artists and their trams
Amina Briggs
Boonwurrung/Erub (Torres Strait)
TRAM NUMBER | #3532 TRAM ROUTE | 5, 6, 16, 72
TRAM CLASS | D1-Class Tram
ARTIST STATEMENT
"Bunjil and Waa, the creator, and the protector, are from my Boonwurrung culture. In the artwork, they are dressed in a possum skin cloak, a nod to my Boonwurrung mob in the winter! And they're accompanied by their respective animal; the Australian raven and the wedge-tailed eagle. Surrounded by the traditional Boonwurrung symbol, the diamond. Both entities are reaching out to show that they are reclaiming Biik (Land). Overall, Blak futurism is hope in reclaiming what is ours again!"
ARTIST BIO
Amina is a First Nations multidisciplinary artist whose current practice involves creating digital artworks about her culture and experience as an Indigenous woman living in Australia. Amina incorporates Boonwurrung language and culture mixed with profanities to continue the legacy of her culture whilst also staying true to herself, and adopts contradictory elements within her work to unsettle audiences.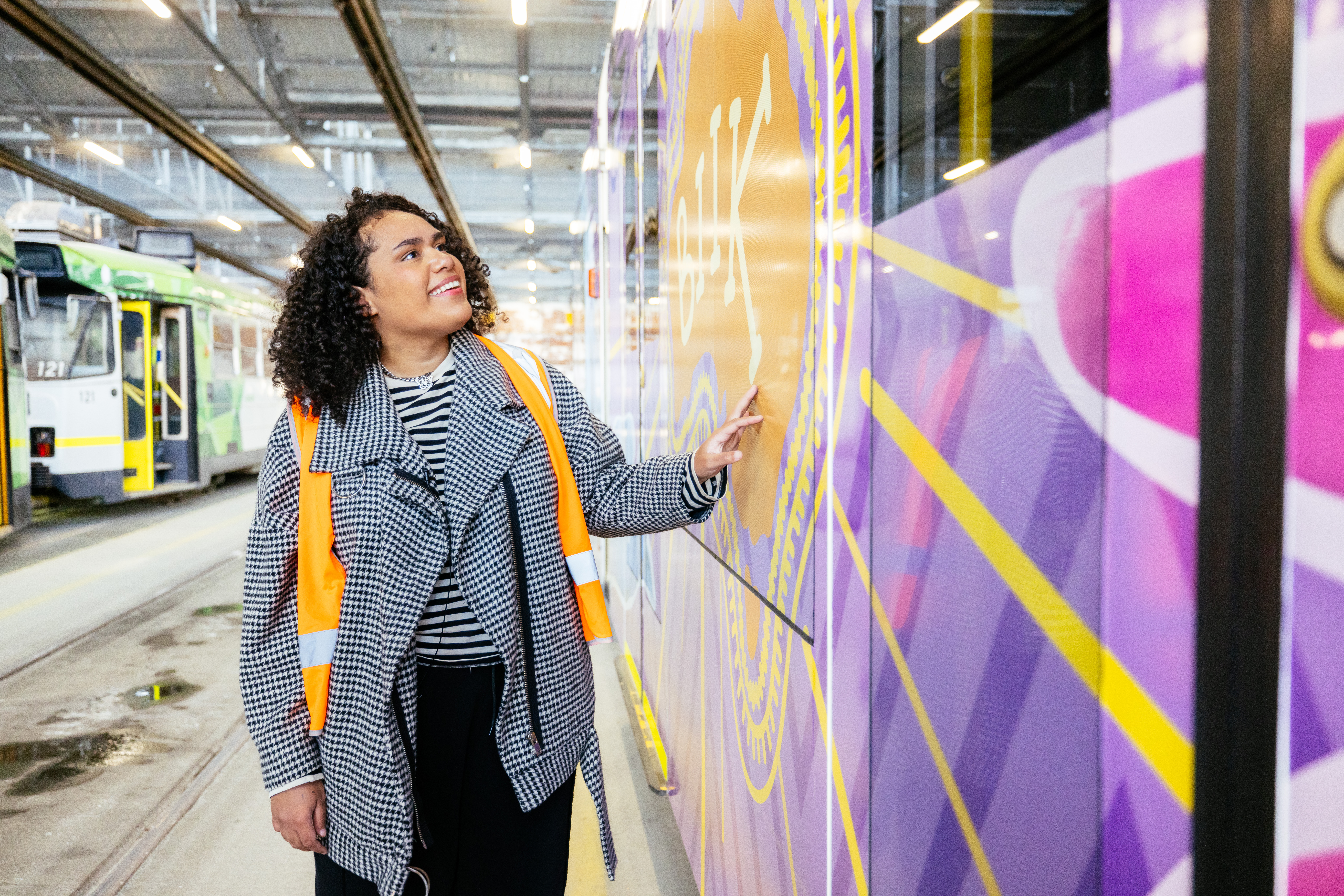 Rubii Red
Lama Lama (Queensland)
TRAM NUMBER | #236
TRAM ROUTE | 70, 75 TRAM CLASS | A-Class Tram
ARTIST STATEMENT
"My tram design pays homage to Naarm and all the things I find special and beautiful about this city. A place I'm not from, but a place that's raised me and allowed me to grow as an artist and as a person.
I wanted to acknowledge the protests we have here, the music scene and the nightlife of the city. All these things that make Naarm, Naarm!"
ARTIST BIO
Rubii Red is a proud Lama Lama woman from Cape York, QLD, but has grown up and live in Narrm (Melbourne, VIC) majority of her life.
She's an artist, Twitch streamer, aspiring videographer and an activist, who uses her art to speak about important issues to her and her community. She is big on representation within media and wants to see more First Nations figures in these areas - especially in gaming and streaming, and film and television. She is a huge anime and is a comic book fan.
A lot of her work is inspired by these areas as they've played a big part in her life from a young age. Rubii's goals for the future are to work in animation, depicting First Nations story for young Mob too see themselves, just like she wanted when she was growing up watching animated shows, with superheroes.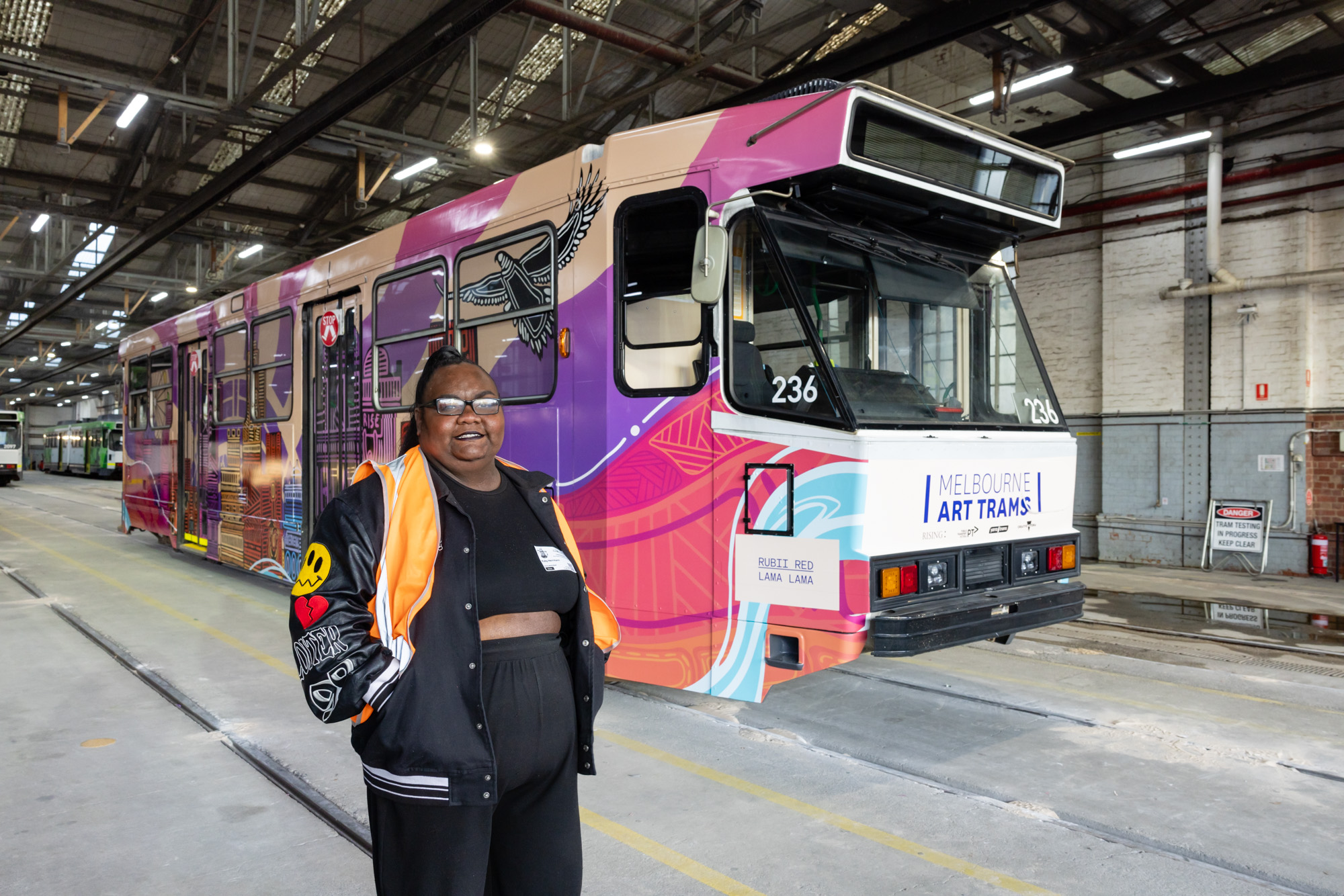 Peter Waples-Crowe
Ngarigu (New South Wales)
TRAM NUMBER | #2114
TRAM ROUTE | 1, 6 and 19
TRAM CLASS | B-Class Tram
ARTIST STATEMENT
"Blak futurism is decolonising and restoring Indigenous knowledges and ways of being. It's about revitalising Country after colonial damage and processes. It's about protecting and supporting key species of the southeast, including the Alpine dingo.
This tram celebrates an apex predator and king of the ecosystem, capable of changing landscape degradation. It also acknowledges the deep connection between First Peoples and the dingo, away from its colonial status as a pest to be eradicated. The future is dingo."
ARTIST BIO
Peter Waples-Crowe is a multidisciplinary artist whose practice explores the intersection of an Indigenous queer identity, spirituality and Australia's ongoing colonisation. Influenced by his adoption and a later reconnection to with his Ngarigo heritage, Peter's art comments on the world as a contested site for his multiple identities. Referencing many disparate ideas and themes, his work is auto-ethnographic by nature, and largely based on personal experiences.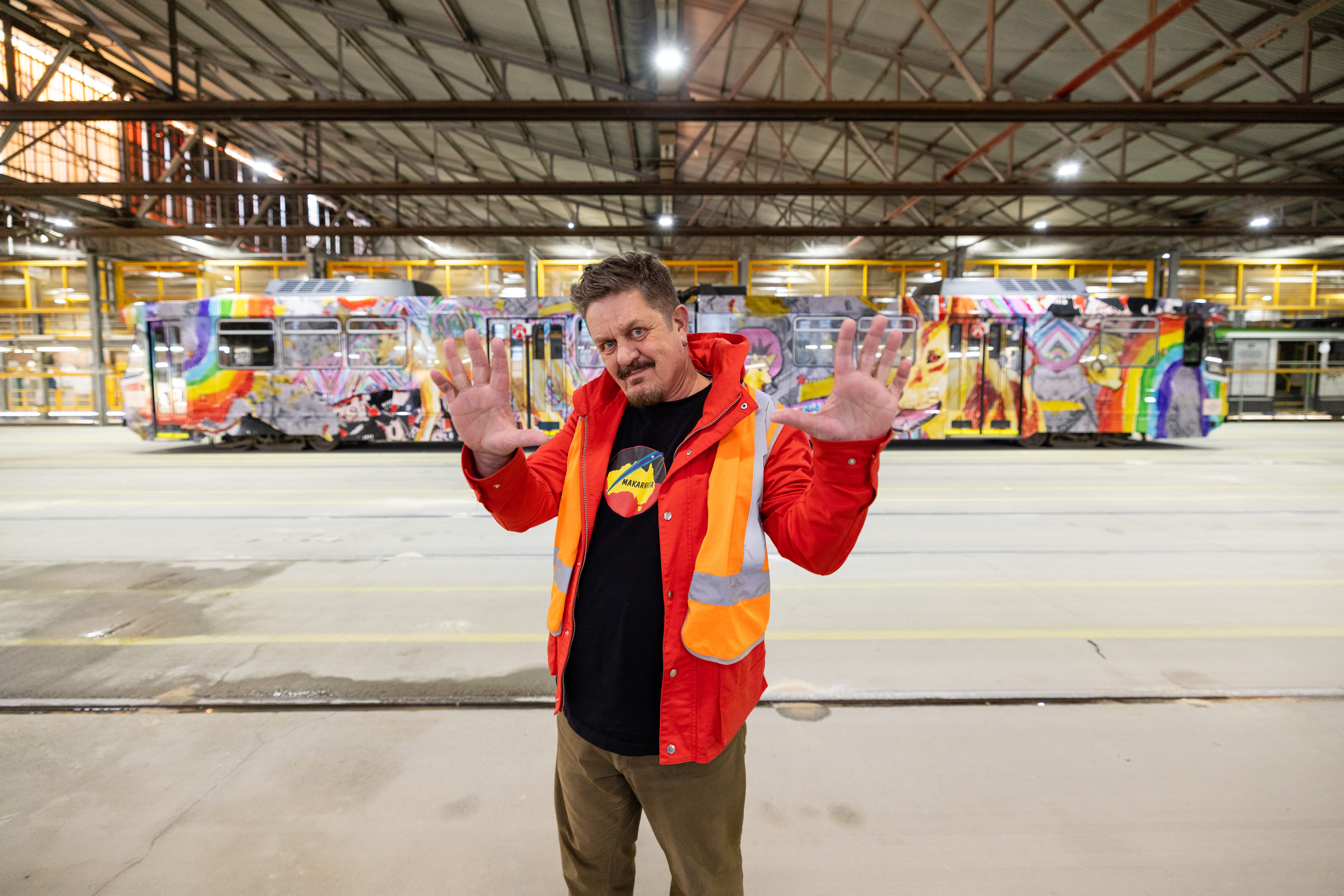 Coree and Lyn Thorpe
Coree Thorpe Yorta Yorta/ Wurundjeri/ Gunnai/ Gunditjmara (Victoria)
Lyn Thorpe Yorta Yorta/ Wurundjeri/ Wamba Wemba/ Barapa Barapa (Victoria)
TRAM NUMBER | #2017
TRAM ROUTE | 58, 59
TRAM CLASS | B-Class Tram
ARTIST STATEMENT
"'Blak Futurism' speaks to our Aboriginal continuum. Our past, present, future, forever Dreaming.
Creation, travelling, connecting-up grassroots mob. Paying homage to our Ancestors and Country we belong. Caretaking, protecting knowledge from our lands.
Our identity, our Songlines embedded deep and strong. Our ancient stories, spirituality, travelling multiple landscapes. Navigating creeks, rivers, lands and skies, where dragonflies and murnong seeds thrive and share our stories. Bunjil Bless."
ARTIST BIO
Lyn Thorpe is a Yorta Yorta/Wamba Wemba & Woiwurrung woman with connections to other mobs through her Grandparents. She was raised on Yorta Yorta Country in the Goulburn/Murray rivers area mostly around Barmah/Mooroopna/Shepparton & Echuca in Victoria.
Lyn has three deadly sons she's very proud of and each of them have their own unique qualities that they draw on and combine with their cultural strengths & knowing who they are & where they come from. Lyn is especially proud of her sons' commitment and dedication with other young men towards the continuum of keeping Koori Youth Will Shake Spears dance troupe alive to keep passing cultural pride stories to their next generation.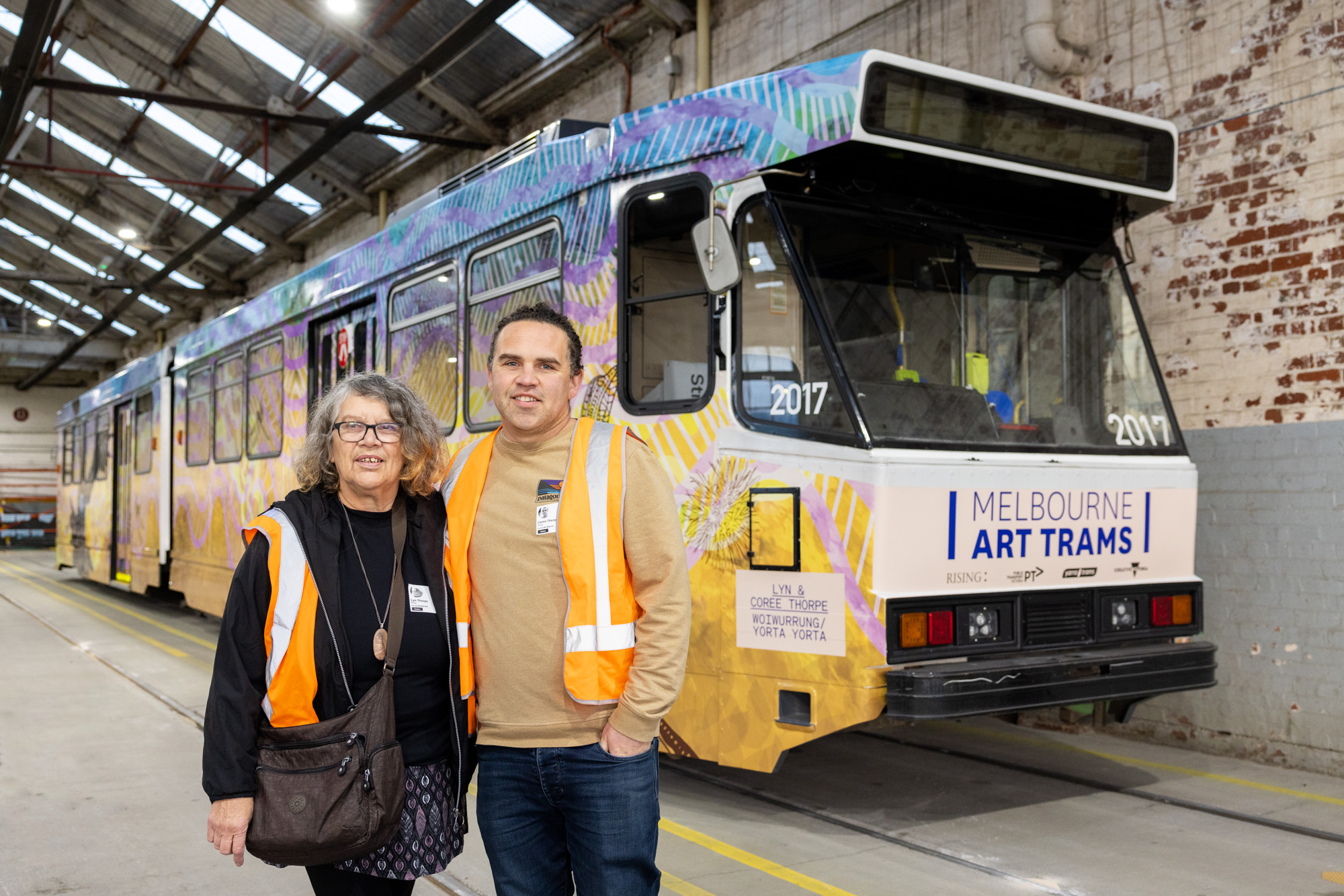 Charlotte Allingham
Wiradjuri/ Ngiyampaa (New South Wales)
TRAM NUMBER | #3023
TRAM ROUTE | 48, 109 TRAM CLASS | C1-Class Tram
ARTIST STATEMENT
"'Blak Present, Blak Future, Blak Eternity' is a visioning of Blak freedom. This future values mob-led sustainability, innovation and being unapologetically ourselves—queer, neurodivergent and Blak.
I want community to articulate their dreams and embrace possibility—to see dolls that look like us, that we can restore Country, and have a future where we are safe. Above all, I want this piece to be about celebration—celebrating our Country, culture and communities in a future built by and for ourselves."
ARTIST BIO
Charlotte Allingham is a 29-year-old Wiradjuri and Ngiyampaa, Queer Autistic Woman from central west nsw, with family ties to Condobolin and Ivanhoe areas, currently living in Naarm (Melbourne). Focusing on Blak excellence, she weaves self determination and Truth through her work. She tries to challenge the perception of her people through her own creative expression.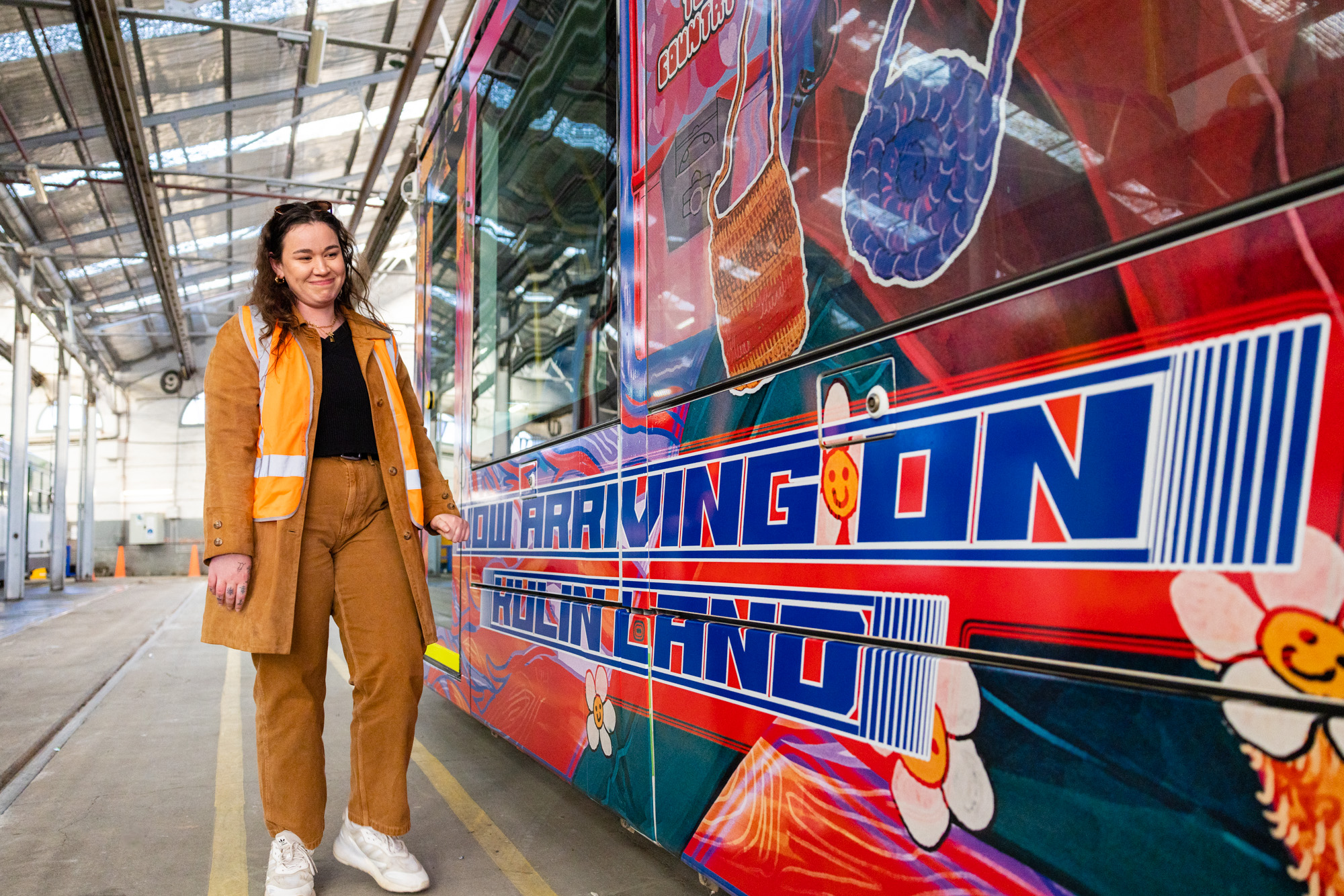 Jay Van Nus
Pibelmun Noongar (Western Australia)
TRAM NUMBER | #3503
TRAM ROUTE | 5, 6, 16, 72
TRAM CLASS | D1-Class Tram
ARTIST STATEMENT
"Ngank Yira (Sun rising in SW Noongar) explores a Blak tomorrow over two sides of one artwork. The first side encompasses shared dreams of young, old and Ancestor mob to combine our diverse skills, ideologies, journeys and creativity to walk forward to a better future.
The second side sees this Blak vision realised, explores the coming together of community and protection of baarna (animals) and diverse peoples alike. This future vision implements and celebrates Indigenous knowledge and strength."
ARTIST BIO
Jay Van Nus is a proud Pibelman Noongar and Chilean Australian, LGBTQIA brotherboy and visual artist. Primarily practicing in the Contemporary First Nations art space, Jay works creatively across both traditional and digital art mediums to promote storytelling and personal expression. Jay's diverse cultural backgrounds and queer identities inform his art expression.

Looking for the 2022 Melbourne Art Trams?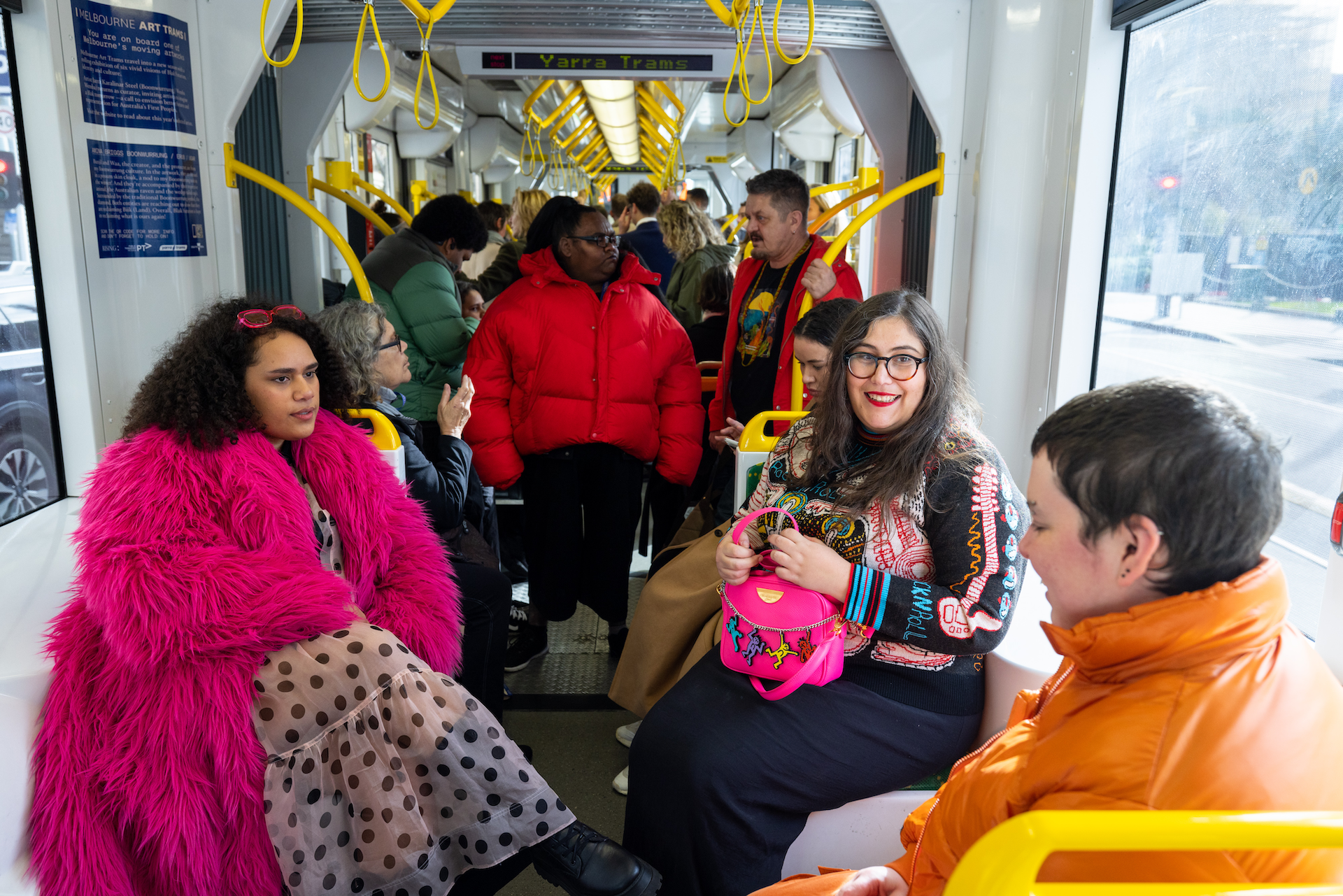 2023 Melbourne Art Tram by Amina Briggs. PHOTO: James Morgan