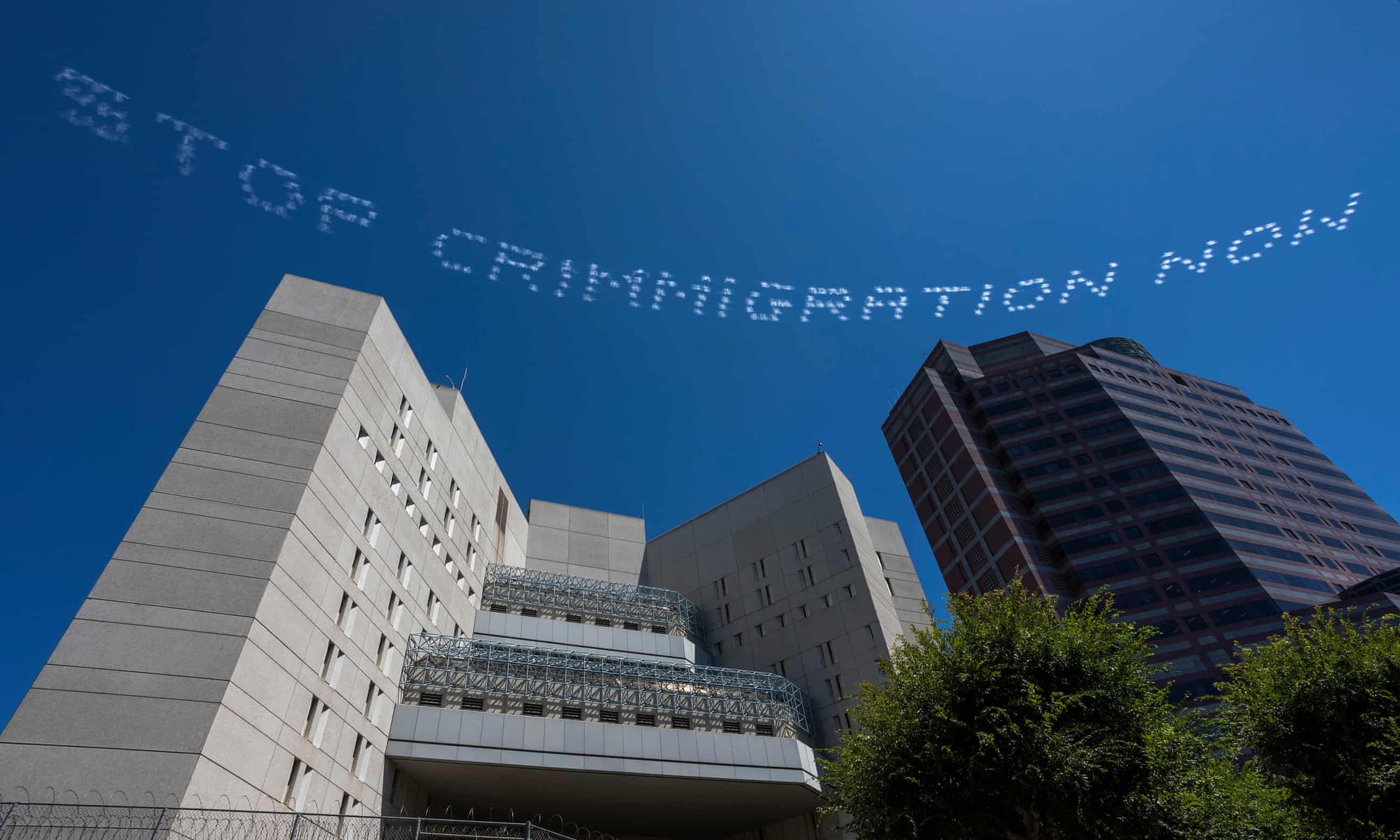 In Plain Sight, Cassils and rafa esparza
Sun 1 November
A deep dive from The Guardian on In Plain Sight—an artwork that saw anti-mass incarceration messages flown over dozens of US cities, courts and detention centres.
With one of the most polarising US elections ever to take place happening this month, not to mention local and state elections happening across Australia, we decided to take a look at how the personal and political are intersecting in 2020.
This insightful piece from the Guardian discusses the work In Plain Sight, in which 80 artists and activists used skywriting planes to spread messages protesting mass incarceration above detention centres, prisons, immigration courts and historically significant sites across the USA on the fourth of July — otherwise known as Independence Day.
In Plain Sight was founded by the Canadian artist Cassils, and the American artist rafa esparza. Both artists have used their own bodies' politics in their work. Esparza's recent work bust: indestructible columns Act II, 2019, involved the self-identifying brown and queer artist chiselling himself out of a concrete column in front of the White House. And Cassils, a transgender person, uses their own body as a sculptural material by employing performance and bodybuilding to challenge visual gender stereotypes.
But with In Plain Sight Cassils and esparza draw attention to the bodies of the incarcerated and detained—people whose bodies are restricted, chained and profited from—to question the meaning of liberty and independence, while working to end immigrant detention and the culture of incarceration.
BAMBY SALCEDO, STOP CRIMMIGRATION NOW, 2020. PHOTOGRAPH: DAVID MCNEW/IN PLAIN SIGHT.