Initiation OA_RR
Reko Rennie
Wed 21 September
Burnouts, opera and Kamilaroi/Gamilaroi mark making. Initially commissioned by RISING, Rennie's major video work transports us to the western suburbs of Birrarungga/ Melbourne and urban Aboriginality.
A 1973 Holden Monaro coupe revs its engine, tires squeal and the smoke from burning rubber billows through Birrarungga/Melbourne's western suburbs. But the car's decked out in hot metallic pink and there's opera on the stereo. This is Initiation OA_RR, a video work by celebrated visual artist Reko Rennie.
In this 2021 RISING commission—the follow-up to his 2016 work OA_RR—Rennie cruises the working-class landscapes of his youth in Melbourne's west. At an open tarmac, he puts the customised Monaro through a series of burnouts, referencing 'Westie' drag-racing culture, First Peoples initiation practices in an urban context and the traditional sand engraving motifs of the Kamilaroi/Gamilaroi people.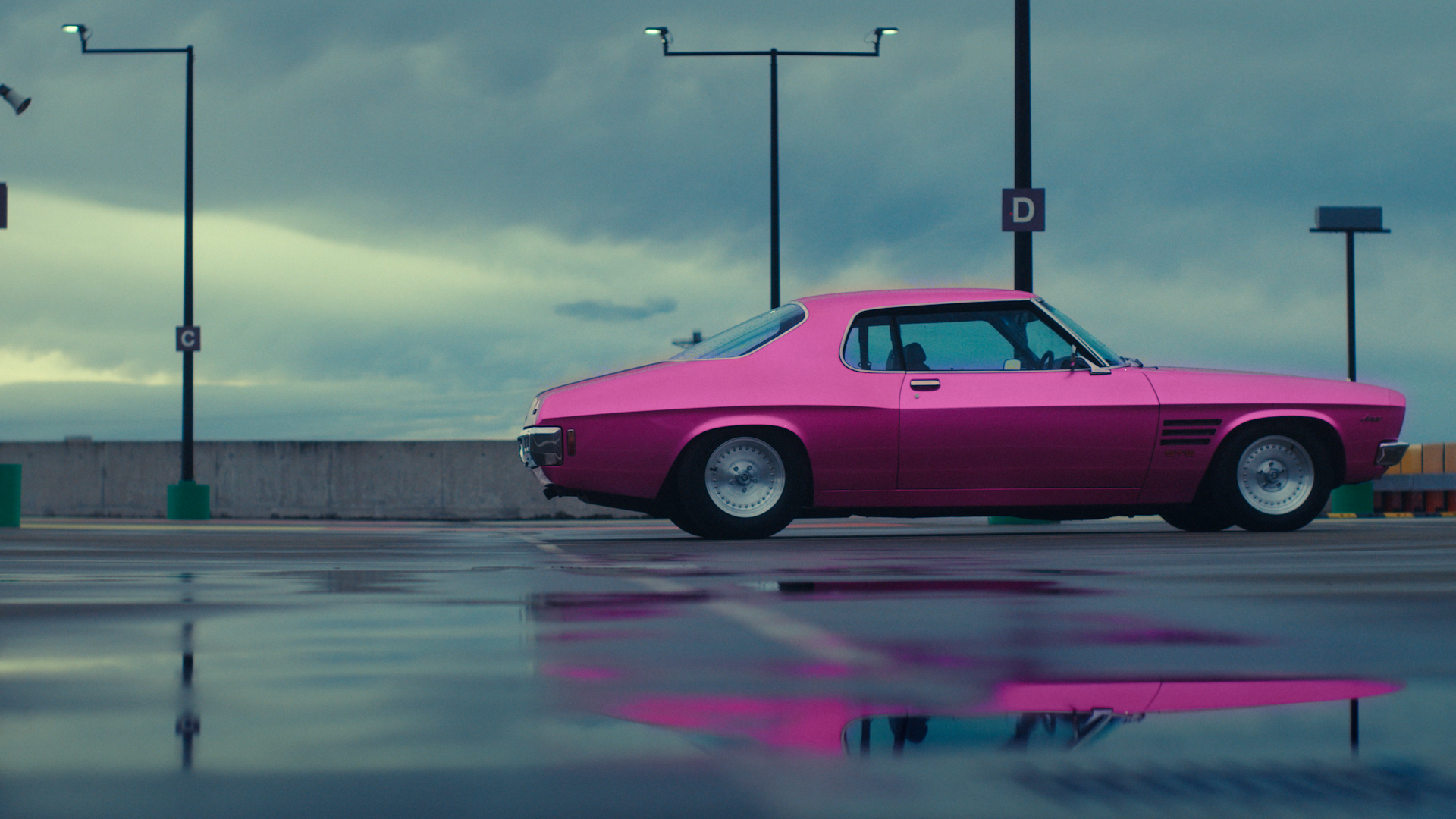 Still from Reko Rennie's 'Initiation OA_RR' (2021). Photo: Justin McManus
"The work is a road trip going back to the suburb of my birth and relates to my experiences growing up in the 1970s and '80s working class western suburbs of inner Melbourne. I was born in an urban environment where traditional notions of initiation, were experienced in a completely different way to my ancestral home of the Kamilaroi/Gamilaroi people of North Western New South Wales."
—Reko Rennie
"'OA' stands for 'Original Aboriginal'. I have used this term in my art in various ways: in lettering, neon and hand-drawn tags. OA comes from 'OG—Original Gangster—a term used to represent someone who had achieved respect from doing what they did on the street or the neighbourhood for a long time. OG is also used in reference to mean something old-school and during the '80s and '90s it was referenced in hip hop, west-coast culture, graffiti and gang culture."
— Reko Rennie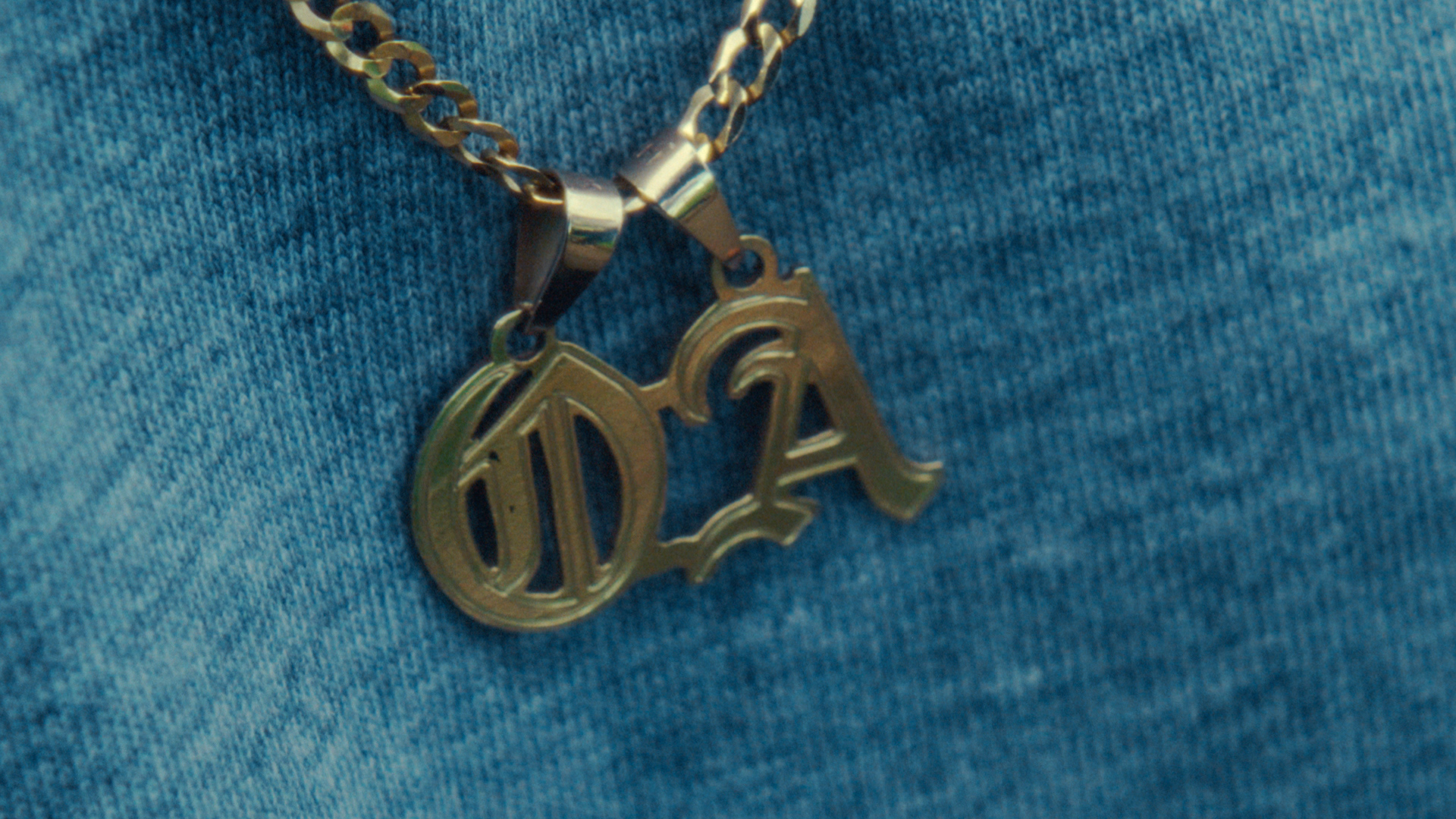 Initiation OA_RR was first screened on the roof of RISING's spiraling Chinatown installation Golden Square, accompanied by a newly commissioned operatic score from Yorta Yorta woman, composer and soprano, Deborah Cheetham AO.
Since then Initiation OA_RR has screened at NGV International and the 2022 Adelaide Biennale at Art Gallery of South Australia.
Reko Rennie Long Sleeve Shirt — $45
Exclusive RISING collaboration with Reko Rennie. Wear a piece of contemporary First Peoples street culture
View more
Reko Rennie Umbrella — $39
Created alongside Reko Rennie's new video work Initiation OA_RR, which premiered at RISING.
View more
This project was commissioned through RISING's A Call to Artists initiative, a program supported by Creative Victoria, City of Melbourne and Besen Family Foundation.
VIDEO: Produced by Film Camp. Director of Photography—Bonnie Elliott / Editor—Carlo Zeccola
PHOTOS: Justin McManus