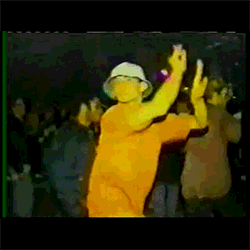 Mark Leckey's Fiorucci Made Me Hardcore
Wed 26 August
In 1999, video and sound artist Mark Leckey believed the music video was the era's most vital artform. His response: Fiorucci Made Me Hardcore.
The 15-minute video collage is part of an irrepressible dancefloor continuum. It traces a hedonistic timeline across UK dancefloors, from the speed-fuelled '70s Northern Soul scene, to MDMA-charged raves in the '90s. But its influence has stretched beyond the art gallery and the internet to inspire new forms of dance music, too.​
The clip's Kraftwerk-sampling audio has itself been heavily sampled — most notably by Jamie XX on his 2014 track 'All Under One Roof Raving'.​
Twenty years on since Fiorucci, Turner Prize-winning Leckey held a major exhibition at the Tate Britain—featuring a life-sized motorway underpass—and continues to host a characteristically dense, genre-jumping, monthly show on NTS Radio
Mark Leckey, gif from Fiorucci Made Me Hardcore, 1999