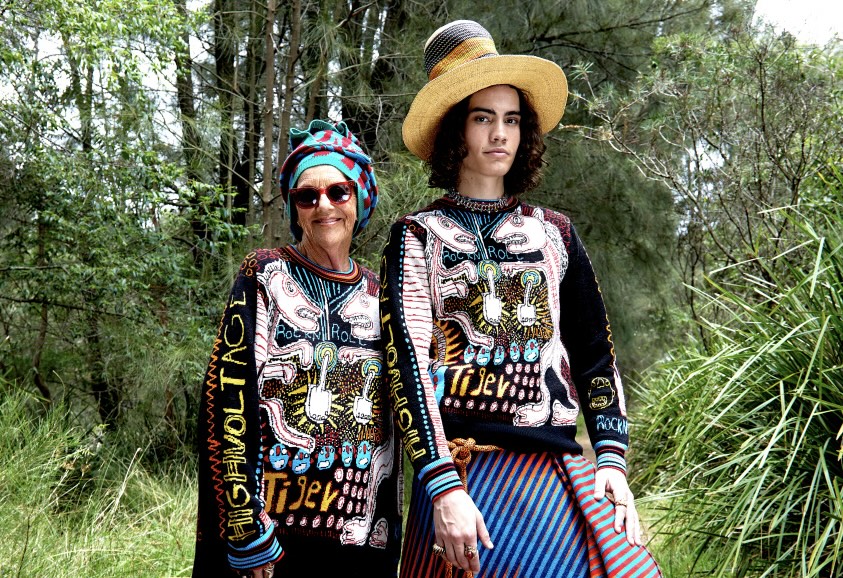 Visit the Shadow Spirit Gift Shop
Mon 26 June
Limited-edition artist collaborations to commemorate Shadow Spirit, featuring work from Brian Robinson, Tiger Yaltangki, Jenna Lee, Aunty Zeta Thomson and more.
The Gift Shop is now open. You can find it on Level 2 at Flinders Street Station. Open weekdays from 3pm and weekends from 1.30pm.
---
BRIAN ROBINSON X RISING ZUGUBAL BLANKET — $199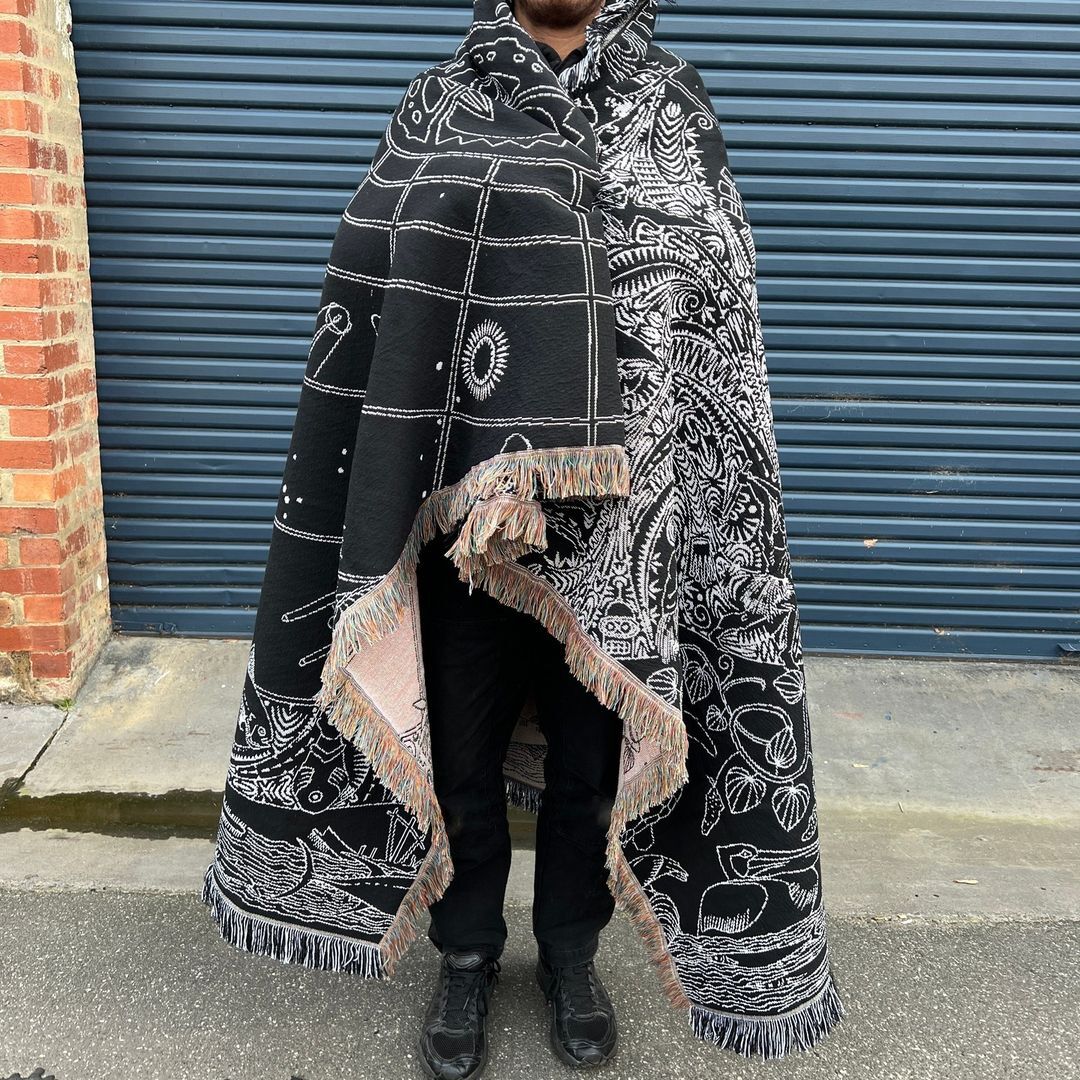 Image courtesy of Contain Studio
Take a constellation-sized piece of Shadow Spirit home. This blanket is a woven version of a traditional and sci-fi inspired narrative commissioned from legendary Maluyligal/Wuthathi artist, Brian Robinson. The original lino-cut/projection work is called Zugubal: The Winds and the Tides set the Pace.  Note: The blanket features a detailed section of the original artwork.
MATERIAL | Cotton/Polyblend; Digitally Woven Jacquard
DIMENSIONS | 160cm x 216cm (inc. tassels)
---
TIGER YALTANGKI X WAH-WAH JUMPER — $275
Rug up and rock'n'roll with this dy-na-mite knit. It's a Wah-Wah collaboration with Shadow Spirit artist Tiger Yaltangki featuring Mamu spirit creatures from his Anangu culture getting cheeky with AC/DC. These are sold out online, but a limited number will be available in-person at the Shadow Spirit gift shop.
MATERIAL | Made from 100% Superfine merino wool.
---
AUNTY ZETA MOOKIE RANGE
LONG-SLEEVE T-SHIRT — $45
KIDS' T-SHIRT — $25
TOTE BAG — $29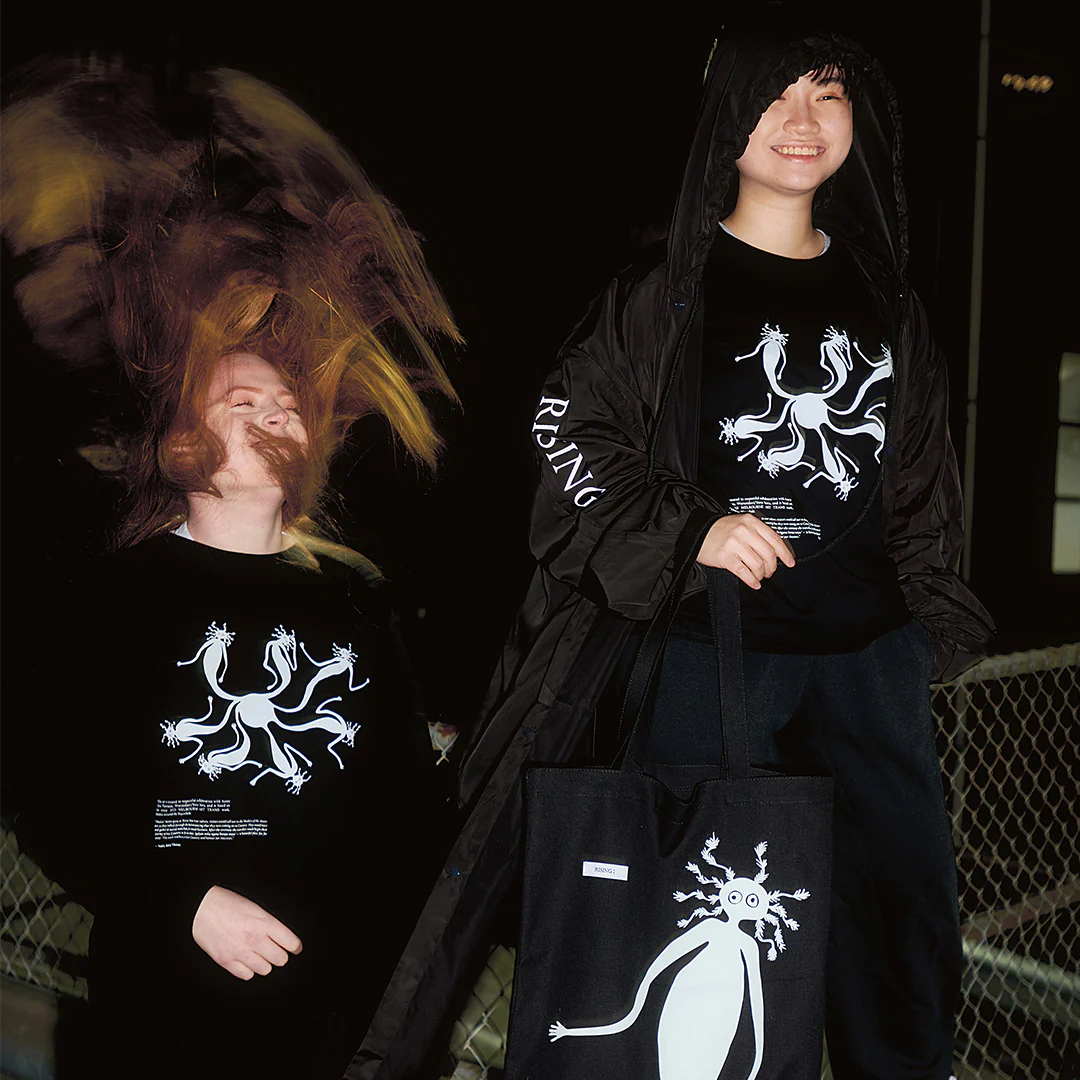 Share the knowledge and pay respect to First Peoples' ancestral spirits with this glow-in-the-dark long-sleeve tee—created in respectful collaboration with Aunty Zeta Thomson (Wurundjeri/Yorta Yorta). It's locally made, using organic cotton with a design based on Thomson's iconic 2021 Melbourne Art Tram work, Mookies Around the Watering Hole. It comes in children's sizes for the little ones. And you can carry the design with you as a glow-in-the-dark, organic cotton tote.
"'Mookie' means spirit in Yorta Yorta. In our culture, visitors would call out to the Mookies of the Ancestors as they walked through the bush announcing that they were coming on to Country. They would meet and gather at sacred waterholes for cultural business. After the ceremony the travellers would begin their journey across Country to the next place, 'galyan woka ngana buraya moya'—'a beautiful place far, far away'. This work teaches us to respect Country and honour our Ancestors."
— Aunty Zeta Thomson
A portion of the profits will be donated to Aunty Zeta Thomson's nominated charity, Wildlife Victoria.
---
REKO RENNIE OA_RR UMBRELLA — $39
Reject the rain's unwanted attention with this limited-edition umbrella, designed by Kamilaroi/Gamilaroi artist Reko Rennie.
Its design features a bold blue and pink 'OA' motif, that ties into Rennie's rooftop mural that graced the top level of our 2021 art car park Golden Square, and his video work Initiation OA_RR, which premiered at RISING.
"'OA' stands for 'Original Aboriginal'. I have used this term in my art in various ways: in lettering, neon and hand-drawn tags. OA comes from 'OG—Original Gangster—a term used to represent someone who had achieved respect from doing what they did on the street or the neighbourhood for a long time. OG is also used in reference to mean something old-school and during the '80s and '90s it was referenced in hip hop, west-coast culture, graffiti and gang culture."
— Reko Rennie
A portion of profits from each sale will go to Rennie's nominated charity, Elizabeth Morgan House.
---
TIGER YALTANGKI X GAMMIN THREADS X RISING KEYRING AND PIN — $29 EACH
Tiger Yaltangki is a gifted Anangu artist who's bringing his rock'n'roll energy to Shadow Spirit. Collect his axe abstractions as enamel keyrings and pins. Made in collaboration with Gammin Threads.
---
2022 MELBOURNE ART TRAM POSTCARD PACK — $15
You can view all the vibrant works from the 2022 First Peoples Melbourne Art Trams in the palm of your hand with this 6-card postcard pack.
The postcard pack features the original artworks by the six-selected First Peoples artists including Aunty Louise Moore (Wamba), Patricia Mckean (Gunditjmara/Kirrae Wurrong), Tegan Murdock (Barapa), Darcy McConnell/Enoki (Yorta Yorta/Dja Dja Wurrung), Dr Paola Balla (Wemba-Wemba/Gunditjmara), and the reproduction of the late artist and activist Lin Onus's (Yorta Yorta) 1991 tram.
Printed on 350gsm on 100% recycled paper stock.
---
MILLIGRAM X RISING: SHADOW SPIRIT CANDLE — $69
Milligram's Native Botanical Three Wick Scented Candle draws on Australian flora like eucalyptus, tea tree and Tasmanian lavender for a nostalgic and zesty fragrance that helps clear the mind.
This Shadow Spirit x Milligram candle is made from a soy wax blend and poured into a shock-resistant borosilicate glass. Studio Milligram's candles carry fragrances inspired by Australia's untamed landscape.
---
Shadow Spirit — 07 JUNE — 30 JULY
A new First Peoples exhibition in Flinders Street Station's abandoned rooms. Be immersed in Ancestral systems of knowledge. Traverse time and celestial worlds. Reflect on the shadows of Australia's history.
View more