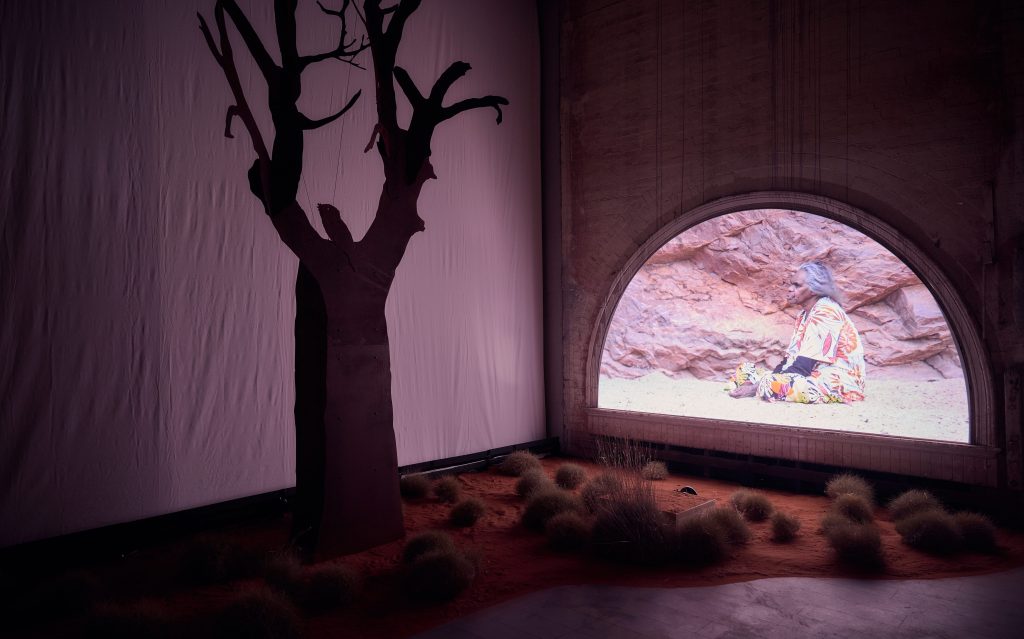 Shadow Spirit in focus : Photographer/Videographer Rhett Hammerton
Thu 27 July
Through a series written responses, Shadow Spirit collaborators take us deep into the exhibition's ideas and the expertise that helped bring the works together.
Rhett Hammerton is the photographer and videographer who helped Pitjantjatjara artist Rene Wanuny Kulitja realise her piece, Tiirtjingalpai—Practicing Care for the Spirits of the Dead. In this short essay Rhett reflects on the collaboration and guidance that brought the art into being, and filled one of Flinders Street Station's abandoned rooms with a new landscape.
---
For over a decade I have worked as a photographer and videographer in the Central Desert and done extensive work in remote communities throughout Australia. Not a day goes by when I am not grateful and thankful for the privilege and experience afforded me by the traditional custodians of this land.
I first met Rene early on in my work with NPY Women's council and was instantly struck by her generosity, care and vast depth of cultural law and knowledge. Rene's ability to utilise metaphor and to examine myth in a way that communicates to a broader audience has always been very impressive.
It was with this modality in mind that we have collaborated on various works that are stills based, always with Rene guiding the process and my role being technical and functional—to achieve works that are culturally minded as well as contemporary.
When we were first contacted by RISING for inclusion in Shadow Spirit, it was such a huge surprise and generated a lot of excitement. We both came together with a myriad of ideas and concepts but as we dug down deeper into the framework and thematics of the show it soon became apparent that this incredible opportunity would require more than simple stills.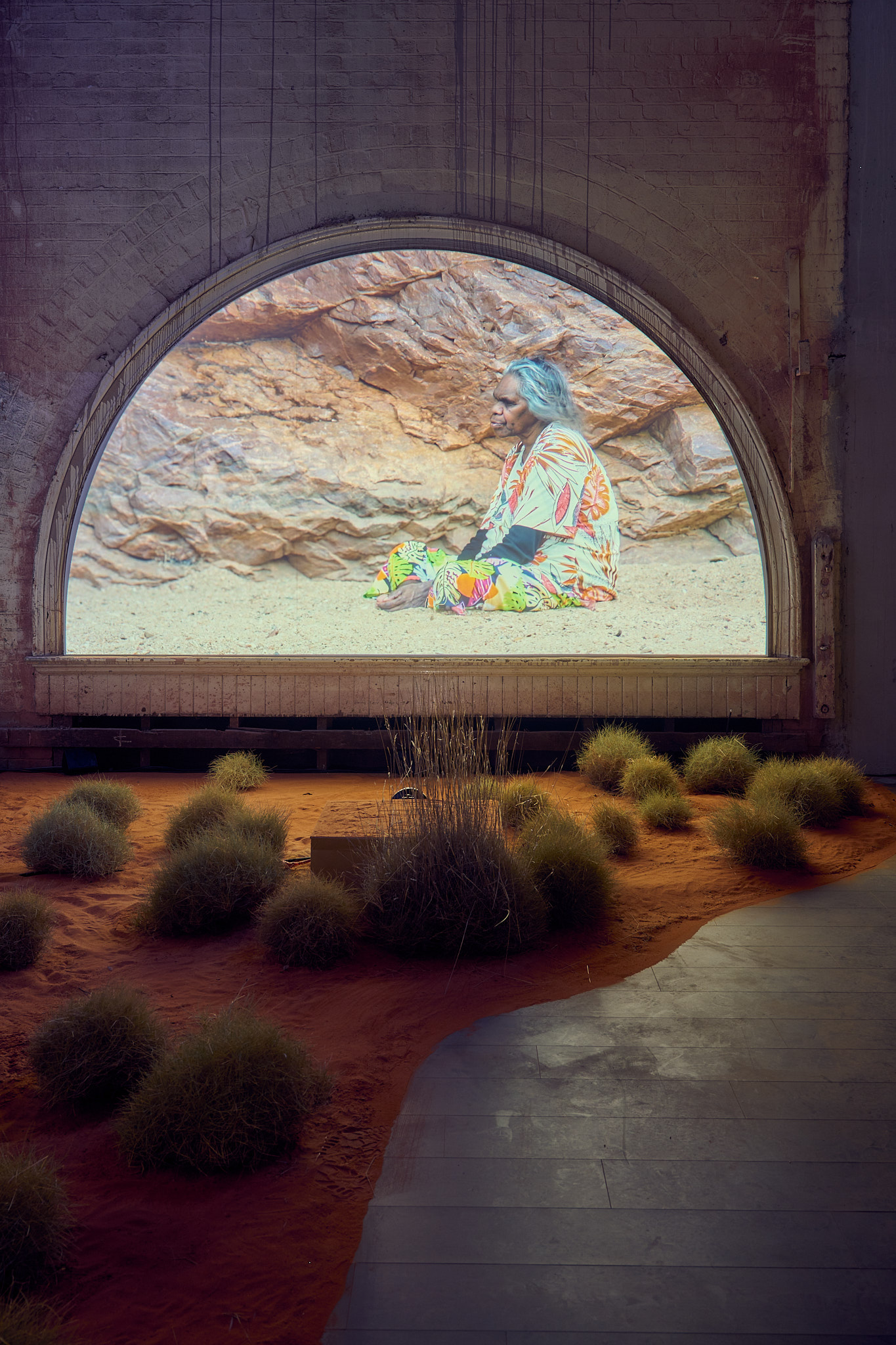 Rene and I were lucky enough to visit multiple exhibitions and consider how other artists could create immersive works that could fill broad spaces, an approach that really inspired Rene.
Initially it was a slow process to find a concept that could be public facing. Dialogues around mortality and the spirit world require a lot of nuance and adherence to protocol. With my toddler-level command of the Pitjantjatjara language and Rene's endless patience the initial ideas were relatively straight forward until one evening, over pizza at the Institute of Modern Art in Brisbane, Rene struck upon the concept of caring and respect for the journey of spirits passing into the afterlife. As is the genius of Rene Kulitja, the idea emerged almost fully formed with multiple elements to be included: a tree, sand, spinifex, and a haunting song—all to encourage the safe passage of spirits on their journey.
Rene was dedicated to the idea that the work should not be weighted towards the visual, but should encourage participants to 'feel', to not be afraid but understand the reverence and presence that Anangu feel towards this transition. Calm reverence and reflection was to be the basis of her work.
In our final development sessions we were so lucky to be joined by the incredible translator Beth Sometimes. Beth is a Pākehā artist and interpreter from Aotearoa living in Arrernte Country, who who helped clarify Rene's vision. The idea was then brought into the physical by Peter King in beautiful small-scale dioramas and the audio magic of Sam Pankhurst who took Rene's guidance on what the sound components should be.
Overall, it was an incredible experience working on such a high-profile commission alongside my malpa wiru.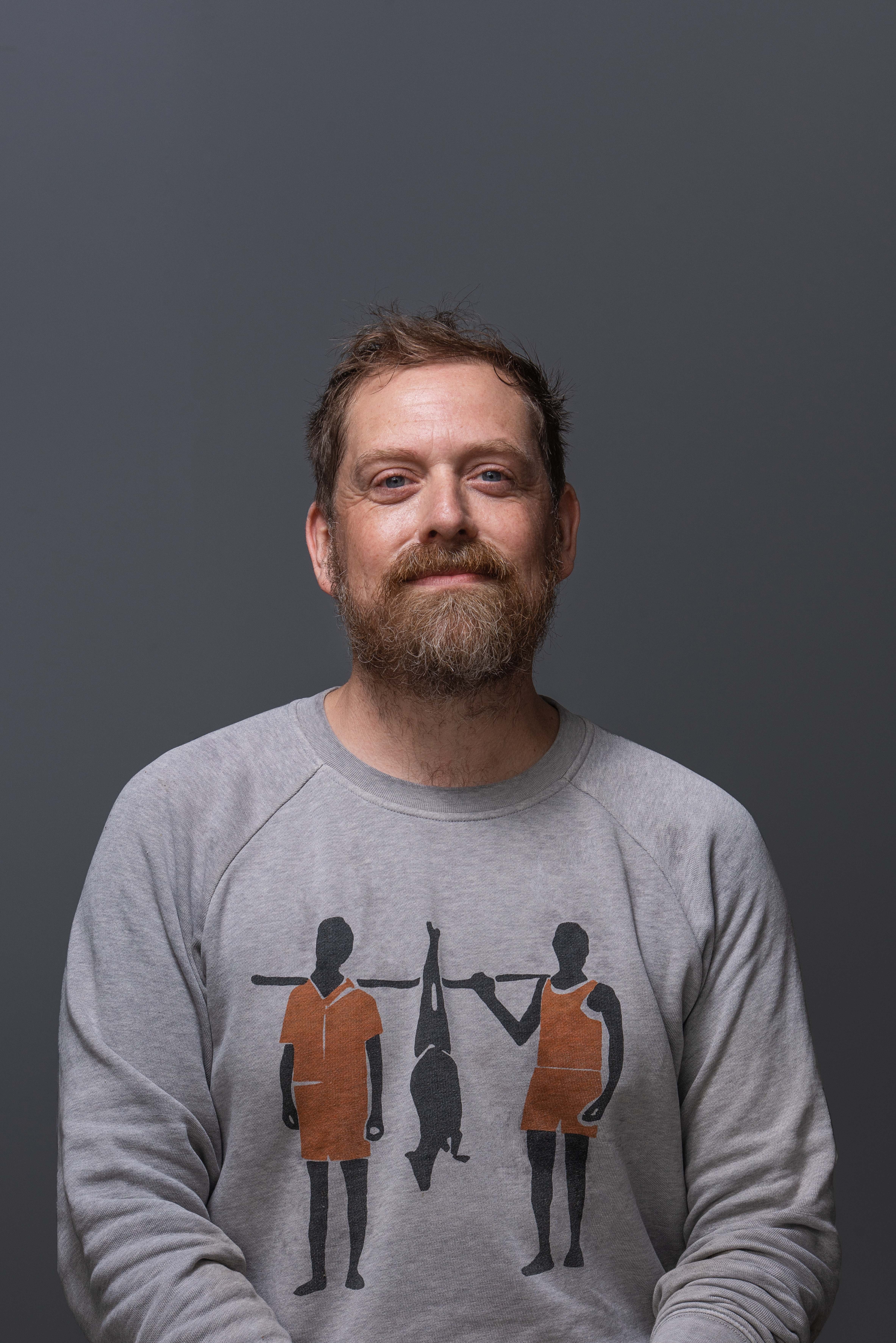 Rhett Hammerton.