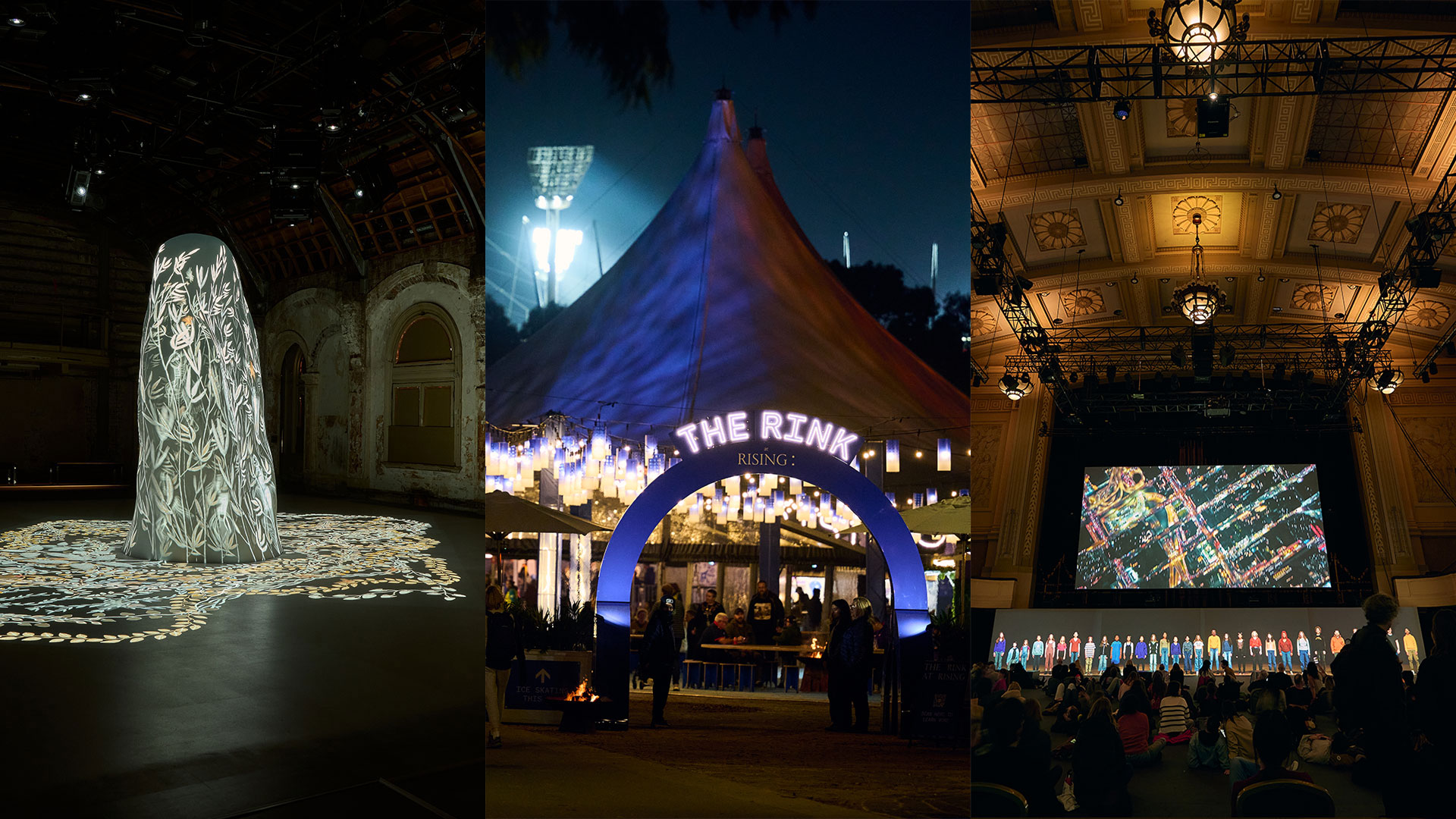 The RISING Essentials Package
Tue 6 June
Fuse three festival must-dos—Euphoria, Shadow Spirit and The Rink—into a specially priced package.
Three essential RISING experiences in 2023 are: Julian Rosefeldt's capitalism-shaking opus Euphoria, the riverside ice-skating magic at The Rink and Shadow Spirit, a major new First Nations exhibition in Flinders Street's abandoned rooms. So we've put together a hack for the time poor and experience hungry that lets you book all three for a special price.
Simply book an individual ticket to each event, and the combination will automatically unlock the $85 RISING Essentials Package. *
Offer applies to standard or concession tickets to Shadow Spirit. Standard, Family Ticket, Full-Time Student, or Senior/Pensioner tickets to The Rink. And Feeling the Pinch, Working Class Hero, or High Roller tickets to Euphoria.
THE RINK AT RISING — THU 1 JUNE — FRI 8 JULY
A magic new skate spot on the banks of Birrarung Marr. Slice up the ice under a deep constellation of lights.
View more
Shadow Spirit — 07 JUNE — 30 JULY
A new First Peoples exhibition in Flinders Street Station's abandoned rooms. Be immersed in Ancestral systems of knowledge. Traverse time and celestial worlds. Reflect on the shadows of Australia's history.
View more
EUPHORIA — FRI 2—SUN 18 JUNE
A surround-sound world hooked to the pulse of jazz, the conscience of a children's choir and big ideas that test capitalism's mantra of endless, euphoric consumption.
View more