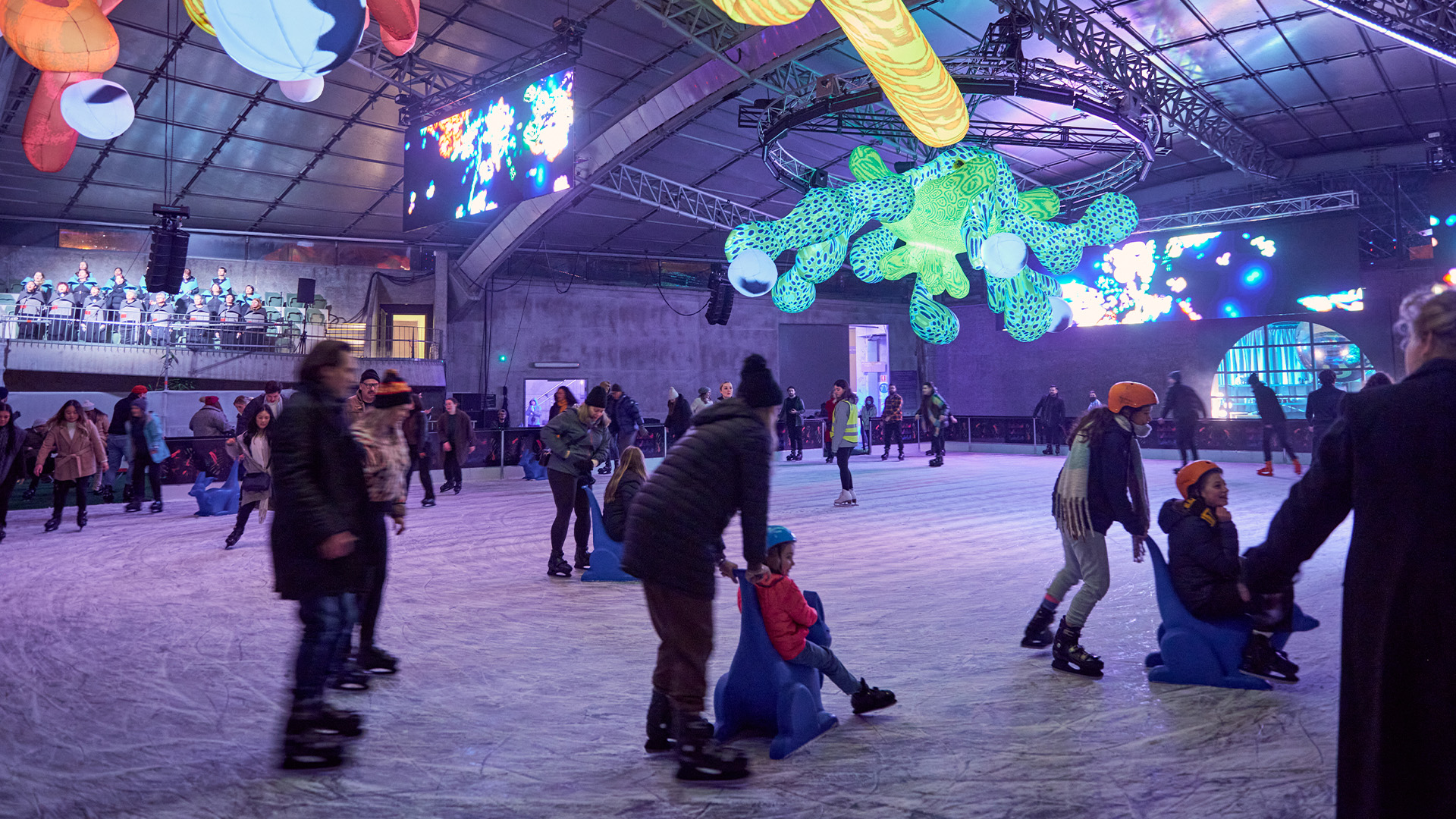 A festival that you do
2023 Program Guide
Tue 14 March
RISING is a festival you 'do', in the city that does it best. Join in and share the joy.
Rinky Dink, RISING 2022. Photo: Eugene Hyland
10,000 Kazoos — SAT 10 JUNE
It's 10,000 people, playing 10,000 kazoos and everyone's invited. Simple. Powerful. Kazoo-tiful.
View more
CONSORT OF THE MOON — SAT 10 — WED 14 JUNE
A major new sound-work that transforms a haunting, ancient melody into an elemental experience of communal listening, both to each other and the wild earth.
View more
THE RINK AT RISING — THU 1 JUNE — FRI 8 JULY
A magic new skate spot on the banks of Birrarung Marr. Slice up the ice under a deep constellation of lights.
View more
SPARK — WED 7 — SUN 10 JUNE
Thousands of luminous, biodegradable lights catch the wind and dance in the night sky.
View more
EUPHORIA — FRI 2—SUN 18 JUNE
A surround-sound world hooked to the pulse of jazz, the conscience of a children's choir and big ideas that test capitalism's mantra of endless, euphoric consumption.
View more
GHETTO BIENNALE — THU 8—SUN 18 JUNE
Atis Rezistans (Resistance Artists) occupy Alpha 60 Chapter House with an ambitious, metamorphic celebration of Haitian street culture, spirit guardians and revolution.
View more
WARIPA — SUN 11 JUNE
Waripa means Ceremony in Mutti Mutti. Join the chorus with senior songman Uncle Kutcha Edwards in a huge, ceremonial celebration of Blak music.
View more
ELECTRIC : SPIRITS OF THE LAND — WED 7 JUNE — SUN 10 JULY
Hamer Hall's iconic façade plays host to Ancestor spirits and celestial worlds in a large-scale projection work from Aunty Zeta Thomson (Wurundjeri/Yorta Yorta).
View more
NIGHT TRADE — WED 7 — 18 JUNE
The St Paul's Cathedral grounds become a fluid space of curated chaos. A free meeting place for song, dance, deliciousness and the uncanny.
View more
WALLABIES — WED 7 JUNE — SUN 18 JUNE
Twenty big wallabies, bursting with impressionistic colour and personality, peek out from banks of the Birrarung (Yarra River). See if you can find them all!
View more
MELBOURNE ART TRAMS 2023 — TUE JUN 13 2023 – JUN 2024
Melbourne Art Trams travel into a new season with six newly commissioned First Peoples artists rolling out vivid visions of a Blak tomorrow.
View more
THIS — FRI 9—SUN 18 JUNE
Devolving, shaming and space invading. Fear, conspiracy, collapse, terror, frustration, solidarity and hope. Mud wrestling. THIS is a brutally funny, raw and unflinching response to the theme of infuriation.
View more