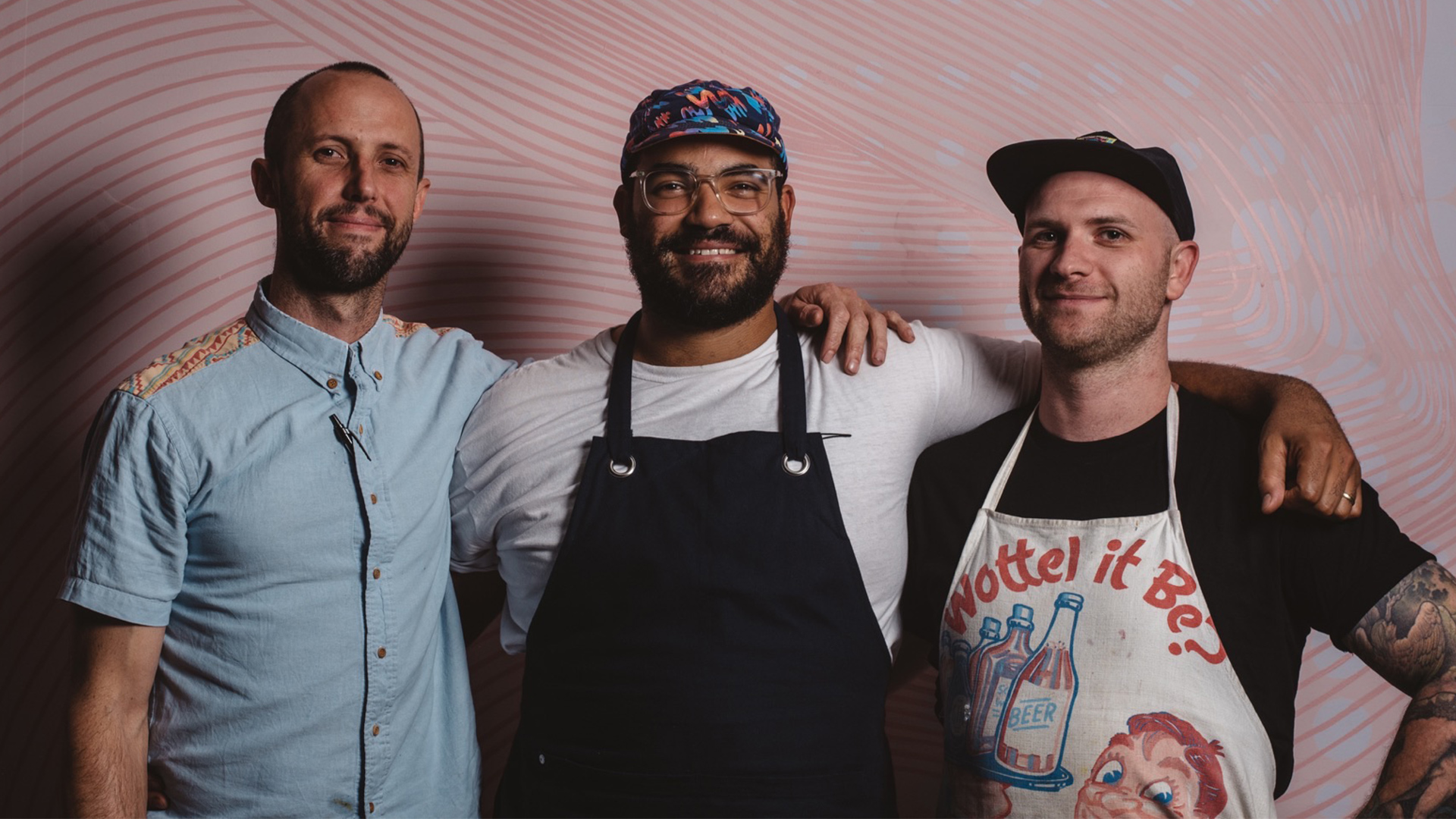 Recipe : Fancy Free's Rhubarb and Strawberry Gum Gin and Tonic
Fri 20 August
Melbourne's travelling bar crew Fancy Free share their Parallels cocktail, originally served on the roof of our Chinatown art car park Golden Square.
After scaling the stairs of our Chinatown art car park Golden Square, you'd weave past colossal ice sculptures and head straight for our rooftop cocktail bar, helmed by travelling bar crew Fancy Free.
Between them, Fancy Free's bartenders Ryan Noreiks, Rob Libecans and Matt Stirling have been pumping out drinks at some of Australia's best bars (Black Pearl, Baxter Inn) for years. Together, they've played an integral part in launching Australian cocktail culture ever further onto the world stage.
For their inaugural RISING cocktail menu, the team took influence from Golden Square's artworks to create Parallels—a rhubarb and strawberry gum-spiked twist on a gin and tonic. They were inspired by the intense colour palette of Reko Rennie's Initiation OA_RR, the frozen magnificence of Lucy Bleach's By This Lake, and the ceremony of Jason Phu, James Nguyen, Nabilah Nordin and Veisinia Tonga's Parade for the Moon.
Golden inspiration
"An afternoon gin and tonic is its own special ceremony; rhubarb has this really vibrant colour that reminded us of Reko's work and we combined that with large ice blocks to keep the drink just right," says Sterling. "Melbourne is just heaving with rosemary, so we picked some up from a couple of our favourite spots to finish it off."
Fancy Free's first permanent bar is aiming to open next year, until then you can enjoy Parallels at home. You'll need to do a little bit of prep to create the syrup, but trust us, it's worth it.
Parallels Cocktail
Bittered Rhubarb and Strawberry Gum Syrup
Serves: A fair few drinks
Ingredients
500g Rhubarb (leaves trimmed, washed and chopped)
500ml water
500g Sugar
Peels of 1 large grapefruit
10g strawberry gum (ground and dried)
5g sea salt
Method
Rinse the rhubarb clean, remove the ends and chop into small pieces.
Place the chopped rhubarb and grapefruit peels in a medium saucepan. Cover with water and bring to a boil. Reduce to a medium simmer, skimming any foam that rises to the top.
After about 20 minutes, the rhubarb will become soft and will have lost most of its colour. The water will be a bright pink. Add the strawberry gum and allow the mixture to stand off the heat for 20 minutes.
Strain the liquid through a fine mesh strainer into another clean pot, separating the solids from the liquid. Do not press the fruit. Rhubarb breaks down more than other fruit, so patience is key to ensure a clear syrup.
Once the liquid has been strained, discard the rhubarb and other solids. Add the sugar to the liquid and gently simmer for 5 minutes until it has completely dissolved, skimming any additional foam that rises to the top.
Remove from the heat, add salt and allow to cool completely. Pour into a glass container, seal and refrigerate. The syrup should last for several weeks.
Parallels
Ingredients
45ml gin (Four Pillars Rare Dry Gin is recommended)
15ml bittered rhubarb and strawberry gum syrup
Dry tonic water
Slice of lemon
Rosemary spear
Glass: Tall Collins, or your favourite mug.
Ice: Big cubes are ideal, but whatever you do, don't skimp.
Method
Add your gin, rhubarb syrup and a squeezed a slice of lemon to a tall glass or mug.
Half fill the glass with tonic water then fill with ice. Add the ice last to stop it diluting the drink.
Finish off the drink by placing a big spear of rosemary and a slice of lemon on top.
$15
Pick up this RISING vessel and put "single-use" in the bin, no wait, out of the bin. You know what we mean. 50% off when you add to cart.
View more