Recipe : Julia Busuttil Nishimura's Stock Exchange Broth
Fri 16 July
Get this barley, cavolo nero and beef broth on the simmer this weekend.
Cook and author Julia Busuttil-Nishimura (Ostro, A Year of Simple Food) was serving up her Barley, Cavalo Nero and Beef Broth for one night at the Stock Exchange—RISING's street-side soup stall where guest chefs and food identities would serve their takes on the world's iconic soups and broths.
Thankfully, we got at least one day on the stove top with Julia, who gave us her bone-warming Barley, Cavalo Nero and Beef Broth. Julia, the lovely human she is, has let us share her recipe with you—the perfect antidote to lockdown life.
Layers of flavour
"Tough cuts of beef like shin, as I've used here, benefit from a long, slow cook. With a little love, they are the most flavourful and cost far less than the prime cuts. I like to use a dark beer in this broth, something like a stout or a dark ale, which adds lovely depth and richness. Sometimes, if I have them, I will add bones with marrow in them along with the meat, which gives the broth another layer of flavour."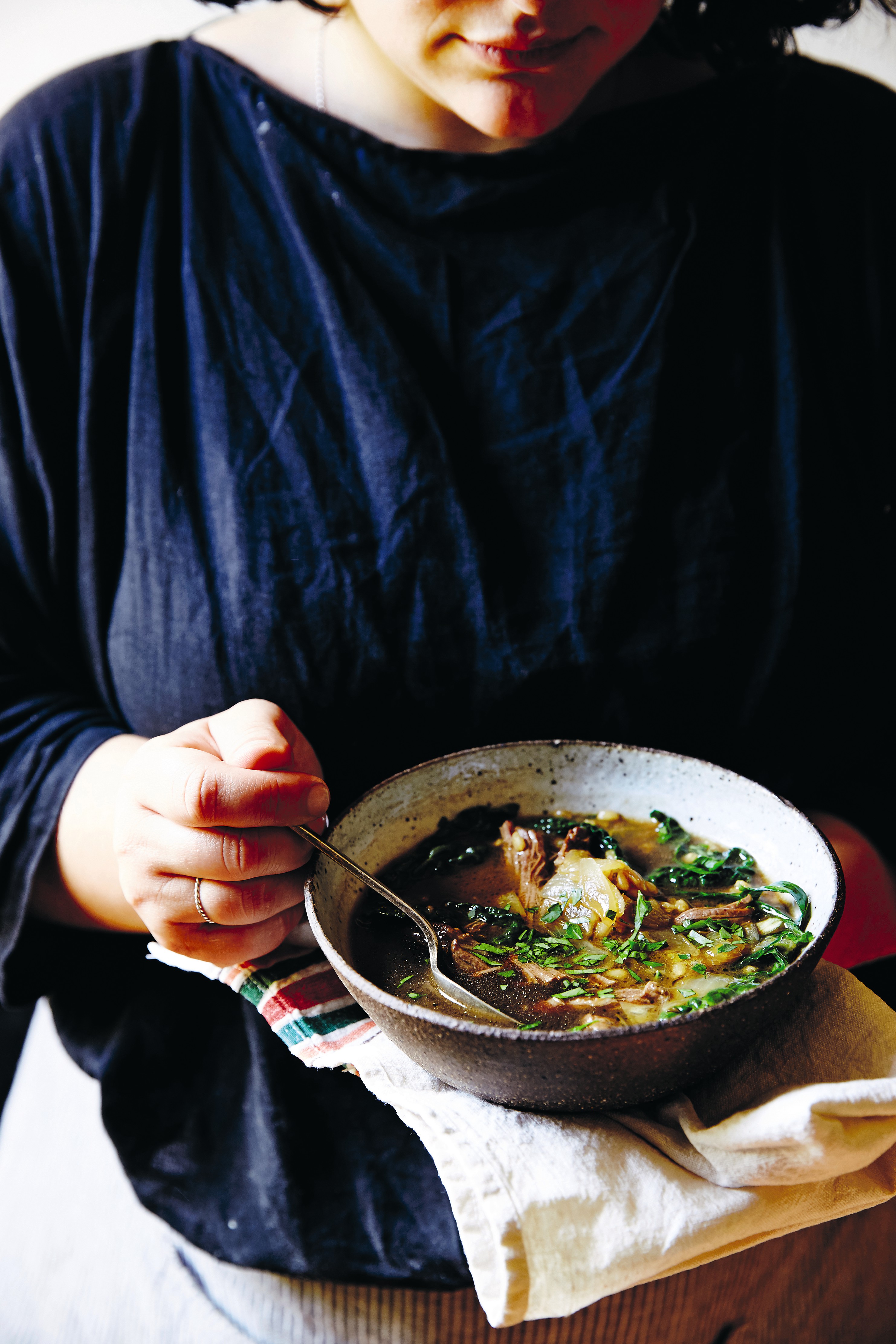 Mikhail and Lauren prepare herbs and garnishes to serve with the soup in the background. Photo credit: Natalie Jurrjens
Barley, Cavolo Nero and Beef Broth
By Julia Busuttil Nishimura. Serves 4—6
Ingredients
25 g butter
2 tablespoons extra-virgin olive oil
2 onions, roughly chopped
sea salt
1 × 650 g boneless beef shin,
cut into three pieces
250 ml (1 cup) dark beer,
such as stout
200 g pearl barley
1 bunch of cavolo nero, tough
stems removed, leaves washed
thoroughly and roughly torn
black pepper
small handful of  at-leaf parsley
leaves, roughly chopped
Method
Melt the butter with half the olive oil in a large frying pan over a low heat. When the butter is foaming, add the onions and a pinch of salt and cook over a very low heat for 20–30 minutes, stirring occasionally, until soft and caramelised. Set aside.
Meanwhile, heat the remaining olive oil in a large saucepan over a medium–high heat. Add the pieces of beef and brown really well on all sides. Pour in the beer and bring to a simmer.
Add 1.5 litres of water, bring to the boil then turn down the heat to low and simmer for about 3 hours or until the beef is tender. Check occasionally to ensure the beef is still covered, and top up with more water if necessary. Remove the beef, set aside until cool enough to handle, then shred into smaller pieces.
Meanwhile, add the pearl barley to the soup and simmer for 25–30 minutes, or until cooked. Add the cavolo nero along with the caramelised onions and shredded beef. Simmer for 4–5 minutes and season to taste.
Ladle the soup into bowls and serve sprinkled with parsley.
Soup Vessel — $15
Pick up this RISING vessel and put "single-use" in the bin, no wait, out of the bin. You know what we mean.
View more
Photo Credit: Eugene Hyland / Armelle Habib