Q&A AND MENU REVEAL : THE LIGHTHOUSE CHEF DAVID MOYLE
Wed 25 May
Acclaimed chef David Moyle joined us to share the menu for his four-course odyssey at The Lighthouse; and to chat about his food philosophy and time at The Saturday Paper.
The Lighthouse — WED 1—SUN 19 JUNE
An intimate, plant-filled, sparkling glasshouse bistro floating above the The Wilds' biosphere.
View more
Ahead of The Lighthouse's first full run at RISING 2022, we asked its formidably talented chef David Moyle to share what he has instore. Keep reading to learn about his food philosophy and time researching in his role as Food Editor of The Saturday Paper.
---
Q&A
Q. How would you describe the vibe of The Lighthouse?
A. It's pretty incredible. You're looking back into the Sidney Myer Music Bowl. It feels like a ridiculous world-class restaurant for three weeks. It's airy and you can see the sky if there's a nice clear night, you can see the stars. You're very much a part of what's going on around you at The Wilds.
Q. Run us through a dish on the menu?
A. It's hard to single one out. The way the menu has been written each dish is part of a whole. Each dish builds on what has come before it and sets up what's to come. If I was going to choose one, it's a very honest, warming, nourishing rice dish, with mushrooms and nori. The rice is grown on dry land in Australia at a biodynamic farm. The flavour is incredible and I love to be able to represent something as simple as that on its own. Diners are mature enough now that we don't have to pull tricks anymore.
Q. Describe your food and cooking philosophy?
A. All of this gets to the point when it becomes a bit preachy. It's not about pillaging and serving foods with horrible, intensive footprints, but I think the most important thing is to just have an enjoyable time at the table with your friends. It's on us as chefs to source wonderful products that don't fuck up the world. You shouldn't have to feel guilty because you don't control the origins of your food.
Q. What is it about using certain ingredients that inspires you?
A. Combining sea, agriculture and wild foods, and learning about those ingredients has been my journey. It's important for those food systems to come together. Everything has its place and everything brings something to the party. Mussels are grown in the ocean but they're as close to a natural production is possible. The beef on the menu is grown amongst regenerative agriculture methods and then killed on the farm rather than an abattoir—the flavour is extraordinary and is as close to a wild catch as it can be.
Q. What have you learned from your time as Food Editor at The Saturday Paper?
A. The development around it has been extraordinary. I try to pick an ingredient and then work with a technique to showcase that ingredient. It's given me the ability to work outside the bounds of my usual repertoire. It prompts me to research the ingredients, but once you start you come out all the wiser. It's like I'm sharing my own education with people.
Q. Would you say that playfulness has translated into your menus?
A. Nah, I don't like to toy with peoples' money (laughs). I don't think it's fair to play around on someone else's dime—it's not my place to use people as patsies to figure dishes out for myself (laughs again). But seriously, it has given me the freedom to be more fearless in my approach and has given me more of an academic understanding of what makes a great dish.
Q. What would you like diners to take away from their evening at The Lighthouse?
A. Just for them to feel that they're part of a highly creative festival that's bringing life back to Melbourne. Art and music are super important to me too—the main reason I've taken The Lighthouse on is to be part of the festival itself, I have huge faith in the curation, there's stuff on that's going to blow your mind. I'd like the diners to have a bit of respite from everything that's been going on in the world: come in from an amazing festival, sit down, have an elegant meal and relax.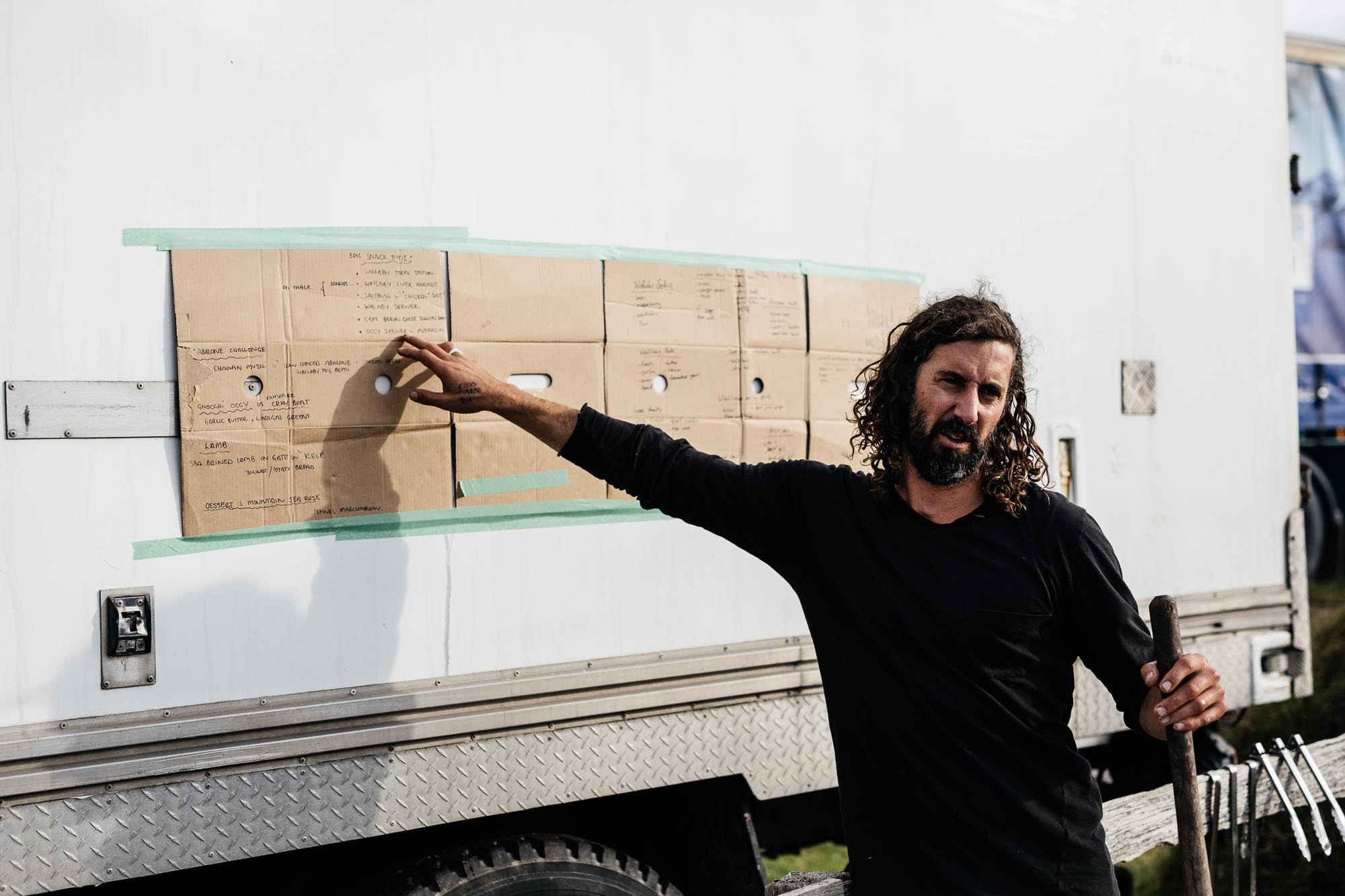 The Lighthouse Menu
First Course
Winter vegetables crudite
Raw Rocky Point fish with salted kohlrabi
Fried Flinders mussels
Second Course
Dry-grown Australian rice with confit nori and mushrooms 
Third Course
Proviner beef flank grilled in konbu
Or 
Smoked celeriac, green olives, cheese sauce and black truffle
Fourth Course
Herbal Chartreuse trifle
The Lighthouse is able to cater for pescatarian, vegetarian, vegan, gluten free and dairy free dietary requirements. Please make a note in the supplied field when purchasing tickets.
Unfortunately other dietaries and food allergies cannot be accommodated as this is a special event with a set menu.*