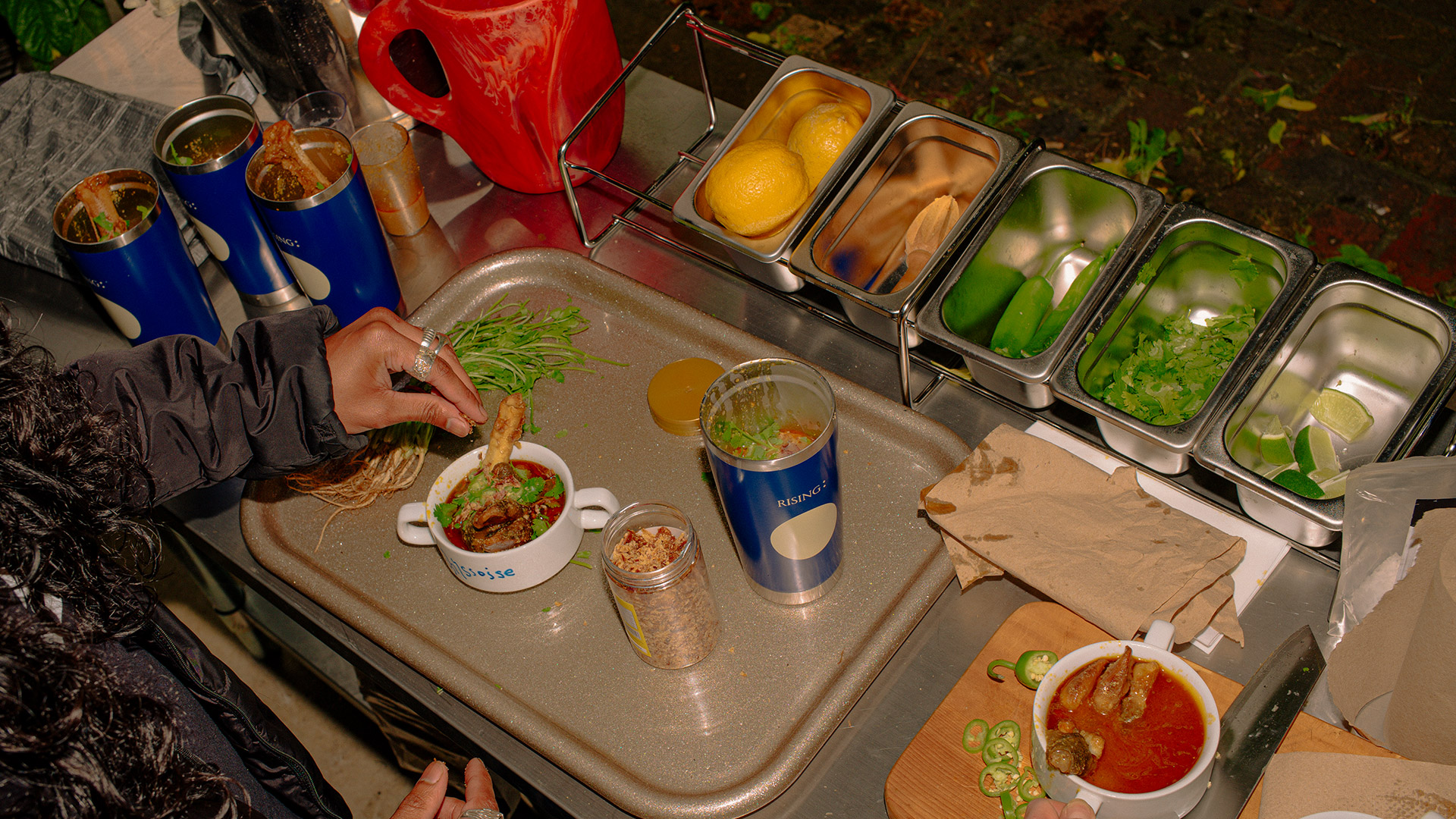 Recipe : Long Prawn and Mikhail's Paya Soup
Fri 19 November
Stock Exchange lives on as our friends at Long Prawn help tease out the method for this family recipe.
There is nothing casual, spontaneous or accidental about soup. Even the most convenient broth, slurped on the run, is the descendent of an involved, deliberate and careful process.
Our friends at Long Prawn, whose loving research into the nature of broths and soups and the community they cultivate was due to be shared in bowls and cups as part of Stock Exchange, have shared with us—and you—the recipe for Paya. A traditional Hyderabadi (southern Indian) celebration soup, it sees young goat and lamb trotters bubble in a complex masala and tomato stock for eight hours before it is passed around, garnished with fresh coriander leaves and inhaled.
From the Urdu word for legs, Paya comes—in this specific recipe—from Mikhail Rodrick via a web of family and aunties in Mumbai, who have lovingly pieced together his grandmother's ingredients and process. A nourishing and delicious reminder of the power of broth to hold family history, it is ideal for these weeks of stunted, brisk fake-spring nights.
---
Been lumped with organising the annual Christmas party at the last minute? Never fear—you can tag along to this one. Long Prawn are putting on a community hall buffet with Sunday Salon for the festival season. Get along to A Country Practice Christmas to nosh on food, wine and art Saturday 11 December, 1—4PM.
Mikhail's Memories
"My first memories of my grandmother Arlette making paya are in Mumbai in the '90s. Back then, visits to India were coordinated with family around the world so that we'd all be there at the same time. Everyone had their favourite meal that Arlette would obligingly prepare, and paya was a regular petition. I usually skipped the trotters themselves but I still remember the melamine bowls of intensely deep, alimentary liquid. My grandmother loves to share her recipes, even though, like most East Indian cooks she usually (intentionally) leaves at least one key ingredient out. Through email and text correspondence we wrote a paya recipe together earlier in the year that is a close approximation of her own, using ingredients that are readily accessible in this country. Making her soup is the closest thing to being back in walls of her limed pink kitchen, barefoot, grinning and very full."
Two soup bowls with handles sit on a serving tray filled with Paya soup, surrounded by a baguette, herbs, jalapeños and lemons. Photo credit: Natalie Jurrjens
Paya / Lamb Trotter Soup
By Mikhail Rodrick via his grandmother.
Ingredients
Trotters
1kg of young goat and lamb trotters (other types of trotters can work too. Smoking trotters isn't essential but is recommended)
salt
1/2 tsp of turmeric powder
1 tsp of cayenne chili powder
Dry masala mix
1tbsp kashmiri chilli powder
1tbsp coriander powder
1 tsp cumin powder
2 bay leaves
1/4 tsp garam masala
Aromatics
2 tomatoes, diced
1/2 a fresh coconut, grated
2 onions
1/2 tsp fennel seeds
1/2 tsp turmeric powder
1 tsp cayenne chili powder
2 curry leaves
3 green chillies
1/2 a garlic bulb
1 large piece of ginger
small piece of tamarind
1 cinnamon quill
1 pinch clove buds
1 pinch cardamom pods
Garnish
1/2 bunch coriander leaves, chopped
Method
Clean trotters well.
Ensure trotters are well cleaned and washed. Season them with salt, turmeric powder and cayenne. Set aside.
In a large frypan, heat a splash of neutral oil over medium. Roast the aromatics in the oil until well browned. Let cool.
Add aromatic mixture to a wet grinder (you could also use a blender or food processor on pulse setting) to blend, adding a little water until it becomes a coarse paste.
Combine dry masala ingredients in a heavy-based stock pot. Add the paste and mix well. Over medium heat, add the seasoned trotters and 1.75L (7 cups) of water. Bring water to a boil, then lower to a simmer and let simmer for 8 hours.
Serve Paya garnished with chopped coriander leaves.
Soup Vessel — $15
Pick up this RISING vessel and put "single-use" in the bin, no wait, out of the bin. You know what we mean.
View more
Thanks to Long Prawn and Lauren for hosting RISING and friends in her backyard. And very special thanks to Mikhail Rodrick for letting us share his grandmother Arlette's recipe with the wider world. Good soup.