Still Lives : Making a Mark
Sun 29 May
Read on for the themes behind the ongoing series Still Lives, and the history and players behind its Melbourne iteration.
Background
Still Lives is a durational and site-specific performance installation series, in which artists Luke George (Melbourne) and Daniel Kok (Singapore) "capture" (with ropes) a significant moment or movement in relation to its cultural context. The process of tying reveals the social connections and community bonds between bodies.
Its first iteration, Still Lives: Venice, was a 4-hour performance installation for the 2019 Venice Biennale where the artists tied up a gondola and gondolier using 1km of locally made jute rope in a public square.
In Still Lives: Melbourne, the artist duo looks at Melbourne's obsession with Australian Rules Football by tying and suspending 5 players to recreate Andrew Krakouer's 2011 AFL Mark of the Year in the NGV's Great Hall. The personal histories of each player illuminate life in the city of Melbourne and various social issues that are entwined with the sport.
The Mark
Andrew Krakouer (Minang and Inggarda) comes from a family of several well-known footballers. He was awarded the 2011 AFL Mark of the Year for his spectacular high mark for Collingwood against Adelaide in Round 9 of that year. Krakouer took the mark in the final quarter, leaping over Adelaide's Luke Thompson to claim the long left-foot kick from Magpie Dale Thomas.
Krakouer's inspiring AFL career began with his debut season for Richmond in 2001. Although he became an increasingly renowned player in the following years, he was sentenced to prison in 2008 for physical assault. Nevertheless, he managed to bounce back from that dark moment in his life and returned to the AFL in 2010, playing for Collingwood as a greater sensation than ever. This period led to him winning Mark of the Year and the Alex Jesaulenko Medal in the following year.
Today, Krakouer is a co-host on SBS/NITV's Yokayi Footy, through which he continues to promote Australian Rules football among First Peoples communities and champions young, diverse players and perspectives.
THE PLAYERS
As well as being passionate about footy, the players in STILL LIVES: MELBOURNE are also champions of different initiatives in their respective communities.
Annie Mack
Annie Mack is a Queer woman and the womens team Co-Captain of West Brunswick Amateur Football Club. Mack experienced gender-based exclusion from sport growing up. Her time playing for the University of Queensland Football Club, the Eastern Devils Football Club (where she won a flag) and her current club, created safe havens that allowed her to explore her queerness, compete competitively and build life-long connections. At West Brunswick she continues to ensure that the space remains safe for others to feel included just like she did.
Jason Ball
Jason Ball is an LGBTIQ and mental health advocate who in 2012 spearheaded a national campaign to challenge homophobia in sport, culminating in the founding of Pride Cup Australia. Jason played most of his junior and senior football at the Yarra Glen Football Club and in Still Lives is wearing Yarra Glen's 2019 Pride Cup jumper. Jason is also an Ambassador for Beyond Blue, the Victorian Pride Centre and in 2017 was named Young Australian of the Year for Victoria.
Jasper Pittard Jasper Pittard is Co-founder of AFL Players for Climate Action (AFLP4CA), a not-for-profit organisation working to tackle climate change and safeguard the future of footy from the grassroots to the elite level. Jasper played 11 seasons of AFL football with Port Adelaide and North Melbourne and is passionate about supporting AFLM and AFLW players to use their public platform to normalise climate action with football fans around Australia, and to help transition the AFL into a sustainable future.
Jim Marks (Wotjabulok)
Jim Marks lives in Healesville and plays senior football for the Yarra Glen Football Club. He started playing for Yarra Glen for the under 10s and played over 200 senior games with the club. Alongside footy, Jim works as a gardener with Eastern Health, providing support for indigenous people living in his area with their gardens and homes. A passionate fisherman, Jim heads to Lake Eildon to catch trout on bye weekends when he's not training or playing.
Simona Castricum
Simona Castricum is a musician, DJ and producer and runs independent record label Trans-Brunswick Express. Simona is also a Research Fellow in Architecture at the Melbourne School of Design at the University of Melbourne and a community radio broadcaster at 3RRR Melbourne. She has played Australian Rules football in the VAFA where she was a member of West Brunswick's 2019 Reserve Grade Premiership side.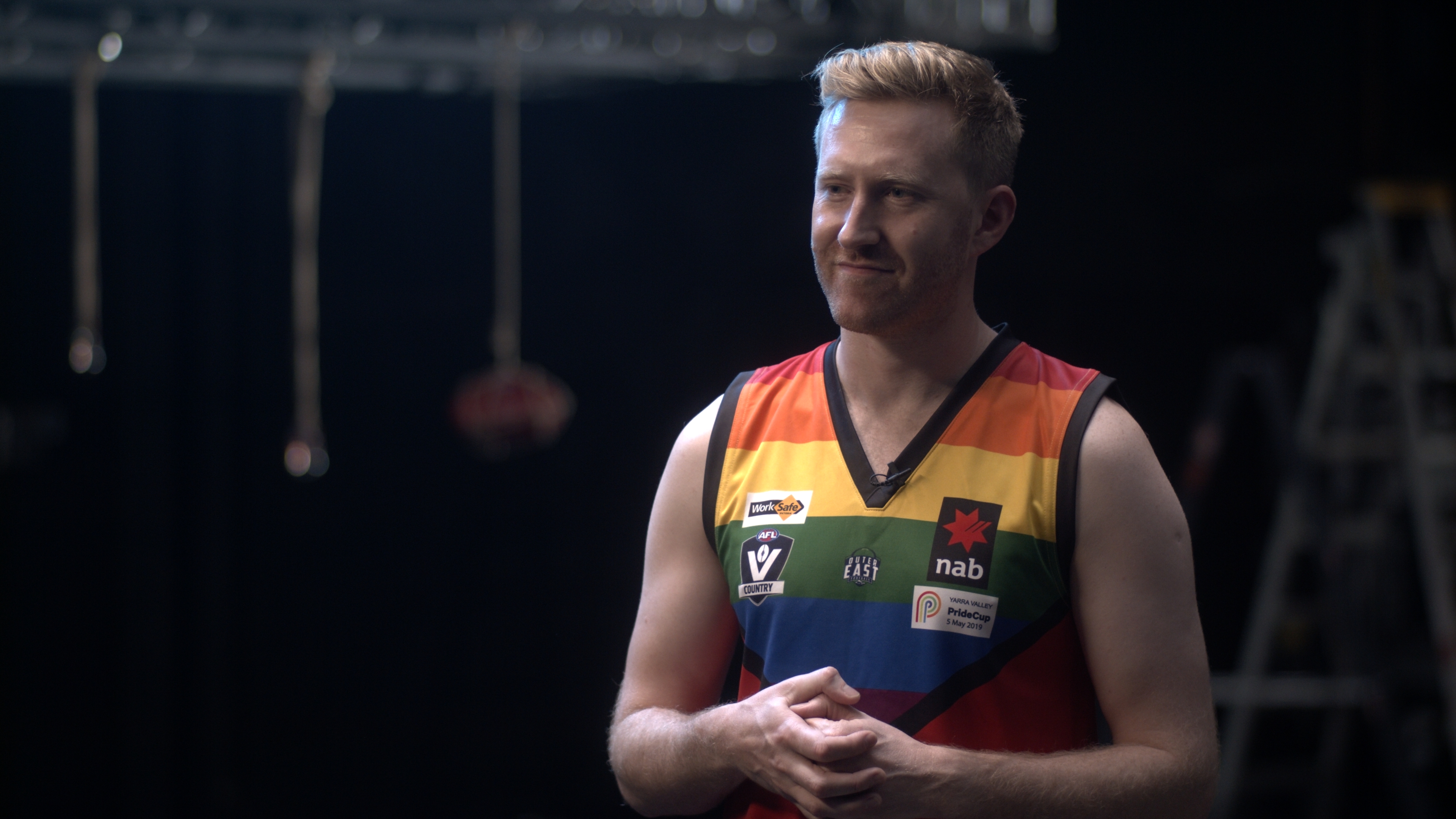 Jason Ball
The Artists
Luke George
Luke George is a performance and visual artist residing and creating on Wurundjeri and Boon Wurrung Country. Luke's artistic practice explores risk and intimacy informed by queer politics, whereby people are neither singular nor isolated; bodies of difference can intersect, practice mutual listening, take responsibility for themselves and one another. His work has taken him to many international platforms, with notable presentations at the Venice Biennale, Dance Massive (Melbourne), National Gallery of Singapore, Rencontres chorégraphiques de Seine-Saint-Denis (Paris), Time Based Art Festival (Portland).
Daniel Kok
Daniel Kok is an independent choreographer and artistic director. He studied BA Fine Art & Critical Theory (Goldsmiths College, London), MA Solo/Dance/Authorship (HZT, Berlin) and Advanced Performance and Scenography Studies (APASS, Brussels). His performance works have been presented across Asia, Australia, Europe and North America. As artistic director of Dance Nucleus (Singapore), he builds capacities for artistic development for other artists and trans-local partnerships in Asia. He curates the annual da:ns Lab at the Esplanade (Singapore) and is a core group member of the Asia Network for Dance (AND+).
Artistic team
Artists: Luke George and Daniel Kok
Players: Annie Mack, Jason Ball, Jasper Pittard, Jim Marks, Simona Castricum
Rehearsal Models: Ash Snare, David Prakash, Emily Blyth, Leah Landau, Richard McKimm
Videography and editing: Non Studio (James Wright, Eugene Perepletchikov)
Lighting design: Katie Sfetkidis
Sound design: Nick Roux
Photography: Gregory Lorenzutti
Production Manager: Emily O'Brien
Technical Stage Manager: Zara Jones
Rigging: Element Rigging
Rope Consultant: Ash Snare
Project Consultant: Jerril Rechter
Guest-of-Honour: Andrew Krakouer
IMAGES: GREGORY LORENZUTTI
VIDEO: NON STUDIO
COMMISSIONED BY RISING THROUGH THE A CALL TO ARTIST INITIATIVE, A PROGRAM SUPPORTED BY CREATIVE VICTORIA, CITY OF MELBOURNE AND BESEN FAMILY FOUNDATION. SUPPORTED BY CHUNKY MOVE THROUGH A MINIMAX INITIATIVE.