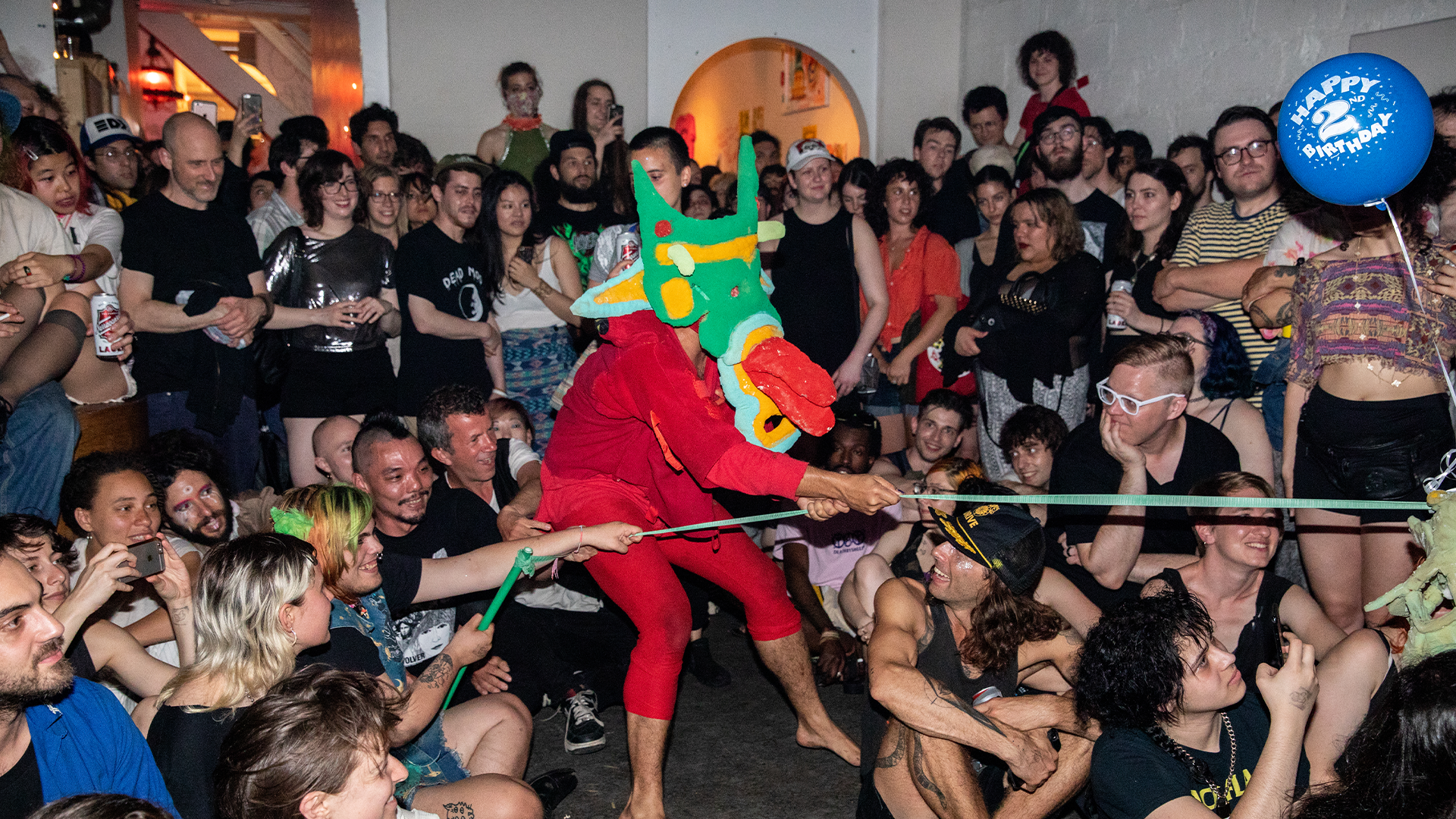 Spotlight on Night Trade presented by Up
Wed 31 May
St Paul's grounds become a meeting place for song, dance, deliciousness and the uncanny. We spotlight Night Trade and the art energy set to spill into its surroundings.
Located in the centre of RISING, Night Trade presented by Up is where you can gather, get fed, plan your next move, or get lost in the slipstream of curated chaos. There'll be DJs, performances, drinks, BBQ cooking, a giant negroni tank, warm boozy beverages, shelter for rest, and a few things best left unsaid, for now. Give in to its gravitational pull and party for as long as you wish, or recharge for a spell among the analogue oddities, uncanny installations and live entertainment. Entry is free. Then it's a very short walk to more free art happenings down the lane, and up the way.
Enter Poncili Creación's realm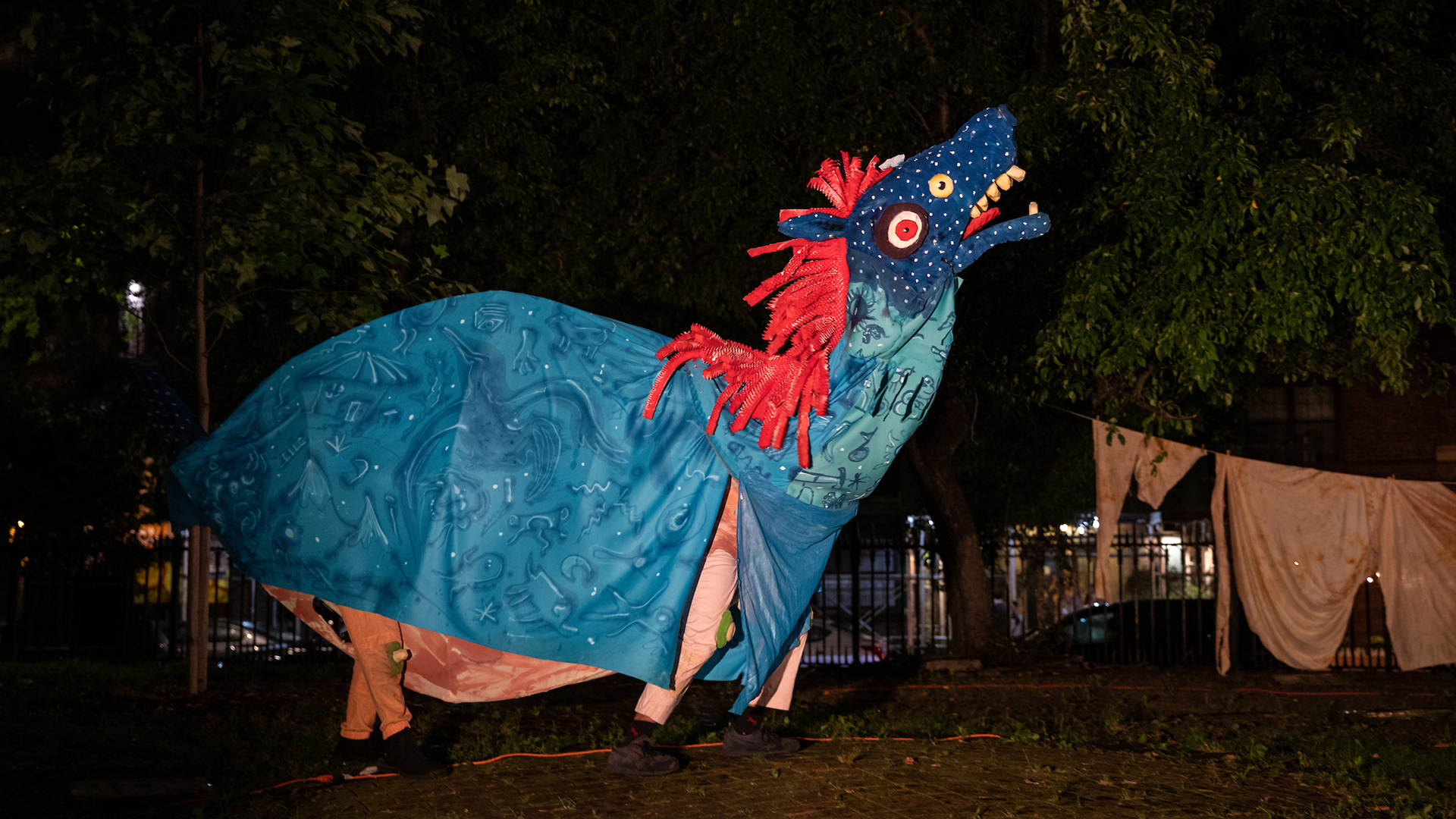 Poncili isn't a real word. But it is a real creation. Led by identical twin brothers Pablo and Efrain Del Hierro from Santurce, Puerto Rico, Poncili Creación is a self-proclaimed "formless entity"—a big bright salute to the resilience of creativity. They build new worlds from old couch cushions, papier mâché and other discarded would-be treasures. Then, once their puppets are constructed, they suit up and feed off the defiant, jubilant energy in their path. They're known to prance like mind-melting apparitions, control crane-sized marionettes, and drive entire minivans through the subliminal goo.
Off the back of a large-scale performance and installation at MOMA PS1 in New York, the brothers will park their new reality-breaking bus at Night Trade and sow a sesnse of strangeness and delight into the festival fulcrum. Think of their presence a PSA that we can pull the strings of a collective dream.
For their performances at RISING, Poncili Creación have teamed up with musicians Dale Gorfinkel and Peter Farrar, two influential figures in both Sydney and Melbourne's experimental music communities with inclinations toward the absurd and unexpected. See them Wednesday, Friday and Saturday.
---
EAT AND DRINK AT NIGHT TRADE
Don't succumb to curated chaos on an empty stomach. Enjoy shelter and food with your unhinged frivolity. Hoy Pinoy's Filipino BBQ skewers are cooked over coals, and there's an "All-night hot box" serving custom cuisine pies made by Free to Feed's East African, Sri Lankan, Somali and Columbian participants. Snack on chips and dips by Chappy's and Free to Feed. There's also bougie bar snacks by Yarra Valley Caviar and Pearl Diver have oyster shuckers on site. Gluten free, vegan and vegetarian options available. Entry is free.
Up Bar is housing a fully stocked hand-picked selection of Archie Rose pre-mixes as well as Victorian wines, local beers from Bodriggy Brewing Company and mulled wine from Glou sustainable wine bar. Up customers can flash their card and get $5 off their first purchase too (T&Cs apply). Drink from a Sci Fi wine wall pouring locally made tap wines curated by Glou. And there'll be plenty of delicious non-alcoholic beverages available.
GIANT NEGRONI TANK INCOMING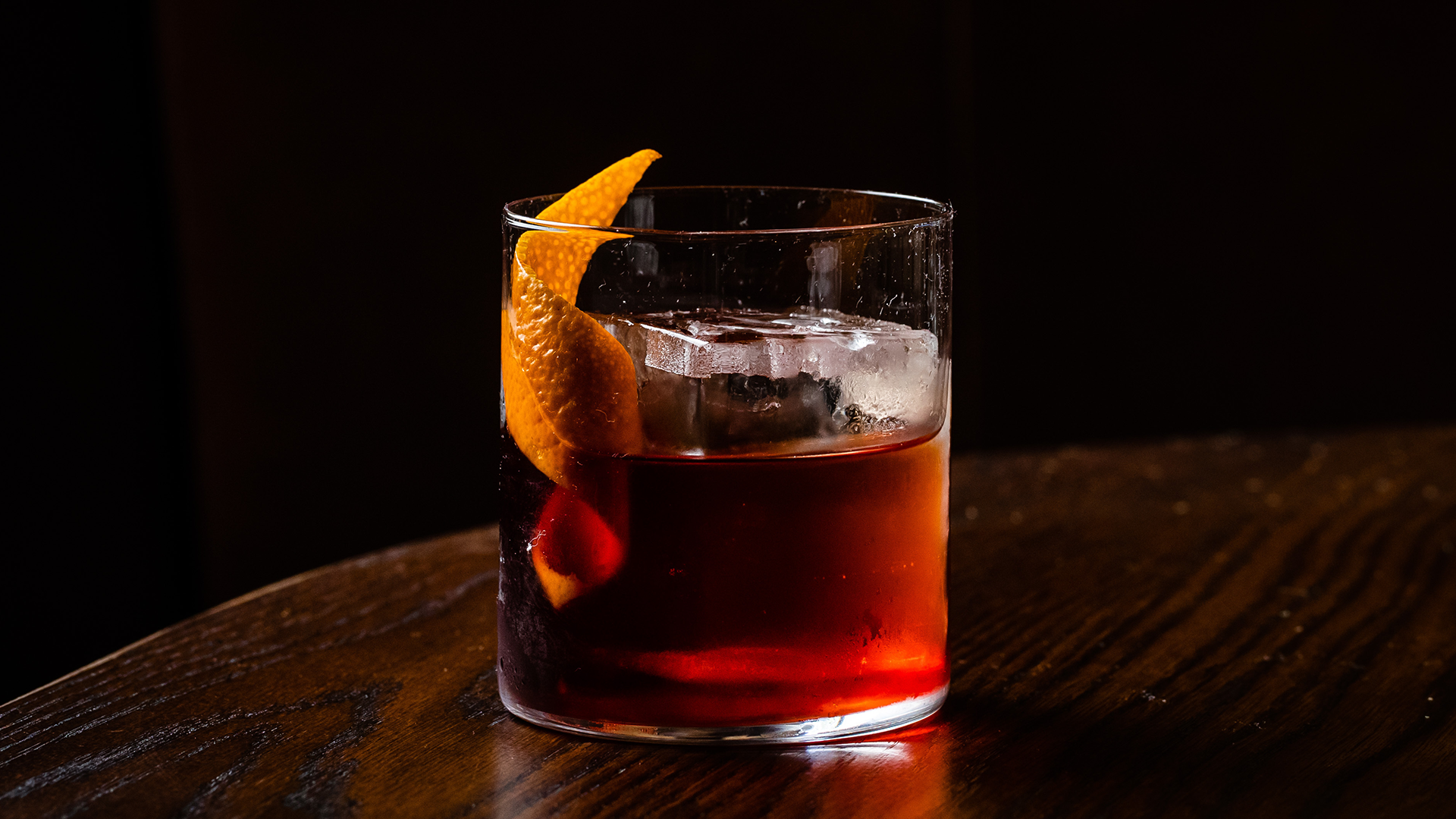 The Sydney-based distillers at Archie Rose are ensuring a giant tank with fresh-tapped Archie Rose Negroni is ready to flow.
---
GINGER TINS IN A TINNIE BOAT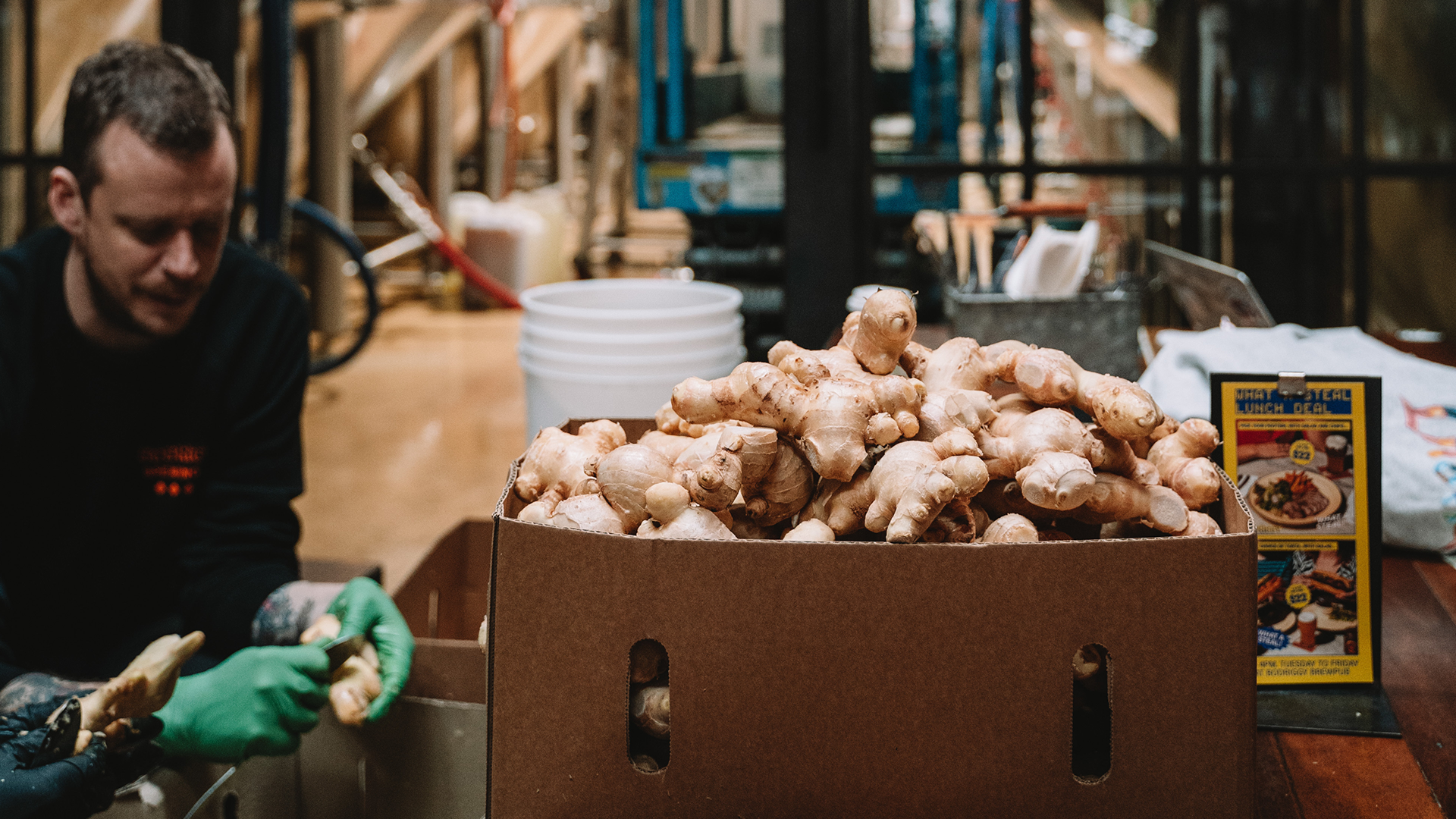 Sharpen your sea shanties and keep an eye out for Bodriggy's merry tinnie boat, anchored at Night Trade, slinging an exclusive RISING x Bodriggy ginger beer—brewed at Bodriggy in Abbotsford.
---
MUSIC AND PERFORMANCE ART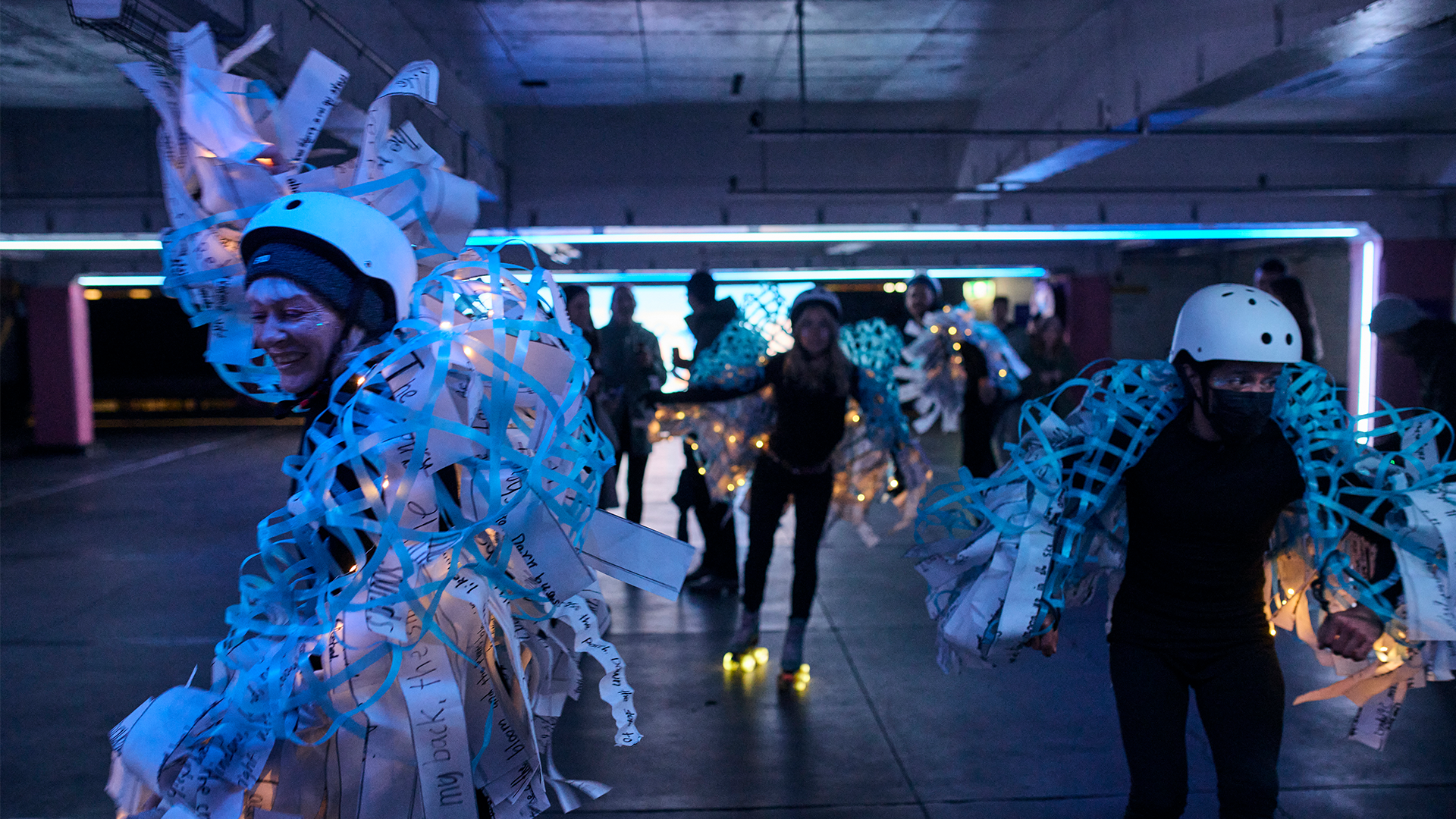 Night Trade is about embracing the unexpected. So, the puppeteers of the space won't be revealing any detailed set lists. They can however reveal that Melbourne's consummate party starters Wax'o Paradiso will be helming and curating the decks for those ready to dance. Look out for more performances of the kinetic and unwieldly variety.
Who else is on the bill? Who isn't?
Benny Chiu, Daniel Pisano, DUTTY WORLDWIDE, Jazz, JNETT, Kalyani, Katie Pearson, Mike Who, Misty Nights, Munir (Indonesia), Nat Salih, Noise In My Head, RONA., Sophie Mcalister, Taelyn (South Korea), Yawung, Yikes…
And more surprises on the way. Keep an eye on RISING's daily diaries on our socials during the festival.
Expect... performance art!
Joining Poncili Creación's world is a collection of performance art acts bringing colour and depth to the beautiful nothingness of Night Trade. Enter a world of camp and queer WWE matches, beautifully surreal dance, absurd gestures of masculinity, and sexy performances galore.
Curated by RISING's own Ari Tampubolon, artists and acts on the bill include Izzi Selfe featuring Bugs Baschera, Guillaume Gentil, and Miki Duh; The Mind Searcher (Blu Jay) with IchikawaEdward; Jenn Ma & P.J.; Nicholas Currie; Ate Cheska, and Cerulean.
---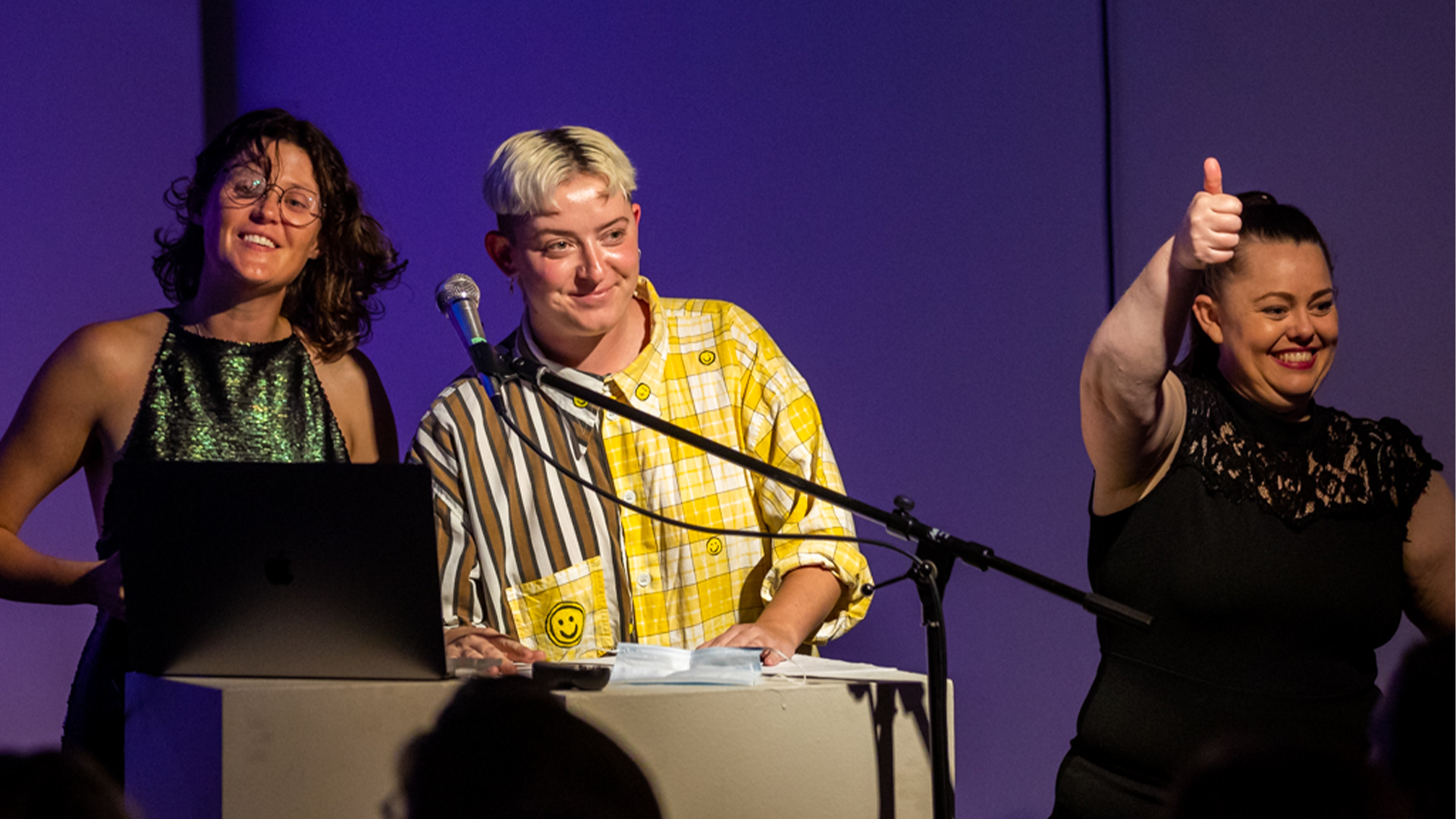 In Torrens University Auditorium, right next to the car park, the good folk from Queer PowerPoint are setting up the projector for their cult hit performance. It invites queer artists to explore an idea, current obsession or ongoing fascination using the most staid and ubiquitous of programming tools—PowerPoint. So, basically it's a bunch of queers deep-diving into highly niche content in a very gay way. Twenty-five dollars entry.
---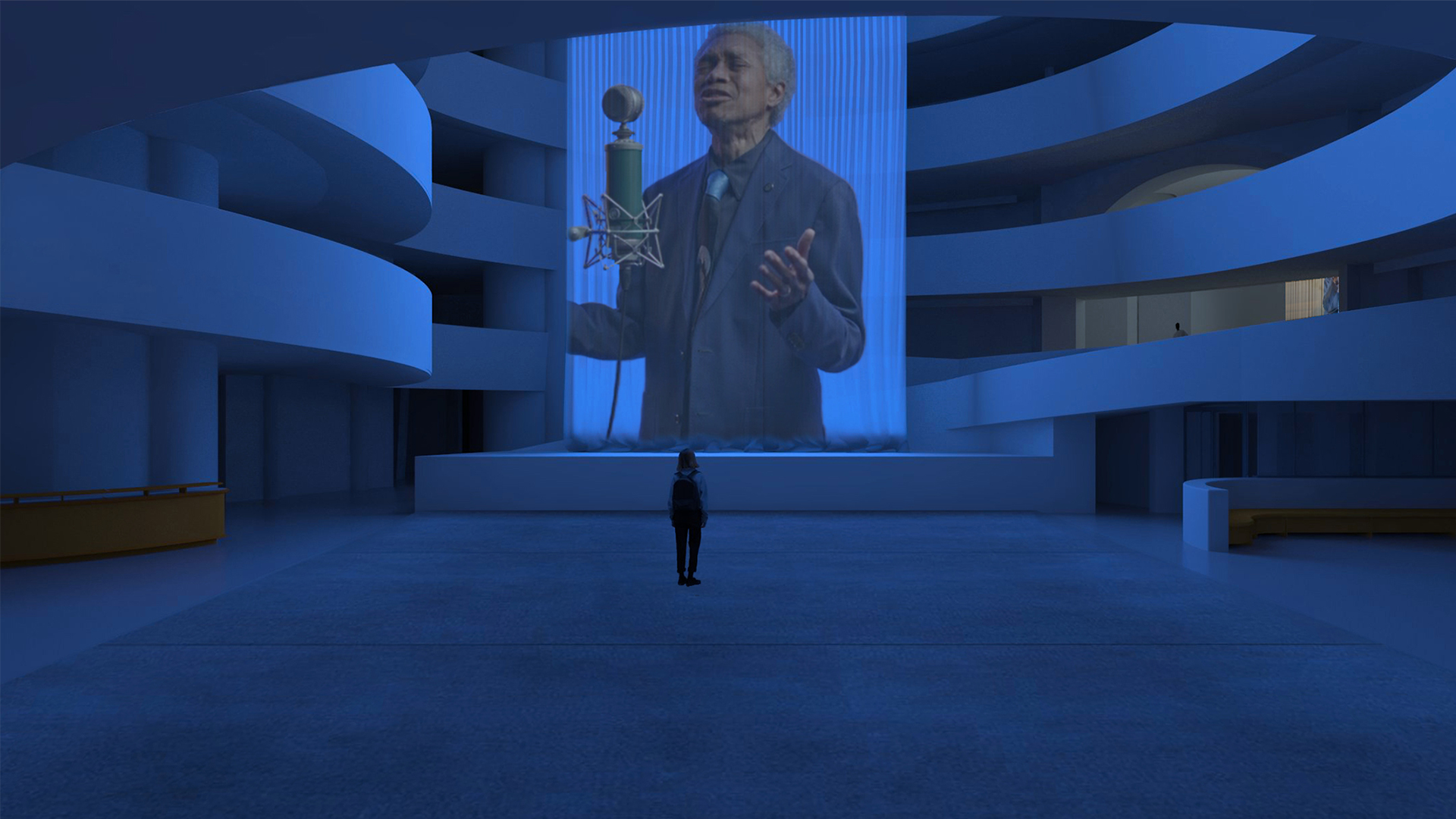 Wander from St Paul's grounds into the cathedral where Anthem sets a more sublime pace to proceedings. Originally commissioned by the Guggenheim in New York, Anthem is a large-scale sound and video collaboration between artist Wu Tsang and folk icon Beverly Glenn-Copeland. In Glenn's words, music gives him a chance to connect to a "universal broadcast system" and feel messages sent by the universe. Now's our chance to tune in. Entry is free. Move among the repurposed pews and stay as long as you wish.
---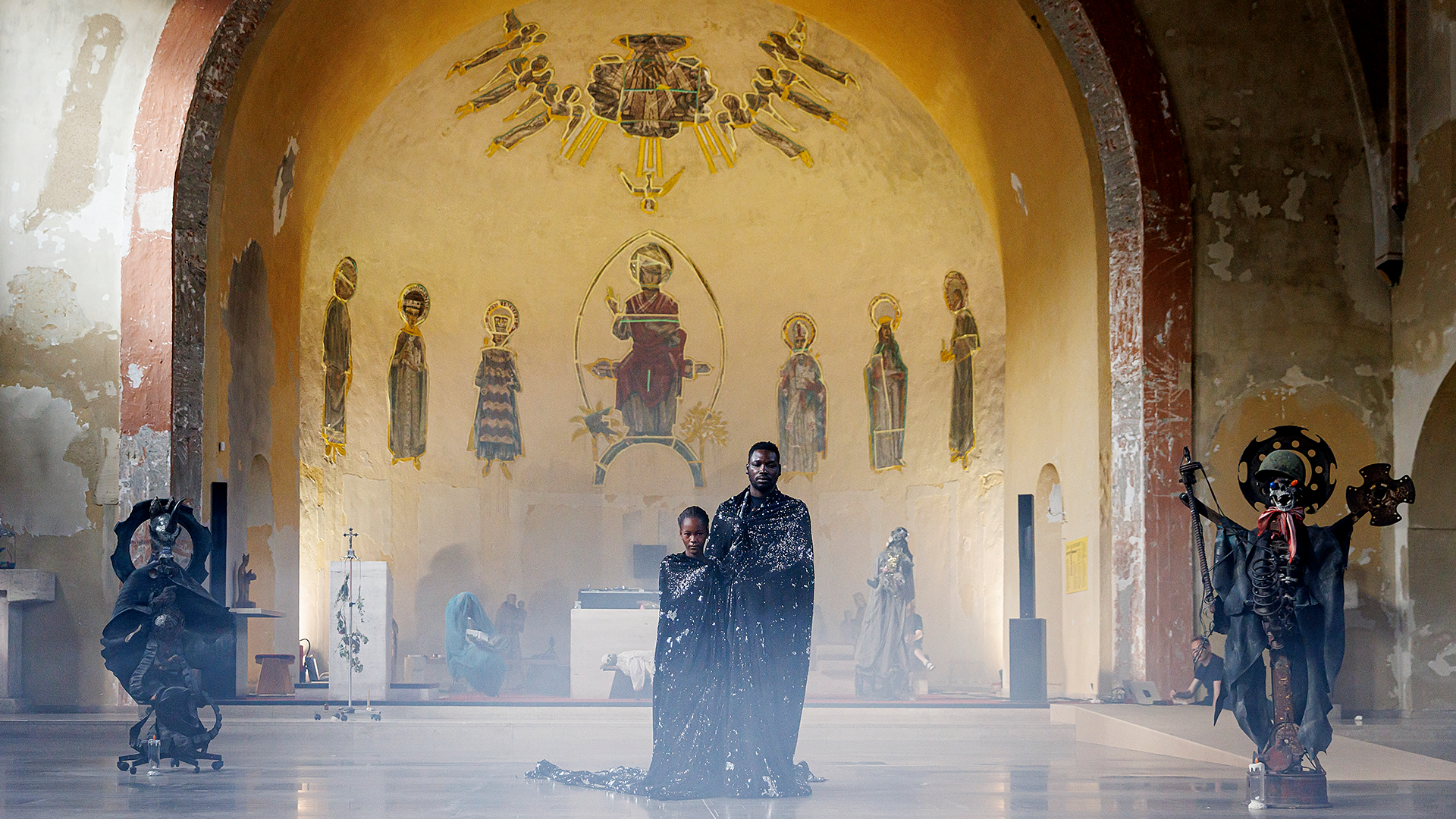 Saunter up to Flinders Lane to ALPHA60 Chapter House for Ghetto Biennale—a metamorphic celebration of Haitian street culture, spirit guardians and revolution. Founded in the '90s by a group of sculptors including André Eugène, Atis Rezistans is a cross-generational collective from the Grand Rue neighbourhood in Port-au-Prince working across art, performance and music. They'll be filling the space with ritual, music and movement—all set among a living museum of portraits, sculptures and object-assemblages that merge human ephemera with rusted machine parts and MTV detritus. Entry is free.
---
ALPHA60's Alex and Georgie share their picks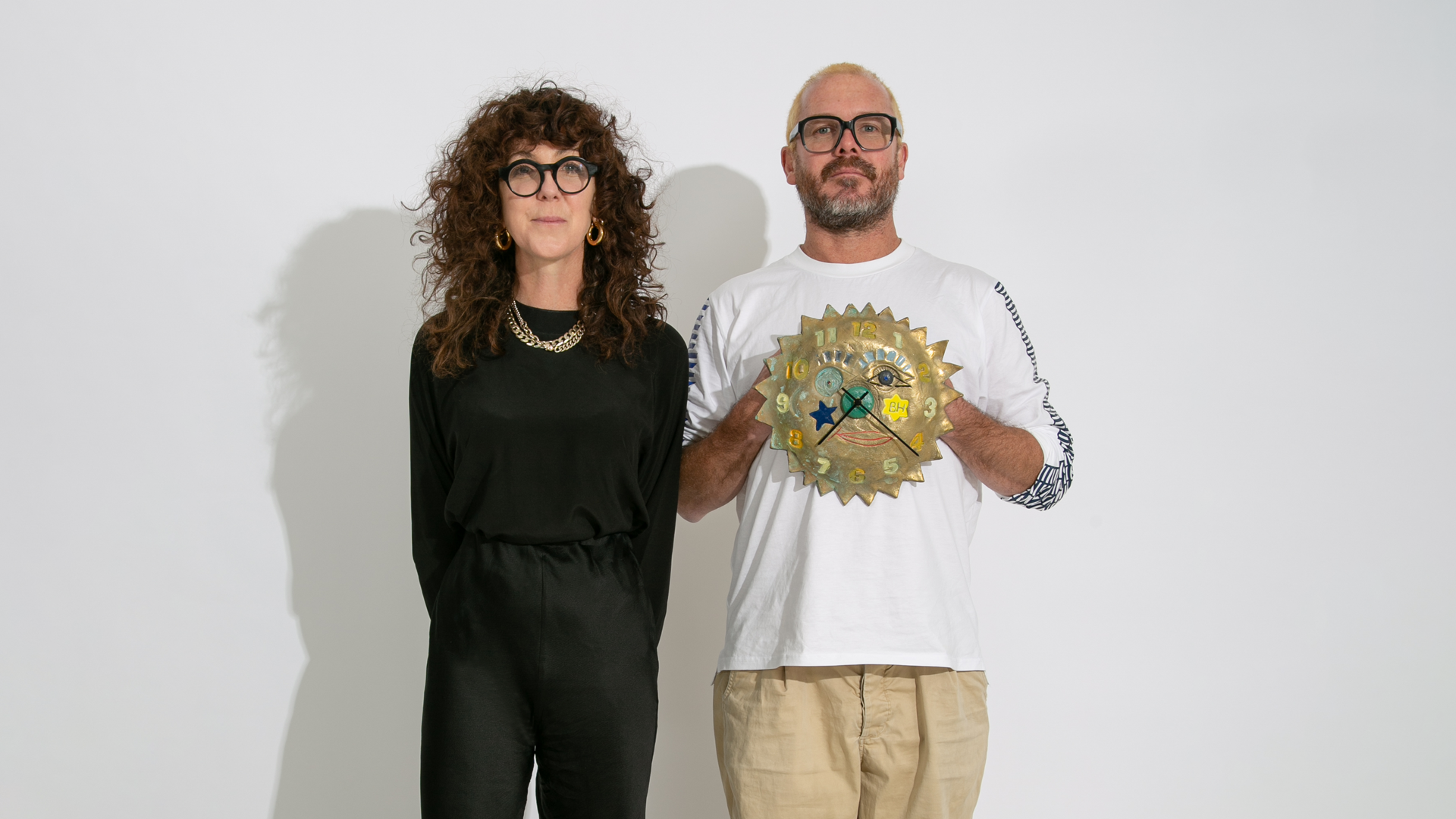 GHETTO BIENNALE AND NIGHT TRADE
We are so excited to be hosting RISING and the Resistance Artists of the Ghetto Biennale at ALPHA60 Chapter House. We can't wait to see how the space evolves and changes throughout the festival. We'll be going back a few times for sure! And, because it's conveniently close to the hub of Night Trade in St Pauls Cathedral carpark, we'll also head there for some BBQ food, a drink and perhaps some karaoke.
THIS
It was a shame to miss THIS in 2021 due to the pandemic—we definitely won't be missing it this year!
GIRRA
Rapper Birdz and Artist Fred Leone present their collaboration Girra. We cant wait to hear Birdz poetic lyrics alongside the voice of Leone—one the three Butchella songmen.
OIL PRESSURE VIBRATOR
We are excited to see South Korean artist Geumhyung Jeong's performance lecture, Oil Pressure Vibrator. Think sexuality, technology, the body and strange fascination with an excavator's movements.
FLYING LOTUS
Flying Lotus at the Forum… Our Saturday night out is sorted!
OH DEER!
Looking forward to seeing the experimental art organisation APHIDS take on pop culture orphans in Oh Deer!.
---
NIGHT TRADE SUPPORTERS
Presented with Up, a banking app that makes money easy.
Supported by the Andrew and Geraldine Buxton Foundation.
Supported by Torrens University Australia.
ANTHEM SUPPORTERS
Supported by the Victorian Government and the City of Melbourne through the Melbourne City Revitalisation Fund.
GHETTO BIENNALE SUPPORTERS
Supported by ALPHA60